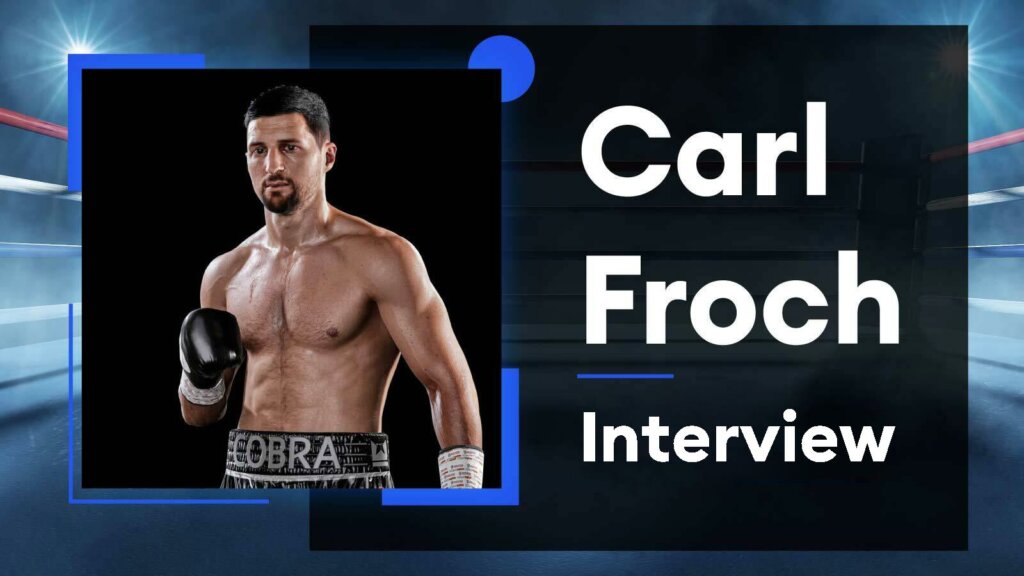 Exclusive with Carl Froch: 'Conor McGregor should keep his mouth shut - he does not have a clue'
Speaking exclusively to Casino Alpha, former world champion Carl Froch reacts to Jake Paul's latest opponent and reignites his war of words with Conor McGregor.
The former world champion boxer recently sat down to share his blunt opinions on the state of boxing today, including the rise of YouTube celebrity boxers like Jake Paul. Froch, who retired in 2014 after a highly successful 33-3 career including multiple title reigns, has never been one to mince words, and this lively interview shows he still has plenty to say about the sweet science.
The outspoken Froch pulled no punches discussing topics ranging from Jake Paul's choice of opponent to the antics of Conor McGregor. He gave a scathing assessment of Paul's latest outing, dismissed any chance of facing the YouTuber himself, and questioned the motivations of promoters like Eddie Hearn for pushing crossover matchups. Froch also addressed his own fiery social media exchange with McGregor. Throughout the interview, Froch's passion for the sport and no-nonsense style gave his takes an authoritative air. Whether one agrees or not, there's no denying "The Cobra" still packs a verbal punch.
What do you make of the footage of Jake Paul's opponent?
CF: "The opponent Jake Paul picked looks like a bog-standard fighter who has absolutely no hope of becoming world champion. You could see from the footage that's come out, it's very, very low level professional boxing. He's ranked outside the top 250 in the world, so it's probably the right fight for Jake Paul – an opponent who is there to be beaten. From what I've seen, it's a fight for Jake Paul to look good in but if he loses he's bang in trouble. If he loses to this guy he needs to retire and forget about professional boxing.
CF: The opponent looked useless, but as bad as he looked, at least Jake is fighting a pro fighter. To give him some credit, he's actually picked a pro fighter albeit one ranked outside the top 250, I didn't even know there were that many cruiserweights. When you get outside the top guys they're all bog standard basic fighters. If they've been active for a few years and at least not in the top 50 you know they're not very good. I don't why his fans would be interested in watching him fight somebody who's not very good. If he makes hard work of him then he should retire."
What happened after JP called you out?
CF: "He's a sh*thouse, he can't fight for toffee, and he would not come anywhere near me, even though I'm ten years retired. That's all you need to know about Jake Paul, he called me out, but he won't take on a guy who has been retired for ten years. I could come back, not even put myself through a training camp, and it would be such an easy night's work. He's a performing clown, hopefully he will go away because boxing fans are not taking him seriously. The reason this isn't on pay per view is because people are no longer prepared to pay for this rubbish."
Eddie Hearn touted the idea of JP v Wayne Rooney, is that a bigger spectacle?
CF: "I don't know why Eddie Hearn is talking about Jake Paul versus Wayne Rooney, Rooney's a football manager. I don't like the way some boxing promoters are going down the route of crossover fights because a former football player versus a YouTuber is a load of rubbish and I don't get it. I don't get why a proper promoter is talking up a match between Wayne Rooney and Jake Paul. But does that tell us something about the state of boxing at the minute? Would Wayne Rooney v Jake Paul be the biggest fight that Eddie Hearn can make at the minute? Because I'm struggling to see what big fights he has in the works other than Benn-Eubank and the problem with that one is, Benn's not licensed to fight in this country. It's all getting a bit silly to me because I grew up watching proper fighters fighting everybody. Eddie's put AJ forward for Ngannou and he's putting AJ forward for anything at the minute. I don't know why he doesn't fight Wilder though, what happened to that fight? Let's talk more about AJ-Wilder because chucking him in with Ngannou makes no sense to me at all."
What was your online exchange with Conor McGregor all about?
CF: "I saw that little rat Conor McGregor commenting on David Haye's post, giving his opinion on boxing. I just said "what do you know about boxing?". I saw McGregor piping up like he's involved in the boxing conversation. It's like me giving my opinion on mixed martial arts. I can't comment on MMA because I don't know anything about it in the same way Conor McGregor should keep his mouth shut about boxing because he hasn't got a clue and that was evident when he fought Mayweather."
Will we ever see him fight again?
CF: "I no longer know what his motivation is for fighting; he's had a couple bad pastings, he's not short of a few quid. In fairness, he's earned every penny and he was a phenomenal fighter and you have to admire him for that. But I'm not sure why he wants the Michael Chandler fight, or what his motivation is. He's better off hanging around the Misfits and YouTubers and getting involved in a celebrity fight because he's a massive name. But forget about a crossover fight with Jake Paul, he'd get absolutely slaughtered."