How to Play Sic Bo for Beginners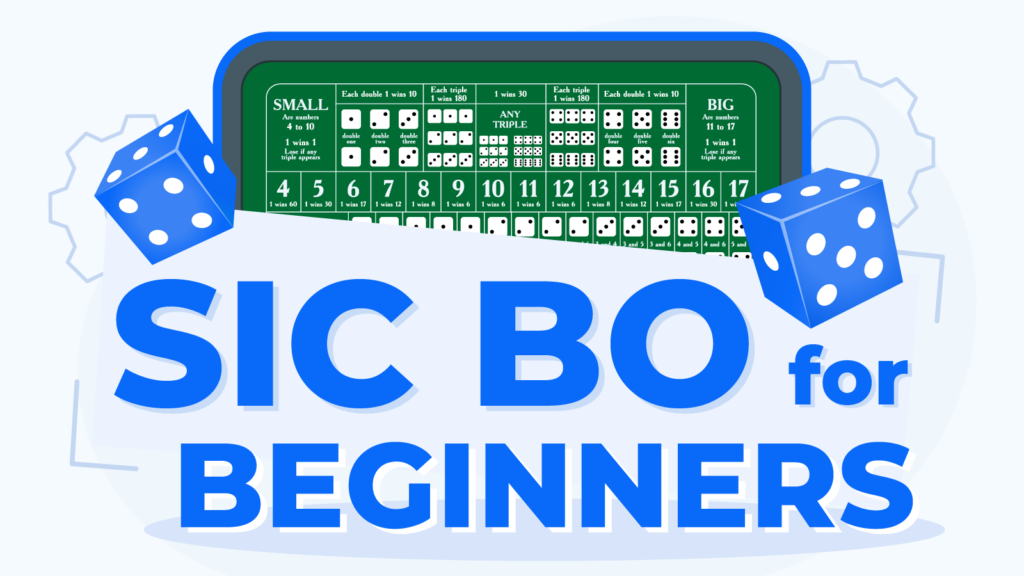 In Sic Bo, you bet on the outcome of rolled dice. Our guide explains the complex betting strategies, layout & game etiquette step by step for beginners.
Here's what you will learn in our guide:
Sic Bo is a dice game popular in online casinos and land-based venues.

The basic rules include players betting on possible outcomes, then waiting for the dealer to roll the dice and collecting based on the payout systems.

The table layout includes a betting area, payouts, a dice shaker and the dealer/boxer area.

Sic Bo betting types include the single-dice bet, the specific double, and the total bets.
We go into detail about the other essential bets in our article, along with a step-by-step guide for absolute beginners and easy strategies to maximize your odds.
What is Sic Bo?
Sic Bo is a game in which the dealer rolls three dice, and you must bet on the outcomes you deem most likely. You win if the dice stop with the outcome you wagered on.
This is an increasingly popular casino game. After testing, we found that 67% of the best online casinos UK in our list provide this casino game in their live games section.
Basic Rules for Sic Bo Beginners
The basic rules you should know as a Sic Bo beginner involve rolling three dice and predicting their outcomes using multiple betting types.
Players bet on the different potential combinations of outcomes for each of the three dice
After all the bets are placed, the boxman or dealer rolls the dice
You win depending on how much of the final outcome you predicted or how close you are to the result.
The purpose is to correctly predict the outcome after rolling the dice.
Sic Bo Beginner Facts: Table Layout
The typical layout of a table includes different sections: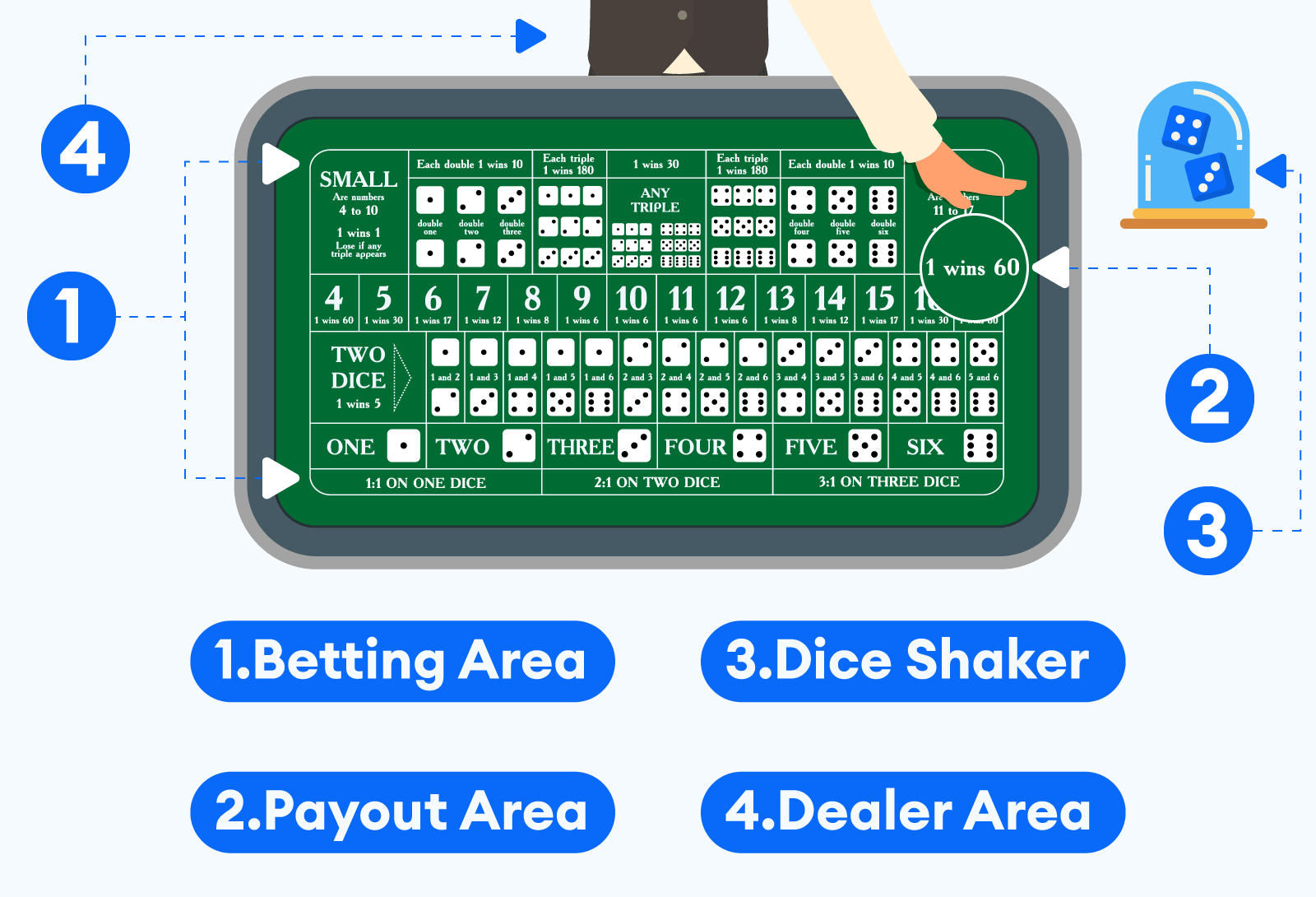 The betting area: This is the main area of the table, it is usually covered in green felt and has a rectangular shape. This area is divided into smaller sections for each of the betting options you can make.
Here, you can find specific numbers, number combinations or totals on which you can place your bets.
The betting area may be slightly different for each casino, depending on the variant you need to use.
The payouts area: Most tables include an area where they display the payout odds for each betting option. Sometimes, this area is around the betting area. Other times, the payouts may just appear next to each betting option.
The payout odds show you how much you stand to win if the specific bet you place is successful.
Dice shaker: On every table, there is an electric dice shaker where all three dice are placed. The dice shaker is usually shaped as a container or a cage.
It is automatic in order to prevent mismanagement or human error and to provide fair outcomes.
The dice shaker is always placed at the centre of the table.
The dealer/boxman area: Tables also provide an area where the dealer (also known as the boxman) sits and manages the games. This area is close to the dice shaker so that the dealer can handle the dice.
It is important for the dealer to also ve avoe to oversee payouts from this area, so it is usually on the opposite side of the table from the betting area.
Important
These areas exist on every table, but their specific details and designs can vary among online casinos.
Overview of Sic Bo Bet Types
The most common bet types, which are also present on almost all tables, are: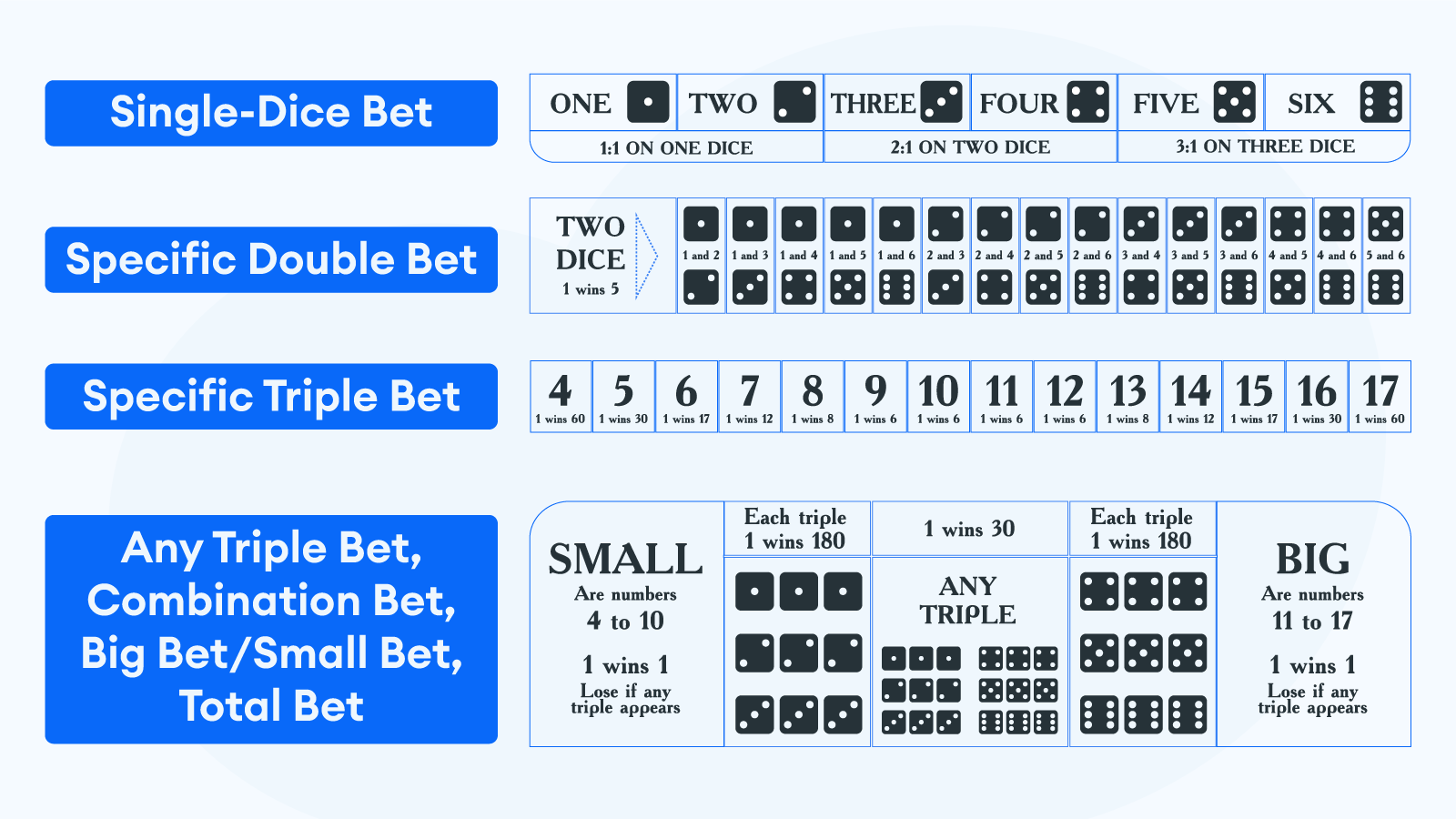 Single-dice bet
Specific double
Specific triple
Any triple
Combination
Small/big bet
Total bet
Single-dice bet: The single dice bet is a type of bet in which you can wager that one specific number will show up on at least one dice.
Specific double bet: With a specific double bet, you wager on a specific pair of the same numbers for two of the dice.
For instance, you can place a specific double bet on 3. In order to win, out of the three dice, two of them must show the number 3.
Specific triple bet: You use the specific triple bet when you place a stake on a specific number to appear on all three dice.
For instance, when you bet on a specific triple of 4s, you only win if all three dice show a 4 once rolled.
Any triple: With the any triple bet, you wager on one number appearing on all three dice. It doesn't matter the specific value because you are betting on the event that the same number will show up on all dice, regardless of which number it is.
Combination: The combination bet allows you to place a stake on a specific combination of numbers. Let's say you bet on 2 and 6. You win if, after you roll the dice, one of them shows 2 and the other shows 6.
Small/Big bet: This option lets you wager on the sum of the numbers on the dice once they have all been rolled. Small bets mean that you are predicting a total between 4 and 10, while big bets refer to totals between 11 and 17.
Total bet: A total bet is an opportunity for you to stake on the total sum of the dice. The difference between the total bet and the small/big bet is that, with total bet, you must wager on a specific total sum. You can win different payouts, depending on the specific total.
Tips
These are the most common beginner bet types, so it's useful to understand them as a beginner. However, other variations may have different betting options. Make sure you check what wagering opportunities you have before you begin a game.
How to Play: A Step-by-Step Guide for Sic Bo Beginners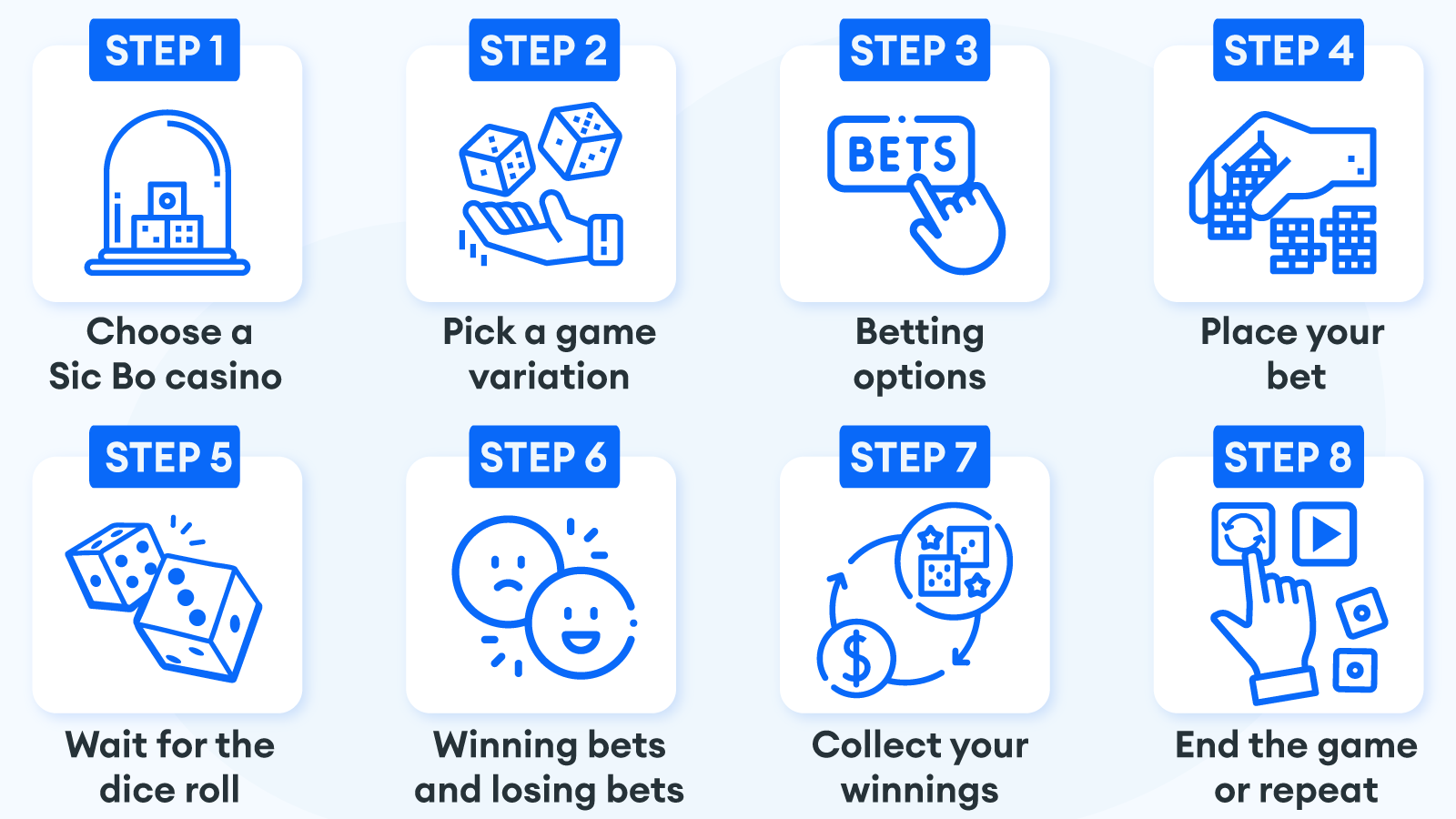 Step 1: Choose a Sic Bo casino listed among reliable UK operators tested by experts
Step 2: Pick a game variation that you are comfortable with and know the rules of.
Step 3: Look through the different betting options on the table layout and decide which bet is the best for you. Make sure you consider the payout of each game.
Step 4: Once you've decided on the bet you want to make, place your chips on the layout table where your desired bet is.
Step 5: Wait for the dice roll. The dealer will shake the dice or use an automatic shaker only once all players have made their bets. Make sure you are patient.
Step 6: Once the dice are rolled, the dealer announces the winning bets and removes the losing ones from the table.
Step 7: Collect your winnings, if you've won. You receive a payout that depends on the specific bet type.
Step 8: End the game or repeat. After step 6, a new round starts again and you must once more place your bets, unless you want to exit the game.
Basic Sic Bo Beginner Strategies
The simplest and most appropriate basic strategies that are effective for beginner players include: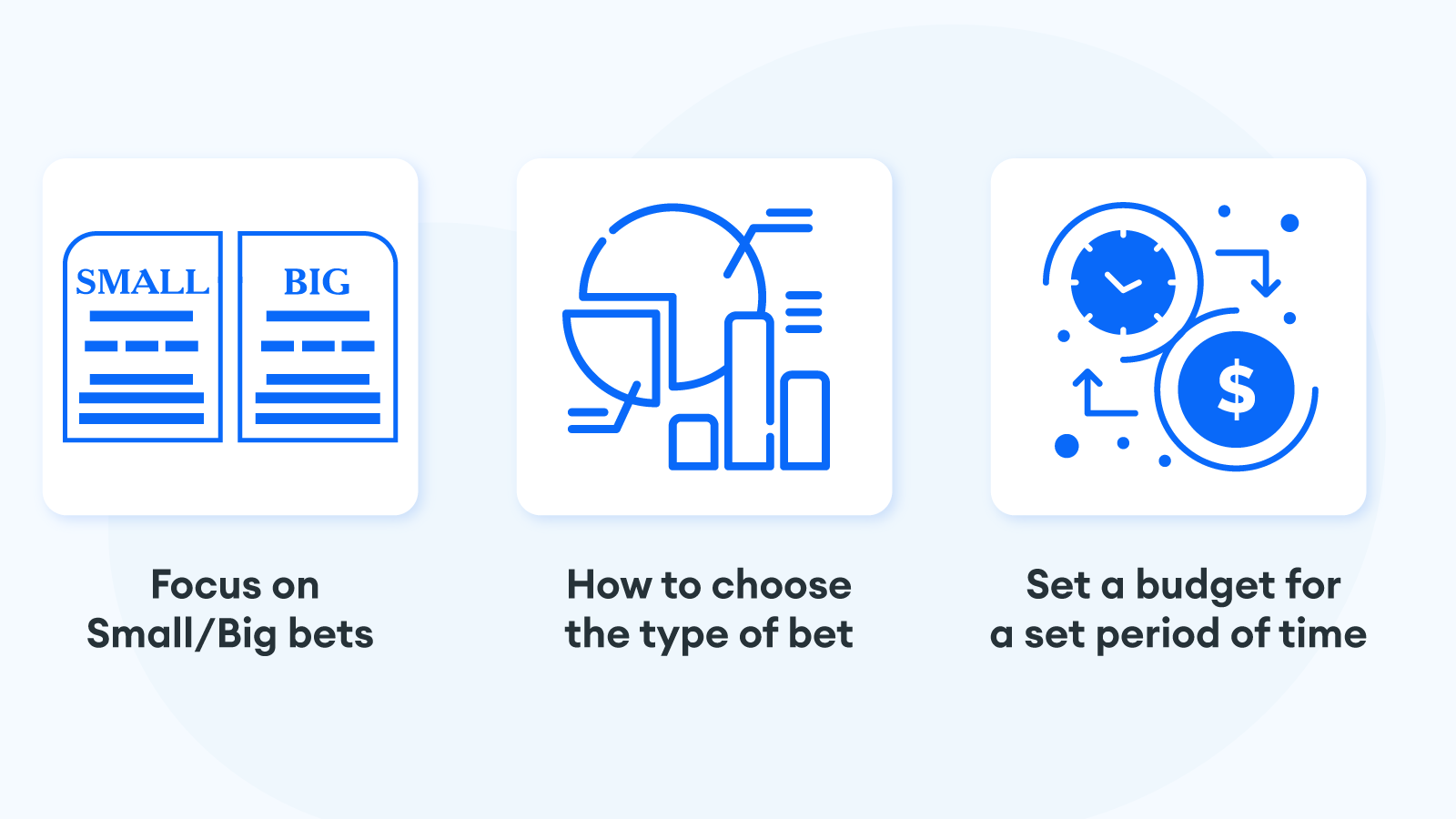 Focusing on Small/Big bets because these have a higher chance of winning. These bets are a good starting point, especially because they have a payout ratio of 1:1.
Choose the type of bet you place based on their payout ratios and their odds. Start with the bets that have higher odds, and if you want to experiment, make sure you do so after you've had a streak of successful safe bets.
Set a budget for a set period of time and divide it by how many sessions you want to have over that set time. The result of this calculation represents the total stakes you can afford per game session. By dividing it by the number of wagers you want to make during a session, you get the maximum bet you can make per round in order to wager responsibly.
Be aware
While these strategies help you reduce your losses so as not to affect your budget in a dangerous way, they are not a guarantee that you will win because it is impossible to predict the result of dice rolls accurately.
Sic Bo Etiquette and Casino Protocol
When playing Sic Bo, either at an online casino or in a land-based venue, you need to follow a specific etiquette.
The first essential aspect you need to be mindful of is to avoid distracting behaviour or offensive language. You need to respect the time and focus others need when placing their bets. Offensive behaviour may get you removed from the table or it may put your account at risk of being closed.
Secondly, you should respect the betting limits assigned to each table. There will always be minimum and maximum bets when playing. Not placing the correct stake may get you removed from the table eventually.
Respect the table layout and follow the casino rules. Many online casinos don't allow players to help each other during games, so make sure you do not give off signs of colluding.
Be aware
Never chance your bets after the dice are rolled! This is necessary to prevent disputes and maintain fairness.
Key Points to Remember
Sic Bo is a casino dice game in which you have to bet on the outcome of three rolled dice.
Its purpose is to predict correctly the outcome of one, two or three dice, their total sum, or on different combinations of potential outcomes.
The table layout includes a betting area (where you see all the possible types of bets you can make), the payouts of each bet, a dice shaker, and the specific area for the dealer/boxman
The main bet types you should know as a Sic Bo beginner include the single-dice bet, specific double/triple bet, any triple, combination bets, small/big, and total bets.
A game involves placing your bets, waiting for the dealer to shake the dice and announce the winning bets, collecting your winnings if applicable and then exiting the game or starting a new round.
Make sure you browse through basic strategies and check our expert tips to increase your Sic Bo odds of winning.
Lastly, make sure you follow the proper etiquette when playing online or in a land-based venue. Basic etiquette requires being patient and courteous, following betting limits, observing table protocols, and never changing your bets once the dice are being rolled.
Did we help?
Your opinion is a vital part of our process. We want to know your thoughts, experiences, and questions because it allows us to provide you with the details you actually need. Share your feedback in the comments section!
F.A.Q
What is Sic Bo?
Sic Bo is casino dice game where you need to wager on the outcome of three dice being rolled. It has many betting options for predicting different the outcome on a dice, different dice combinations or the total of the numbers on the dice.
Can I win at Sic Bo as a beginner?
You can win as a beginner if you understand the game's rules, betting options, payouts and odds. However, Sic Bo relies solely on luck so all your knowledge and strategies should aim to minimize loss.
What are the best Sic Bo strategies for beginners?
The best strategic moves for a Sic Bo beginner are to focus on small/big bets, stake based on the highest payout ratios, and calculate your time and betting budget before playing. These strategies protect your funds and give you time to become more familiar with the game.