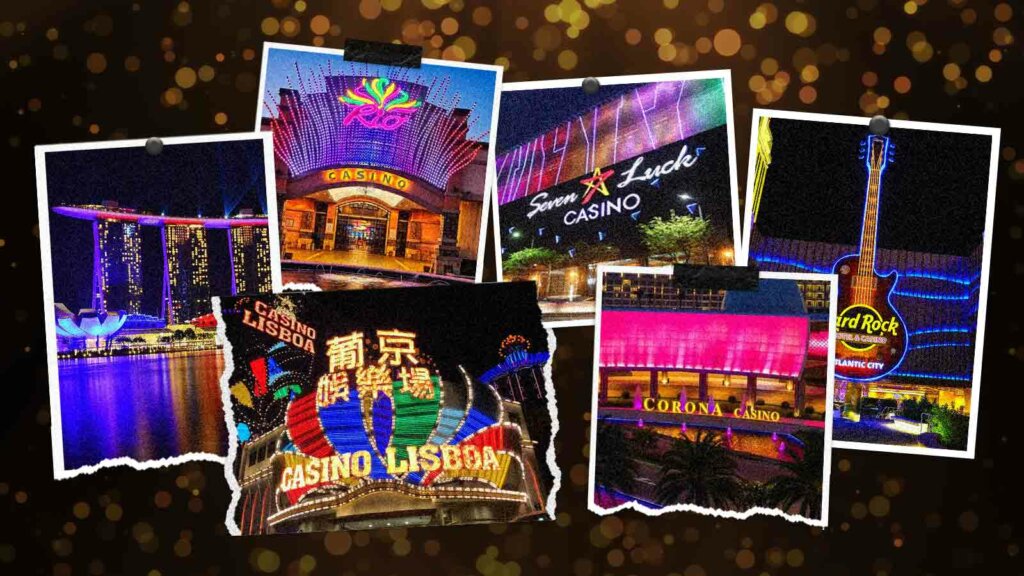 107 Best Casino Hotels Around the Globe for Your 2023 Bucket List
Discover our extensive list of the best casino resorts around the world!
Asian casinos
The East is a gambling den. No matter where you go, you'll find extravagant locations to visit. Even though there are strict gambling interdictions across the continent, they generally apply to that country's residents.
And the residents love gambling so much that they are ready to board a plane or two to visit the casinos of their dreams. It's no surprise that Asia has a sturdy gambling scene: after all, it's been a part of its culture for thousands of years.
1. The Venetian Macao (Macao)
Where to find it: Cotai Strip, Estrada da Baía de N. Senhora da Esperança, s/n, Taipa, Macao SAR, P.R. China
Hours: 24/7
Although China prohibits gambling activities, Macao is a legal oasis on Chinese land. It doesn't matter if you are going alone or with a group of friends – there will undoubtedly be enough room for the lot of you.
What to know about the resort
Here, players worldwide gather and try their hand at over 800 table games and almost innumerable slots. In their downtime, they can lounge in the luxury hotel suites. There are more than 6000 rooms you can book, and high rolling is standard in the gigantic casino.
There has been some debate regarding the 15 km² venue, too. For instance, 2010 saw The Venetian in the center of a sex scandal – over 100 prostitutes were found on the premises.
2. Wynn Casino (Macao)
Where to find it: Rua Cidade de Sintra
Hours: 24/7
Wynn is yet another staple name in the luxury gambling business in Macao. Experts consider the owning company to be one of the best to invest in, and the numbers don't lie. Besides the wondrous gaming possibilities, many couples decided to make their relationship official with a Wynn Casino wedding.
What can you do here?
The place is fitting for art lovers. Colourful sculptures adorn the lounges, with one Chinese dragon statue immediately attracting attention. On top of that, there is a fully functional art gallery on the premises, with ever-changing exhibits.
Fun Fact
The resort has received a 5-star rating from Forbes. Its luxury has reached such heights that it's measurable by one of the greatest authorities in the field.
3. VinOasis Phu Quoc (Vietnam)
Where to find it: Bai Dai Beach, Ganh Dau Commune, Ganh Dau, Vietnam
Hours: N/A
This time, we're taking off and flying straight to Vietnam. There is a lot to see here, too, and VinOasis is the prime destination.
The activities you can try here
Besides the beach, which is immediately accessible, Phu Quoc looks like a veritable aqua park. Furthermore, TripAdvisor patrons rate it highly for the family-friendly. Children have designated playgrounds all over the premises, and parents can dine together in Italian-style restaurants.
Fun Fact
Until 2017, no Vietnamese players could gamble in the country's casinos. The regulations are strict, locals needing to be over 21 and have a stable income of over $450. In 2019, one casino became more lenient towards locals, but the Government will decide whether this relaxation will stick in three years, according to Vietnam Insider.
4. Corona Casino & Resort (Vietnam)
Where to find it: Ganh Dau, Phu Quoc Island Vietnam
Hours: N/A
This is famous for being the first Vietnamese casino to allow locals to gamble as per Indochina Travel Blog. But there are other surprising facts about it, too.
A sight for sore eyes
Much like Macao's Wynn Casino, Corona is all about the artistic impression. The lounge displays an imposing sculpture of two highly stylized hands, and the décor shines through subdued gold and chrome.
A bit of culture shock
Vietnamese venues allow patrons to smoke indoors. Whether you have the habit or not, it might take a while to get accustomed to it.
5. Marina Bay Sands (Singapore)
Where to find it: 10 Bayfront Avenue, Singapore 018956 Singapore
Hours: 24/7
When you reach Marina Bay Sands, you will first be struck by the unique architecture, consisting of three glistening towers. Besides gambling, you've got a lot to do here.
There are some perks if you qualify as a casino member – to be precise, you will get free nights to spend in the Singaporean hotel if you accrue enough VIP points.
What to do when lounging about
The lotus-shaped ArtScience Museum is right in front of the tower, on the resort's premises.
The resort also favours physical activities
You can take fitness classes

Relax at the sauna

Under a masseur's skilled hands
It's also fitting if you want to go with your spouse and the children – playgrounds are all around.
Important
Make sure you do not bring your child to the casino. Studies showed that children may pick up the gambling behavior from their parents. Since nobody wants their child to develop an addiction due to this exposure, better visit the casino without an underage.
6. Resorts World Genting (Malaysia)
Where to find it: Genting Highlands, Genting Highlands 69000 Malaysia
Hours: 24/7
January 1965 marks the start of Resorts World Genting's Journey. The Malaysian resort sports impressive architecture and chromatics – the multicoloured hotels are the primary attraction. Apart from them, the dome-like buildings give it a dignified touch.
Leisure and beauty, all in one place
When you do not play a game from the casino's vast array, you can lounge about in the coffee shop or go for a workout at the fitness center. Plus, when you feel in need of a pick-me-up, you can visit the resort's beauty salon and get the makeover you desire.
7. Resorts World Manila (Philippines)
Where to find it: Newport Boulevard, Newport City. Pasay 1309, Metro Manila, Philippines
Hours: 24/7
On to the Philippines! Just like the former Asian nominee, Resorts World Manila belongs to the Genting corporate family.
Resorts World's dark side
In 2017, a gunman infiltrated the premises and stirred panic amongst the patrons. He set several gaming tables ablaze and fired, although he did not injure anyone himself.
A total of 39 people died due to smoke inhalation and the resulting stampede. The gunman died as well from a self-inflicted gunshot wound. Terrorist groups tried to take responsibility for the incident, but the authorities dismissed their claims.
What can you do at the resort?
It provides a total gaming space of over 30 km², and it has a lot to show in the hotel and dining departments, too. The hotel hosts over 1500 rooms, and out of the numerous restaurants, the most notable are Passion and Ginzadon.
Besides playing?
Other activities available here include mall shopping and event-watching. Also, if you want to find a worship place, the chapel is right around the corner. Accessibility is a selling point for the resort, too: as soon as you get off the airport, you can give the gambling venue a go.
8. Kangwon Land Casino (South Korea)
Where to find it: South Korea, Gangwon-do, Jeongseon-gun, Sabuk-eup, High1-gil, 265 KR
Hours: 10 AM – 06 AM
Trigger Warning!
This section contains objective references to suicide.
South Korea is luxurious in and of itself, and Kangwon Land Casino is the epitome of its opulence.
The area bears the sign of danger
Koreans have the 10th highest suicide rate on the planet, and the Gangwon-do region is the epicentre of suicidal tendencies. Furthermore, gambling addiction rates are soaring in this part of the country, and people suspect it has to do with Kangwon and its entrancing halls.
How to enjoy yourself at Kangwon Land Casino
Start with the huge selection of slots and table games! Keeping gambling fun must be one of your main thoughts and staying in control of your gameplay and money is also important. It's all about setting some boundaries that work for you as an individual and sticking to these.
Apart from the games, you can try your hand (or your legs) skiing, rare for the region. Golf lovers also get their due representation – there is a course on the premises, and all golfers are invited.
Did you know?
Kangwon Land is the only casino where Korean citizens can play.
The gambling venue appeared in a time of social and financial crisis. More than 300 coal mines had closed down, and people were facing unemployment. The Government opened this resort to offer them a place to work and increase its revenue. And it worked!
9. Tigre de Cristal (Russia)
Where to find it: 73, Artyom, Primorsky Krai, Russia, 692751
Hours: N/A
Do not let the name fool you – the casino is 100% Russian, located in the country's Asian side. Unlike other established casinos on this list, the Tigre is a work in progress.
What is to come
It first opened its doors in 2015, but not at total capacity. Its final form is expected to have over 1300 slots. Furthermore, the VIPs will receive 125 tables, all to themselves. We couldn't not include an aspiring top casino in our must-visit list!
10. NagaWorld (Cambodia)
Where to find it: Samdech Techo Hun Sen Park Phnom Penh, 120101, Cambodia
Hours: 24/7
Since gambling is illegal for the most part in China, citizens of the People's Republic have a go at international clubhouses, with NagaWorld topping the preferences. So, a large part of its clientele consists of Chinese customers.
What makes it so desired?
One of the finest Cambodian resorts, NagaWorld has all the glitz associated with the high life. From the casino itself to the bar and, of course, the ballroom, NagaWorld has taken the world by storm.
Scandal has touched this resort, too
Although the business is highly profitable, the workers do not earn as much as they desire. The discontentment resulted in team member strikes, and the outcome is so far unknown.
11. Altyn Alma (Kazakhstan)
Where to find it: 1, Industrialnaya 4, Kapchagay 040800, Kazakhstan
Hours: 24/7
Kazakhstan has its fair share of entertainment venues, but none quite like Almaty's Altyn Alma. (That was one hell of a tongue-twister.) Albeit smaller than other names that made our list, Altyn Alma shows that size doesn't matter.
How to have a great time at Altyn Alma
It has a hotel with over 20 rooms, a karaoke lounge, and billiards. Furthermore, you have access to cocktail bars and hookahs. The spiciest part yet, Altyn Alma hosts a strip club – we highly recommend this venue for those of you who plan bachelor parties!
They say that Asians are cold. Nothing further from the truth:
When you enter their gambling scene, you will find nothing but dens of enjoyment. From Altyn Alma's catering to bachelor parties, to NagaWorld's lavish balls, and even to Resorts World Manila's focus on shopping, you will find a warm environment.
Remember, almost of all of our mentions have faced great adversity, and then rose back up!
Australian and Oceanian casinos
There is a lot to see Down Under, too. Although there is a feeling of isolation for the nether continent, the gambling scene is thriving, and there are legal frameworks to accommodate both citizens and players from abroad.
Have you wondered what there is to find on the continent of a single country?
The answers are right here, and we are also bringing the resorts from Oceania straight to your screen. The sheer number of New Zealand luxury clubhouses might surprise you, but its gambling scene has been booming since the Gambling Act came along.
You do not have to worry about security, either – only licensed casinos allowed!
12. The Star Sydney (Australia)
Where to find it: 80 Pyrmont St, Pyrmont NSW 2009, Australia
Hours: 24/7
The Star Sydney is one of Australia's most impressive attractions. There is little you cannot do there.
If you want an anniversary party or tie the knot with your significant other, the resort will do its best to accommodate you.
How to enjoy yourself with friends
Furthermore, entertainment comes in many shapes and forms. You may go to the bar and attend trivia nights, for example. Do not get discouraged if there are some questions you cannot answer at the trivia!
Instead, visit the theatre and watch the contemporary classic Hamilton. The rap musical that delves into American history has finally touched Australian land, and The Star is happy to show it to you.
13. The Crown Promenade Perth (Australia)
Where to find it: Great Eastern Highway Burswood, Perth WA 6100, Australia
Hours: 24/7
The Crown Promenade Perth is so large that it has three distinct sectors:
The Crown Metropol

The Crown Towers

The Crown Promenade
They sum up to around 1200 rooms.
Kick back and relax
What makes it stand out from other casino resorts is its focus on spa and relaxation. You can go on a vacation and get back home with a makeover of a lifetime. Besides the hair and beauty salons, you may go to the Aqua retreat and receive hydromassages.
This oasis is not free from controversy, either. The Crown resort in Sydney is suspected of money laundering, and Perth also falls under the authorities' scope.
14. Mindil Beach Casino Resort (Australia)
Where to find it: Gilruth Avenue, Mindil Beach – 0801 DARWIN (Northern Territory, Australia)
Hours: 10 AM – 04 AM
Although "casino" is in its name, the clubhouse is only one of the many attractions you can find at the resort. Firstly, its design makes it seem as if you were going to a small-scale Venice. The pool takes a copious part of the resort's surface, and you also have quick access to the seaside.
How to spend quality time at Mindil
Mindil Beach also makes the perfect spot for teambuilding and other corporate events.
If you want to party, there are four available bars – you can choose to visit the Lagoon or have some drinks at the beach bar. The Sportsbar streams live sporting events, so you can cheer your favourite team on as you spend quality time with friends and family.
15. The Grand by SkyCity (New Zealand)
Where to find it: 90 Federal Street, Auckland Central, Auckland 1010, New Zealand
Hours: 24/7
Moving on to Oceania – more precisely, New Zealand! The Grand is a 5-star hotel, and most customer reviews give it maximum points for its services. Just ask the people over at Booking or Tripadvisor. So, what makes it shine?
An entertainment den
The resort hosts a theatre and multiple ballrooms. Thus, leisure time is the Grand's bread and butter. However, its most notable feature relates to street festivals and celebrations – a SkyCity staple.
The casino provides ample space for anything
Besides a poker room and a VIP gaming square, the Baccarat space is most impressive. Remember, Baccarat paints a portrait of noble gambling, so go meet the dealer for an aristocratic experience!
The festivals are not the sole outdoor activity, as you can take yoga lessons in the Sky times. Furthermore, you can go with your family and have the time of your life, as the resort gives you access to babysitting services.
Tips
Its sheer accessibility is a plus – only 25 minutes from the airport. That's quite an easy way to get rid of the jet lag!
16. Tuakau Hotel (New Zealand)
Where to find it: 1/3 George Street, Tuakau 2121, New Zealand
Hours: N/A
Tuakau first impresses through its old age – it began activity in 1875. However, it looks as young and fresh as ever, with continuous renovation efforts. In 2012, it received the Hospitality New Zealand Award for Excellence, according to Scoop.Co.Nz. Customers also reward it with nothing but words of praise.
So, what can you do when you book a room at Tuakau?
Like other casino resorts, Tuakau is a well-liked location for wedding receptions. It has a bar, a gaming area (of course), and a lounge that specializes in winery.
17. The Shady Rest Hotel (Papua New Guinea)
Where to find it: Taurama Rd, Port Moresby, Papua New Guinea
Hours: N/A
We are dropping off in Papua New Guinea! Although there are few casino resorts here, those that are impress through their understated luxuries. For instance, The Shady Rest Hotel ensures free airport pick up and drop off. How many casino resorts can boast about that?
What to do while you're here?
Albeit small, having only 74 rooms, The Shady Rest is always at your service. You can visit the bar, the karaoke lounge, and the cellar courtyard restaurant, of course. Also, you are free to set a conference in one of the hotel's designated rooms – there, you can take your time when discussing with your partners and colleagues. Generally, the hotel will allow you up to four hours of conference time.
Fun Fact
A short-lived sitcom, Petticoat Junction, took place in a building called The Shady Rest Hotel.
18. Gazelle International Hotel (Papua New Guinea)
Where to find it: P.O. Box 2348, Kokopo, ENB, Papua New Guinea
Hours: N/A
Resorts in Papua New Guinea certainly differ from those we have studied before – their architecture is more focused on building length than on its height and poise. The effect is that of a friendly, cozy resort, and Gazelle International Hotel uses that as one of its main selling points.
Cosy and fun activities in one place
The casino offers over 40 pokies and spacious gaming spaces. Besides, Gazelle International Hotel focuses on customer service, offering 24/7 assistance and varied cuisine. For example, Steak Night is one of this hotel's staples. On such nights, your chefs gather to provide you with the best meat specialities, and you can add a nice drink to them, too.
Fun Fact
Gazelle International Hotel is built on what used to be the residence of Queen Emma of the South Seas. As a result, the hotel tried its best to conserve the image of royalty on its premises.
19. Treasury Brisbane (Australia)
Where to find it: 130 William St, Brisbane City QLD 4000, Australia
Hours: 24/7
After seeing Oceania's treasures, let's take a look back at the must-visit Australian resorts. Treasury Brisbane is one of the top-rated destinations on the continent.
Keep an eye on these attractions
The 24-hour-a-day casino plays a significant part in its high rating. You can also kick back, relax, and enjoy the Asian-inspired cuisine.
However, the hotel is most famous for its weddings and coming of age parties. Many youngsters went straight to Brisbane to celebrate their 21st birthday.
20. The Ville-Resort Casino (Australia)
Where to find it: Sir Leslie Thiess Drive, Townsville, Queensland, Australia 4810
Hours: N/A
We are ending our Australian journey with The Ville-Resort Casino, which goes big and makes you wish no to go home. The entertainment courts are very well-equipped – for example, the theatre allows up to 350 people to attend a show.
And that's only for the first ballroom: Ville-Resort hosts a total of three ballrooms, all usable for celebrations, meetings, and events.
Get the rugby player look
Ville-Resort has a soft spot for rugby – and especially for the Cowboys. When they play, either home or away, you will get some game day benefits.
For example, you will get a free shuttle to take you to the stadium. You will also get to enter the sports bar, where you can share a drink with your peers and watch the competition from afar. Not to mention the meal deals – these are the days when you can feel the most like your rugby heroes!
Let's sum up what you know until now!
All in all, Australia, New Zealand, and Papua New Guinea have just as much to offer as casinos from other continents. Their legal and secure environments will keep all your worries away, while the amenities and entertainment venues induce the dream vacation feel.
Who can boast about going to see Hamilton and then having a high-class gaming experience?
You, that's who. But it's now time to go somewhere else in the Southern Hemisphere…
African casinos
The Dark Continent is not known to the wide public for its gambling culture, and that is a shame. Although few of its many countries receive proper regulation, those that do are on par with any other resort we have mentioned or will mention.
Although our focus will be on South Africa, this is only one of our destinations.
Aangenaame kennis, Africa!
21. Sun City Resort (South Africa)
Where to find it: 3rd floor, Longkloof Studios, Darters Road, Cape Town, 8001, South Africa
Hours: N/A
It's high time for a South African journey. Sun City Resort is very aptly named – here, you can bask in the sunlight every single day. And do not think that you'll be idle in the heat. Sun City is renowned for its numerous golf courses, which create an atmosphere of high-class living right off the bat. Even though this is wonderful, our favourite activity is the safari.
Did you know you can go on a safari?
Africa and going on a safari are two intertwined notions, and Sun City is ready to offer you the quintessential African experience. There are numerous reserves to visit. Related activities include adventurous zip-lining and segway tours. The latter is very kid-friendly, too. Safaris are bound to be family-sized fun!
22. Montecasino (South Africa)
Where to find it: Montecasino Boulevard Cnr William Nicol / Witkoppen Roads, Sandton 2021 South Africa
Hours: N/A
Montecasino has a name highly reminiscent of Monte Carlo – the interior and atmosphere also take influences from the Monegasque gambling scene.
What makes it stand out?
Montecasino has come into its own with the cinema, theatre, and unique piazza. The spectacular fountains are not only pleasant to the eye: they also play music!
The casino is very generous itself
More than 1700 slots are available to you. There are tables for games of skill, too. It doesn't matter whether you prefer Blackjack, Baccarat, or Roulette – Montecasino has it all.
23. Hemingways Casino (South Africa)
Where to find it: Cnr. Western Bypass and Two Rivers Drive, Cambridge, East London, Eastern Cape
Hours: N/A
Hemingways get its name from revered writer Ernest Hemingway. The resort's primary aim is to recreate the American novelist and journalist's opulent and often decadent lifestyle. More precisely, the time he had at his Key West home – the architecture also strongly resembles that of his house.
Enter a leisure paradise
Compared to old Ernie's time, something new is a shopping mall this extensive – over 180 stores to choose from. Also, you can visit its cinema at any time, and family-friendly activities are all the rage over here!
Moviegoers will also adore the 4D Simulator X-Rider. How does it work? Well, you get a ride at the same time as you watch a movie, and your surroundings will do their best to emulate what's happening on the big screen. Talk about immersive!
24. The Oceanic (South Africa)
Where to find it: 20 John Mcintyre Road North Beach, Durban 4001 South Africa
Hours: N/A
The Oceanic goes for full coverage with its assets. For solitary activities, you can go for a workout at the fitness center.
Athletes, keep this in mind
You can take your energy outside, too. Squash is a trendy sport in this region, and you can play it all you want on the designated fields.
However, the most vital selling point is the nearness to the ocean. You thought "The Oceanic" was merely a stylistic choice?
25. Rio Hotel Casino and Convention Resort (South Africa)
Where to find it: Corner of N12 & Rio Boulevard, Meiringspark, Klerksdorp, 2571
Hours: N/A
This South African casino resort is all about good times. Its focus on carnivals makes us think that it is a spiritual brother to a certain Southern American region.
Entertain yourself at the Rio
With a burning desire to entertain its patrons, Rio also provides the spacious Escapade Theatre, where you can watch the newest plays and shows there are. Furthermore, couples may do some go-karting for a much-needed surge of adrenaline.
26. Emerald Resort and Casino (South Africa)
Where to find it: Emerald Resort & Casino 777 Frikkie Meyer Blvd, Vanderbijlpark, 1900, South Africa
Hours: N/A
The architecture differs from the one you will generally find in South Africa. It gives a naturally rustic feel, using cosiness as its primary characteristic. However, that isn't to say that your vacation will be remote. Not at all – apart from the casino, gourmet restaurants, and conference rooms, you can take a look outside. What can you find there?
The highlight: go on animal walks
For a more traditional experience, you have access to the resort's zoo. However, that's only one possibility. The other one, which brings about a distinct amount of thrill, is going on an animal walk. The activity is best suited to parents who want their children to discover exotic animals in a true-to-life habitat.
27. Peermont D'Oreale Grande (South Africa)
Where to find it: 64 Jones Road, 1620 Kempton Park, South Africa
Hours: N/A
The resort is reminiscent of many other cultural icons. While the buildings' design closely resembles Ancient Roman architecture, the alleys adorned with palms give an exotic feel. Furthermore, the premises as a whole have a lot in common with the Indian Taj Mahal.
The complete experience as a casino player
Aside from the architecture, the resort's most prominent selling point is the loyalty program, triggered by your wagering.
The Winners circle gives you a great number of benefits, including:
Car washing;

Bonus points for slots;

Invitations to gaming tournaments;

Complimentary rewards.
28. Mmabatho Palms Hotel Casino Resort and Convention (South Africa)
Where to find it: 33 Nelson Mandela Drive, Mafikeng 2745 South Africa
Hours: Slots – 24/7, table games – 16 – unknown
We are ending the South African saga with a resort that is more on the remote side. The architecture, inspired by the Roman style, is imposing but cosy at the same time. Though Mmabatho does not insist on outdoor activities, the indoor ones provide everything to make your vacay go smoothly.
How to have fun indoors
Particular emphasis goes to the casino, of course—the gaming area hosts over 155 slots and nine tables dedicated to games of skill.
On top of that, the resort is very keen on providing the customer with the self-care opportunities they deserve. You can visit the spa on the premises and then unwind at one of the two open bars.
29. Es Saadi Marrakech Resort Palace (Morocco)
Where to find it: Rue Ibrahim El Mazini, Marrakech 40000 Morocco
Hours: N/A
We are going straight for the far North with this Moroccan casino resort
Its architecture style is reminiscent of the ancient Greek and Roman civilizations. The influence is visible, especially when you regard the columns. But still, this is only applicable to the exterior.
How does it look on the inside?
The resort is predominantly modern, with rustic touches like the fireplace. Patrons were especially fond of the luxurious atmosphere and the friendliness of the staff. But all the cosiness fades when it's time for an honest-to-goodness party!
Spend your nights at Theatro Nightclub
Part club, part event venue, Theatro does its best to give you an eclectic experience. Its mission is to reinvent partying, again and again, so be ready to dance to the hottest DJs' mixes in the scene.
Apart from DJs, you may attend full-blown concerts from the world's most talented vocal and instrumental musicians. And it's not only music that will accompany you – remember, this is the Theatro. You are also free to view spectacular shows, from dramatic enactments to dance fests.
30. Mazagan Beach & Golf Resort (Morocco)
Where to find it: Km10, Casablanca Road, El Jadida 24000 Morocco
Hours: N/A
Golfing is a luxury that some casino resorts offer, but none as much as Mazagan. It's even in the name! Besides this rather solitary activity, the resort does its best to accommodate couples and families, as well as larger groups. You can go pulse-racing or engage in local excursions.
The dates you can go on as a couple
Special mention goes to the couple activities. If you bring your significant other with you, you can try go-karting together. If you do not like adrenaline that much, there is a romantic alternative: horse-riding on the beach when the sun sets.
Africa has something to offer to all of its playing visitors
You can even go solo. You can just as easily take your significant other with you and ride off into the proverbial (and literal) sunset. And when the night comes, nothing stops you from participating in one of the wildest parties of your life.
You will not forget a thing from the moment you step on African land.
South American casinos
South America is all about carnivals and having a good time. The region has gone through marked highs and lows, but gambling has been ascending for a while now.
Fun fact
From the early 20th century, most South American countries allowed gambling houses to open their doors.
Even though Brazil initially showed some reluctance towards legalizing games of chance, the situation is changing as of now.
So, let's see what the South has to offer!
31. Hipodromo Argentino de Palermo (Argentina)
Where to find it: Avenida Del Libertador 4101 | Palermo, Buenos Aires C1426BWC, Argentina
Hours: N/A
In Argentina, all your gambling desires may come true. The Hipodromo Argentino de Palermo is, as per its name, a bookmaking institution. But it doesn't stop at that – slots lovers also have a lot to see here. Classic slots stand side by side to progressive jackpot slots and postmodern iterations of pop culture classics. A Hangover-inspired slot? You'll indeed find it here.
Did you know?
The resort gives significant attention to women's rights and health. As such, on Women's International Day, the Hipodromo raises awareness campaigns, and it goes even further – it offers free mammary check-ups to women who require it.
Ladies must complete a form through which they express their request.
32. Conrad Casino, Punta del Este (Uruguay)
Where to find it: Rbla. Claudio Williman Parada 4, Punta del Este 20100 Uruguay
Hours: N/A
We stopped in Uruguay, where the hypermodern Conrad Casino greets us. The charming exterior hosts a well-equipped casino.
What to know about the services
There are more than 550 slots you can choose from. Also, 75 tables are waiting for you to place bets.
Customers from TripAdvisor also guarantee that the food is high-class, fitting for a luxury experience. However, keep in mind that this resort is more secluded than others – taxi services are almost a must.
33. Casino Buenos Aires (Argentina)
Where to find it: Av. Elvira Rawson de Dellepiane s/n, C1107 CABA, Argentina
Hours: N/A
We are going back to Argentina for more. Casino Buenos Aires is one of the first you'll think of when it comes to South American gambling.
Ways to unwind
It is famous not only for its gaming venues but also for the clubbing and bar-hopping scenes.
As for the casino itself, it is one of the most well-equipped around. There are over 1400 slots, for one, and 120 tables for those who prefer card games.
34. Casino Iguazu (Argentina)
Where to find it: Ruta Nacional 12 km 1640, 3370 Puerto Iguazú, Misiónes, Argentina
Hours: N/A
This time, we are talking about a venue that is casino-first. Casino Iguazu first opened its doors in 1994, and it has been one of the most famous Argentinian clubhouses ever since.
What to do: casino and more
It offers over 200 slots and 30 gaming tables. However, it's not only the display of games that attracts players. The general atmosphere leaves you wanting for more.
Clients have fallen in love with the mixed events taking place here. The most attractive one is by far the one combining a tango show with fine dining options.
35. Sofitel Montevideo Casino (Uruguay)
Where to find it: Rb. Republica de Mexico 6451, Montevideo 11502 Uruguay
Hours: N/A
There is only gold in sight. And it has been there for a long while – 1912, to be exact. Think about it: this casino resort has lived through two World Wars and a plethora of instabilities.
Sofitel leaves its mark
Through all this, it rises as imposing as ever. However, there was a time in the '90s when nobody thought it would open again. The period of closure ended in 2013 when it came back with a vengeance.
One of Montevideo's biggest attractions, Sofitel Montevideo Casino has lavish bars and restaurants, all to make your gambling experience more compelling.
36. City Center Rosario (Argentina)
Where to find it: Bv. Oroño, A Circunvalacion y, S2000 DSI, Santa Fe, Argentina
Hours: N/A
Who said shopping malls could not also count as casino resorts? City Center Rosario is here to shake all your beliefs about how gambling clubhouses work. Here, you can go clothes shopping and then stop for a gamble. Gambling incurs an additional fee, although no more than 30 pesos per entry.
What makes it luxurious?
Customers are also highly favourable of the hotel's conditions – luxury is right at home in City Center Casino. Wedding receptions are pretty frequent here – do you know who decided to tie the knot at the City Center Rosario? Lionel Messi! The soccer legend himself.
37. Atlantic City Casino (Peru)
Where to find it: Av. Alfredo Benavides 430, Miraflores 15074, Peru
Hours: 06 AM – 06 PM
Atlantic City is a defining factor for Peru's gambling scene. The Peruvians prefer poker, and Atlantic City is a bona fide piece of Peruvian culture. (We also appreciate alliterations if the previous sentence is to be trusted.)
The PokerStars Latin American Tour has visited the location plenty of times.
This policy will surprise you
While Western tourists will find themselves right at home in the non-smoking gaming rooms, there is a Peruvian practice that might baffle you. Although casinos generally run 24/7 here, the poker rooms are only available from 6 AM to 6 PM – it's the law!
38. Veneto, A Wyndham Grand Hotel (Panama)
Where to find it: Vía España, Panamá, Panama
Hours: 24/7
A Wyndham Grand Hotels brand, Veneto is a highly valued gambling club in Panama. It also offers housing to its patrons, but the care centers truly justify its popularity.
Things to do at the Veneto
Here, you can enter beauty salons, go to the health center, and even do a workout. After hitting the gym, the saunas are right there, waiting for you.
The only issues we could find are the relative distance from transportation and the lack of air conditioning.
39. Sun Monticello/Monticello Grand Casino (Chile)
Where to find it: Panamericana Sur S/N, San Francisco de Mostazal, Mostazal, O'Higginore, Chile
Hours: 24/7
We added the backslash to the name because the Monticello went through rebranding a little while ago. Right now, it is known as The Sun Monticello. And what you'll find here certainly is sunny. First of all, the accommodations are high-class – if you come with a larger group, you may as well occupy the presidential suite available.
More on the casino activities
The actual casino experience is presidential, too. There are more than 1800 slots to pick from and don't worry all the machines use an RNG system to ensure fair payouts. This is a criterion that every land-based casino or online casino must respect, so in case you find something suspicious, announce the venue's staff.
The club has more to offer
You will also find 80 tables for games of skill and, something new, 300 bingo seats, one of the largest bingo capacities around.
40. Ibirapuera Garden Hotel (Brazil)
Where to find it: Av. Ibirapuera, 2577 – Moema, Moema, São Paulo, CEP 04029-200, Brazil
Hours: N/A
We could not stop in South America without taking a glance at the Brazilian gambling and hospitality culture. Customers have been entirely favourable to this Sao Paulo resort. We can easily see why!
Fun for the whole family
It is family-friendly, having indoor playgrounds for children. On the other hand, the pool is outdoors, and you can go for a swim whenever you desire.
The pool itself is kid-friendly, as the staff makes sure to keep it shallow. Relaxation plays a large part of the casino's allure: you can visit the sauna or even a hammam. Furthermore, the bar has its doors open for you, as do restaurants.
41. JW Marriott Hotel Lima (Peru)
Where to find it: Malecón de la Reserva 615, Miraflores 15074, Peru
Hours: N/A
The JW Marriott is one of the most influential brands in the hospitality business. Although it does not need much introduction, its Lima iteration deserves more than a few lines. The customer's comfort is always a priority.
Check out these amenities
You have both a poolside bar and one that awaits you near the casino. Moreover, you can get breakfast in bed, and children benefit from cuisine primarily dedicated to them.
In conclusion, it provides one of the most encompassing casino resort experiences you could have. The JW Marriott Lima will accommodate you, even if you go solo, with your significant other, or the whole family.
42. Rivera Casino and Resort (Uruguay)
Where to find it: Avenida, Blv. 33 Orientales 1010, 40000 Rivera, Uruguay
Hours: N/A
The Rivera is one of Uruguay's most famous casinos. We have already mentioned one of the Uruguayan resorts, and Rivera is just as worthy of mention. The rooftop terrace here is, beyond Instagramable, extremely spacious. Not to mention that it offers a great view of the Rivera.
It has more to offer than the view
You will benefit from a free breakfast buffet and a fantastic bar.
The resort is also child-friendly, and its televisions broadcast numerous programs that are meant to educate and entertain your children.
43. Crowne Plaza Maruma Hotel and Casino (Venezuela)
Where to find it: Desarrollos Hoteleros del Zulia C.A Circunvalacion # 2 Zona Industrial, Maracaibo 4004 Venezuela
Hours: N/A
Venezuela has casino resorts to write home about, too. Crowne Plaza Maruma is an excellently rated resort, with some patrons stating that it's the best hotel in the city.
Family-friendly fun
Like other South American casinos, it emphasizes the family experience. However, it also shines through its individual and self-care activities.
And when we say "self-care," we are also talking about the innovations it brings to bars. The poolside one is a sight to see!
44. Park Hyatt Mendoza (Argentina)
Where to find it: Chile 1124, Mendoza, Argentina, 5500
Hours: N/A
Park Hyatt is focused on giving you a high-class experience. Its exterior is closely reminiscent of a palace or embassy, and its off-white scheme adds to the refinery. However, the inside and the surroundings truly make it stand out.
Hyatt sports: go hard or go home
Because, white as the resort may be, it wants you to get down and dirty! You can try your hand not only at the casino but also during a rafting session. Too familiar for you? Then, what about paragliding? Thank us later.
45. Fuente Mayor Resort Casino & Spa (Argentina)
Where to find it: Ruta 92 km 15 vista flores, 5560 Vista Flores, Argentina
Hours: 24/7
Welcome to the hypermodern Fuente Mayor Resort Casino & Spa! Its long title already shows you some of the benefits it boasts. However, the list is far from done.
What you can do here: an extensive list
The casino adheres to the horror vacui principle – the décor is intricate, with no empty spaces.
The Spa part of the title also includes the promise of:
Hot tubs

Saunas

Massage parlour
The resort accommodations comprise not only the spacious rooms but also the restaurants made for fine dining. Here, you can try dishes from all over the world!
46. Globales Camino Real (Nicaragua)
Where to find it: Km 9.5 Carretera Norte, Managua 11052 Nicaragua
Hours: 24/7
It would be a mistake to overlook Nicaragua when it comes to casino resorts. Globales Camino Real is a high-rated venue, and it is easy to see why.
What you will get from your visit
Besides the exploration of the resort itself, you might also like seeing more of Managua. Globales Camino has you covered in this case – there are free shuttle or taxi services here.
Tips
The staff will transport you from and to the airport, with no charges.
And after your smooth flight home, you will undoubtedly talk about the tennis court, snack bar, and kid-friendly activities.
47. Suriname Princess Hotel and Casino (Suriname)
Where to find it: Kleine Waterstraat 19, Paramaribo Suriname
Hours: 24/7
Once again, we meet a casino going under many names. Besides the Suriname Princess Hotel and Casino, this venue is known as the Ramada Paramaribo. No matter the name, luxury is ensured here.
Core amenities and activities
Non-smokers will be pleased to find that the habit isn't permitted in the rooms. There are perks for all visitors, however. Firstly, the free parking and the just as free airport transportation. It seems that South American resorts know how to treat their guests!
Also, you'll have access to the restaurant (for more remote times of the day) and to the nightclub and its professional DJ (when it's time to get rowdy).
48. Barcelo Montelimar Hotel (Nicaragua)
Where to find it: Carretera Masachapa, Km. 65, San Rafael del Sur 01262 Nicaragua
Hours: 24/7
As our South American saga approaches its end, we take a look at what Nicaragua has to offer. The hospitality business's leading name is Barcelo Montelimar, a casino resort that lets you view the ocean in its full glory.
How does its individuality shine through?
Aside from the positioning, there is something else to mention – this is the only all-inclusive hotel in the country!
So, pick from one of the 293 available rooms and enjoy the exclusive offer. For once, inclusivity manages to be exclusive!
49. Hotel La Perla (Nicaragua)
Where to find it: La Merced Church 150 meters north, 00505 León, Nicaragua
The resort's neoclassical style gives it an imposing allure. Just as imposing is the bright white exterior, which also adds to its elegance. The insides keep close to this colour scheme, with ivory and beige tones.
Ways to relax
Between the complimentary breakfast and airport transportation, it would seem that this casino resort has it all. Furthermore, there are barbecue facilities, so you can entertain yourself casually while still being in one of Nicaragua's most luxurious places.
What did we find in South America?
We found a place full of consideration for women's health and customer welfare. It was more than the carnivalesque atmosphere.
Although Argentina is the undisputed gambling centre of the continent, Uruguay, Paraguay, and Nicaragua stood their own. Furthermore, Brazil's complicated history with gambling seems to have come to an end.
North American casinos
We are now getting to the den of luxury gambling. It's Heaven or Las Vegas, said experimental band Cocteau Twins, but many got locked out of the latter.
In some cases, online casinos have all the right to ban players, especially when it comes to behaviour or irregular play. There are also times when a player can be banned due to its high rate of winning, which affects the casino profit directly.
Important
Vegas, Nevada is not the only hotspot on our list.
There is something wondrous to find in many other states! Our list begins on number 50 – fitting for the country of 50 states. And Canada also has its share of highlights.
USA Casinos
50. Seneca Niagara Resort and Casino
Where to find it: 310 Fourth Street, 14303, Niagara Falls, USA
Hours: Open 24/7
While the name brings Ancient Rome to mind, this resort's exterior is as modern as it gets. And it also brings state-of-the-art casino games to the table (get it?). The sheer number is also astonishing: over 4000 slots, which few if any other casinos can boast about.
What attractions are there?
The placing is more than convenient for tourists everywhere. You are one kilometer away from the city center, and attractions like the Niagara Aquarium are within a short walk's reach.
51. Turning Stone Resort Casino
Where to find it: 5218 Patrick Rd, Verona, NY 13478, United States
Hours: 24/7
Turning Stone is the resort that wants to have it all.
It offers a complete gambling experience
Here, you can play traditional slots and table games. However, add to that the poker room, bingo, and keno. With keno, they also got the lottery aspect of gambling covered.
You can engage in some good old-fashioned sports betting
The novelty comes in the full HD screens that display your game.
Beyond gambling: resort activities
The nightlife and dining aspects also receive their due representation, but the glamour is most visible at the Loge. This amphitheatre lets you view some of the freshest shows around, and you get extra perks with it. Did someone say "valet parking" and "extra drinks on the house"? You bet!
52. Point Place Casino and Sports Book
Where to find it: 450 452 NY-31, Bridgeport, NY 13030, United States
Hours: N/A
Bridgeport, NY, does not get a lot of media coverage, and that's a shame. Why are we saying that? Because here, you can find gems like Point Place Casino. Despite its small size, it packs as much of a punch as other nominees on our list.
Endless possibilities to unwind
The luxury comes mainly from its café and dining services. However, all palates will find their satisfaction here, even if you prefer something quick and old-school like a burger or a medium-rare steak. Finally, the casino also works as a live house, where numerous rock and soul artists come to sing their souls out!
53. Mount Airy Casino Resorts
Where to find it: 312 Woodland Rd, Mt Pocono, PA 18344, United States
Hours: 24/7
Pennsylvania is not as much of a gambling household name, at least not when compared to NY or NV. But Penn does have its gems, with Mount Airy looking like a jewel, indeed. The luxury is visible not only in its looks and amenities but also in its remarkably high prices. However, we ensure you that they correspond to the services' quality.
Everything is possible here
First of all, like a bona fide premium resort, Mount Airy has a golf course ready. Secondly, the pool is a must-have, but did you know it comes with a poolside bar? And if you mean business, you can also attend the business center – Internet access included!
54. Island Resort and Casino
Where to find it: W 399 US-2, Harris, MI 49845, United States
Hours: 24/7
Welcome to the Michigan-based resort owned by the Hannahville Indian Community. We love to see the representation of Native Americans in the gambling business, and Hannahville has done a terrific job!
The ways to enjoy yourself
You may order anything you desire, from fast food to gourmet recipes. And golf is par for the course if you want to entertain yourself.
The resort also contains:
Theatre-style showroom

A live house

Numerous dining options
However, the thing we appreciate the most about this casino resort is how forward-thinking it is. Its VIP membership club comes with a mobile app, and we believe that land-based casinos should also embrace digitalization. The app will inform you of your cash balance, VIP points, and all available bonuses at the moment.
55. Hard Rock Hotel and Casino Atlantic City
Where to find it: 1000 Boardwalk, Atlantic City, NJ 08401
Hours: 24/7
Hard Rock has changed hands during its thirty-year long run. It began as Donald Trump's casino, bearing the resonant name Trump Taj Mahal. However, Florida's Seminole Tribe purchased it in 2017, giving it its current mojo.
The takeover also influenced the treatment of staff
In 2014, the upper management cancelled the workers' health insurance, among other things. The situation changed for the better in recent years. For example, the casino administration gave its staff bonuses worth $1 million in the year 2020.
Ways to rock hard at Hard Rock Atlantic City
The Hard Rock Atlantic City serves live venue realness! Moreover, you will not get a single dull night at this place – it puts significant emphasis on nightlife, so get ready to meet world-class DJs during your stay.
More remote activities are also encouraged
For example, you can take your special one to a good old couples massage.
56. Palace Station Hotel and Casino
Where to find it: 2411 W Sahara Ave, Las Vegas, NV 89102-4343
Hours: 24/7
We know it, you know it, Nevada is where it's at. Even though what happens in Vegas stays in Vegas, we brought some info on Palace Station back with us. For a casino place located in Sin City, Palace Station is surprisingly friendly to traveling families.
Endless fun for you and your child
The hotel has highchairs and shallow pools, all for children's comfort and safety. Furthermore, it aims to give you a complete experience as a tourist. As a result, you will undoubtedly find gift shops and convenience stores on the premises.
Other pluses include free airport transportation and just as free parking.
57. Westgate Las Vegas Resort & Casino
Where to find it: 3000 Paradise Rd, Las Vegas, NV 89109, United States
Hours: 24/7
We fully enter the Vegas spirit with Westgate. Originally named Las Vegas Hotel, it changed its denomination in 2014 while also retaining its former handle. It is only a short walk away from the Strip, giving you all the accessibility you desire.
All-American activities and entertainment
While sportsbook is a core component of the Vegas lifestyle, Westgate gives special attention to baseball. The yearly event lets you bet on the outcome of over 30 significant baseball leagues in this all-American extravaganza.
On top of that, the resort is grand inside and out – pick from one of the nearly 3000 rooms, we dare you.
58. Red Rock Casino Resort & Spa
Where to find it: 11011 W Charleston Blvd, Las Vegas, NV 89135, United States
Hours: 24/7
Red Rock Casino is one of the staples of high-class living in Vegas. The top-rated resort also impresses through its dedication to children. They have a whole website dedicated to kid activities.
What can the young 'uns do?
The youngsters can play Cyber Quest, an arcade-style game with prizes waiting for them. And that's the tip of the iceberg: many more video games and arcades are readily accessible. The most impressive of all must be the iPad Station – we applaud a resort that is so in tune with technology!
The adults are not neglected
Apart from the casino, filled to the brim with exclusive promotions, you can try your golf skill. Moreover, there is a bowling court, a cinema, and even a shopping mall for that wardrobe renewal you were considering.
59. Circa Resort and Casino
Where to find it: 8 Fremont Street Experience, Las Vegas, NV 89101, United States
Hours: 24/7
Circa Resort is exactly a must-visit luxury casino, with much else to discover. For example, its massive pool – more than 4,000 people can join in at once. It is so grand that it more closely resembles a stadium.
Complete awe at Circa Resort
Another attraction is the Garage Mahal, an affectionate parody of the world-famous Taj Mahal. What does Garage Mahal refer to?
A parking lot that doubles as an art gallery! Circa is not only circa but fully creative in its approach.
60. Aria Resort and Casino
Where to find it: 3730 S Las Vegas Blvd, Las Vegas, NV 89158, United States
Hours: 24/7
Aria is a brand of MGM Resorts, but its individuality shines throughout the Vegas Strip. We love that Aria embraced the future – you can book a room straight from their mobile app.
All the things MGM has to offer
The resort offers pools and – wait for it – cabanas.
It also caters to artistic souls
The resort's art collection features modern artists who revolutionized the worlds of painting and sculpture. One featured artist is Jenny Holzer, who created (and still makes!) installations through increasingly creative media.
61. Golden Nugget Las Vegas Hotel and Casino
Where to find it: 129 E Fremont St, Las Vegas, NV 89101, United States
Hours: N/A
You will strike gold when you book a room at Golden Nugget Casino. What got our attention first was the VIP membership offer, which works according to a tier system.
By going up the ranks, you can unlock gifts convertible to food and hotel rooms, not to mention slot points. Of course, for the latter, you will have to wager a specific amount on slots only.
Time for some bar-hopping
Nightlife is also an essential part of the Golden Nugget experience. When you visit the nightclub, you need not worry about the drinks: there is an open cocktail bar waiting for you all night.
62. Rampart Casino
Where to find it: 221 N Rampart Blvd, Las Vegas, NV 89145, United States
Hours: 24/7
Tourists have acknowledged rampart Casino as a top location in Vegas. After all, Trip Advisor gave it the much-coveted Travelers' Choice 2020.
Recommendation
It is an ideal place for weddings, especially with its elegant, dignified design. It certainly borrows some influences from Greek architecture.
The vacation of a lifetime
The spa is also more than a place for relaxation. Here, you can get facials, unique treatments, massages, and even attend special events.
A spicy detail
The casino recently got into hot water, as it laid off a significant part of its employees through a recorded phone call in May 2020. While the administration's decision is permanent, the number of affected employees is unknown, says Vegas.Eater.Com.
63. The Mirage
Where to find it: 3400 Las Vegas Blvd. S., Las Vegas, NV 89109-8923
Hours: 24/7
You see that right: The Mirage Casino and Hotel dedicated itself to peace and love. It is greatly inspired by The Beatles, as you can see in the mesh it displays.
Activities in the garden
Just as real is the secret garden that you may visit.
Here, you will find exotic animals, like white tigers, lions, and leopards. Aquatic wildlife also receives its due attention – you can watch dolphins in a habitat that comes as close to nature as possible.
64. Sahara Las Vegas
Where to find it: 2535 S Las Vegas Blvd, Las Vegas, NV 89109, United States
Hours: N/A
This desert-themed casino will feel like dessert during your Las Vegas trip. It feels like an oasis, especially with the rooftop pools ready for you to dip in.
Entertain yourself while you're here
Furthermore, you have access to prime entertainment – how many casino resorts can offer you Magic Mike Live? And nightlife has also shifted to day life. That's right: Sahara hosts a day club, especially fitting for those who wish to turn 21 in style.
65. Planet Hollywood Resort & Casino
Where to find it: 3667 Las Vegas Boulevard South., Las Vegas, NV 89109-4331
Hours: 24/7
Planet Hollywood is here to give you the Hollywood experience of your dreams. The casino resort focuses on its patrons' well-being, especially when it comes to their self-care routine.
All the entertainment possibilities
Here, you benefit from a full-fledged spa, as well as a workout space. You can also try the pool and later treat yourself to a drink accessible at the poolside bar.
And if you want to marry your special one in a wholly modern way, you can go to the chapel available on the premises.
66. Caesars Palace
Where to find it: 3570 Las Vegas Blvd South, Las Vegas, NV 89109-8933
Hours: N/A
Caesars Palace is one of the first names that come to mind when you think of Vegas. Even if you have not visited it yet, you have undoubtedly seen it in so many movies. From cult classics like Rain Man (1988) to feel-good features like The Hangover (2009), Caesars has lived it all.
What can you do at Caesars Palace?
Walking on the set of so many memorable films and gambling (naturally)

Go through the makeover of a lifetime.

Relax at the spa and in the massage parlour.

Take your significant other with you for a couples massage – settling together matters as much as hustling together!
Caesars Palace is also a very tech-savvy casino resort, with charging stations for electric cars.
Finally, it shines through its colourful nightlife – three bars are awaiting you, and Cleopatra's Barge club is here to give you the classic Vegas experience!
67. Bellagio
Where to find it: 3600 S Las Vegas Blvd, Las Vegas, NV 89109, United States
Hours: 24/7
Our USA road trip ends with a bang – the world-class Bellagio is a fitting finish line. It is the most cosmopolitan place on the Strip, with its architecture being inspired by European styles. The predominant influence is undoubtedly French.
High-class activities to do here
The decadent European current also inspires the nightlife. There are several bars, and the one dedicated to Baccarat aficionados is defined by the red and chrome aesthetic of the decadents. This noble game stands equal to Roulette and Blackjack in popularity, and it is the best fit for high rollers.
Entertainment: its strongest selling point
There are the famous fountain shows, for one. There is an open gallery for artistic souls, and you also have access to the "O" show, courtesy of Cirque du Soleil.
Canadian Casinos
After exploring the United States and its expansive offer of casino resorts, we are ready to head further North. Despite the occasionally restrictive laws in Canada, its resorts are widespread, and they have many stories to tell.
Stay with us for the full account!
68. Fallsview Casino Resort
Where to find it: 6380 Fallsview Blvd, Niagara Falls, ON L2G 7X5
Hours: 24/7
It would be wrong not to begin with Fallsview, the casino resort that gives you a full view of Niagara Falls. And we can all agree that seeing Niagara is a gambling vacation dream. The casino's name is straightforward, but the hotel has many extra details that will certainly pique your interest.
What can you play?
The live gaming experience is doubled by an app, as Fallsview likes keeping things practical.
The array of games is not negligible
Over 3000 slots for you to choose from. You will surely find the most popular slots, but in case it's your first visit, make sure to choose slots with low RTP. This rate can affect your gameplay in the long run, and it is different from one slot to the other. It's better to start with low coin values before you are ready to move to higher ones.
Other services to enjoy
Other attractions include restaurants specialized in seafood and an entertainment area to rival many from our list. The theatre has over 5,000 seats, and the acoustics are more than up to par.
69. Caesars Windsor
Where to find it: 377 Riverside Dr E, Windsor, Ontario N9A 7H7 Canada
Hours: N/A
Caesars Windsor is the biggest casino resort in the entire federation. However, the friendly staff will certainly guide you through this massive hotel, where you'll find everything you might desire:
Hot tub? Check.

A nightclub where you can unwind? Check.

Non-smoking hotel? You guessed it.
Besides, you have the option to go shopping on the premises. You will undoubtedly get back home with keepsakes – both material and mental.
Did you know?
Caesars Windsor has a tumultuous history. Since its foundation in 1998, it has gone through multiple crises. The first one was the 9/11 terrorist attack, which diminished the visits of US citizens. Moreover, 2018 saw its internal problems boil over – its employees went on strike.
However, a few months later, the management changed its terms to alleviate the staff's discontentment.
70. Grey Eagle Resort & Casino
Where to find it: 3777 Grey Eagle Dr, Calgary, Alberta T3E 3X8 Canada
Hours: 9.30 AM – 3:00 AM
With its decidedly avant-garde style, Alberta's Grey Eagle resort is bound to get your attention. And not only yours: Trip Advisor members ranked it highly enough to get the Travelers' Choice Award for 2020.
Fun and leisure with your pets
The reasons for the rating are plenty, although we will primarily mention the resort's friendliness:
This is a space that wholeheartedly allows pets.

Aspiring cyclists can rent a bike and go for a pleasant ride around Calgary.

If you want a campfire experience, you can go to the terrace at night and warm your hands in front of the outdoor fireplace.
71. Deerfoot Inn and Casino
Where to find it: 11500 35th Street Southeast, T2Z 3W4 Calgary, Canada
Hours: 9.30 AM – 3:OO AM (Poker room 24/7)
If you want to try a more remote experience, choosing this inn is your best bet. Keep in mind that "remote" may be the farthest thing from "dull." And especially here!
Time for a warm-up
Making the best of its mountainous area, the resort ensures skiing experiences for those who wish for them. And you do not need to get outdoorsy to have fun, either. You can swim in the heated, indoor pool. Also, you can take your friends and family and go to a karaoke night, which you will never forget.
After all this commotion, you may relax in the spa and massage room. What comes next? Getting ready to do it all again!
72. Ramada by Wyndham Camrose
Where to find it: 4702 73rd St, Camrose, Alberta T4V 0E5 Canada
Hours: N/A
Ramada is, first and foremost, an imposing building. Both high and wide, it opts for a subdued palette of grey and beige. The effect is calming to the eye, and that's because the Ramada's hole deal is making you comfortable. It markets itself as a family-friendly venue, and the reviews attest to that.
The most prominent amenities and comforts
Pet friendliness seems to be a motif of Canadian hospitality, and the Ramada makes no exception to the rule. Besides, you have access to an all-time complimentary breakfast and spa. While the resort is big on relaxation, you can get your blood pumping on the golf course.
73. The Douglas, Autograph Collection
Where to find it: 45 Smithe St, Vancouver, British Columbia V6B 0R3 Canada
Hours: N/A
Although some view the Canadian gambling epicentre as Ontario, British Columbia has many offers for you. The Douglas, specifically, is a luxury resort that aims to accommodate all types of tourists: singles, couples, and families.
Amenities for you and your family
You will receive free transportation from and to the airport, as well as breakfast included in the room's price. To add to that, you will benefit from taxi service and valet parking if you are a driver. For corporate vacations, the resort prepared meeting and conference rooms.
Tips
Parents may sigh in relief as The Douglas ensures babysitting services. And if you want to bring the family pet with you? It's more than welcome!
74. Fairmont Le Manoir Richelieu
Where to find it: 181 rue Richelieu, La Malbaie, Quebec G5A 1X7 Canada
Hours: 9 AM – 2 AM (some days they may open from 10 and close at midnight)
The French-speaking side of Canada will give you an unforgettable experience of European inspiration. However, the Canadian spirit lives on through its intense focus on winter sports.
The joys of winter activities
Here, you can try snowmobile, skiing, snowshoeing, and even the fairytale-like dog sledging when the season comes.
Furthermore, your child will love the resort and the activities it created specifically for them. Last but not least, a babysitter may come to help you take care of the young one, so you need not worry.
75. Hilton Lac-Leamy
Where to find it: 3 Boulevard du Casino, Gatineau, QC J8Y 6X4
Hours: 24/7
We are staying in Quebec for the time being. Why is that? Because some of Canada's best resorts are right here.
Try these kingly activities
Hilton Lac-Leamy, a brand from the prestigious Hilton hotels, aims to give you top accommodation. You can access the guest rooms, suites, and executive spaces, according to your needs. It also gives you full access to the Casino-du-Lac-Leamy, and that is only the beginning.
Tips
On the premises, you will also find a tennis court. This amenity is rare amongst casino resorts, so seize the chance to play the sport of kings!
76. Auberge du Draveur
Where to find it: 85 rue Principale Nord on Hwy 105, Maniwaki, Québec J9E 2B5 Canada
Hours: 12:00 AM – 11:59 AM
The Quebecois experience ends with the rustic Auberge du Draveur. Make no mistake: "rustic" and "luxurious" do not exclude one another.
Rest and relaxation at Auberge du Draveur
This is truly the place to unwind: the pool is, in a way, the centre of the resort. You have access both to an outdoor and indoor swimming space. What's more, the pools receive constant heating.
Better news for families: children get specific meals, and your pet is free to come with you whenever you visit Auberge du Draveur.
77. Pomeroy Hotel and Conference Centre Fort St John
Where to find it: 11308 Alaska Rd, Fort St John, BC V1J 5T5
Hours: 24/7
Pomeroy Hotel does its best to offer top services to its customers. Their care goes from the inside of your suite to your airport transportation. Don't believe us?
What benefits do you have when visiting
High-speed Internet available in every room. As you know, the Internet speed is relatively low in Canada, and Pomeroy intends to go past network limitations.

You have access to complimentary breakfast and unlimited room service. And when you leave the room, you can go for a workout, dine from a varied cuisine, and, of course, go gambling.

The complimentary shuttle will transport you to the airport. You only need to break a sweat in the fitness room!
78. South Beach Casino and Resort
Where to find it: 1 Ocean Dr, Scanterbury, MB R0E 1W0
Hours: N/A
South Beach Casino is Manitoba's pride and joy. With its focus on corporate vacations, it prepared conference rooms and a business centre. The latter also benefits from Internet access, so never worry about how your presentation will go.
When the meeting is over, you and your colleagues can go to the lounge for a fine night, which will undoubtedly end in the well-equipped casino. And since we're here…
Becoming a member
South Beach Casino created a loyalty scheme, which will result in nothing but extra perks. Joining it incurs no charges. From that point on, every 400 points you collect on slots will amount to 1 Beach Buck, the casino's currency. These Beach Bucks are then convertible to real cash. All in all, we are sure high rollers will enjoy this deal!
79. St. Eugene Golf Resort and Casino
Where to find it: 7777 Mission Rd, Saint Eugene Mission, British Columbia V1C 7E5 Canada
Hours: 24/7
St. Eugene presents a vintage, elegant look. Do not be fooled, however: everything here is state of the art!
Inclusive activities in an inclusive space
The resort is up to date on every customer's needs, being one of the few hotels that provides special menus for vegetarians and people of different religions. Moreover, children receive all the necessary attention.
Youngster
Can join the fun in the playground and, when he gets hungry, he may pick from the kid meals.
The adults
May engage in numerous activities, each more exciting than the last. Golf course? Indeed, it is even in the name! What about skiing? Sure thing! But canoeing? Now that's a (very much welcome) rarity.
80. Stanford Inn & Suites
Where to find it: 11401 100 Ave, Grande Prairie, Alberta T8V 5M6 Canada
Hours: N/A
This luxury resort dedicates itself to family trips.
Bringing your child with you?
They get to stay for free, and they will also benefit from educational and fun activities.
A trip to remember for you and your child
Fun fact
There is a dinosaur museum in Standford Inn & Suites.
And after you and your family get a crash course in paleontology, you can unwind through mountain biking or a good old-fashioned shopping sesh.
Adults will also be thrilled to hear about the golf course on the premises. Nearby, you will also find the casino associated with Stanford.
81. Park Centre and Hotel
Where to find it: 2016 Sherwood Dr, Sherwood Park, Strathcona County, Alberta T8A 3X3 Canada
Hours: N/A
The Alberta saga ends with Park Centre and Hotel, a high-rated resort that grabbed one of TripAdvisor's Traveler's Choice Awards for 2020. This is one of the older resorts.
How does it fare when compared to the newer ones?
Better than ever, we must say.
Quality time at Park Centre and Hotel
Customers sincerely appreciated the comfort it provides, visible not only in the rooms but also in the spa and beauty salon. On top of that, what more relaxation could there be than in a space designated for picnics?
Finally, there is a generous shopping area, so be ready to go for keepsakes.
82. Hotel Casino New Brunswick
Where to find it: 21 Casino Dr, Moncton, New Brunswick E1G 0R7 Canada
Hours: N/A
The sole of its kind in the province, Hotel Casino New Brunswick welcomes all players, as long as they are 19 or older.
All patrons, however, will benefit from the entertainment and spa venues accessible here.
Unique experiences at a unique casino
You can give the theatre a visit. Here, the casino hosts spectacular shows and the occasional hip concert. Plus, the attached restaurants and bars will provide you with fine dining and drinking experience.
More remote activities are also available
Kick back in the hot bath or take your pet for a walk.
Recommendation
Hotel Casino New Brunswick follows the Canadian way of pet-friendliness.
Out of the Americas, the one from the North has always proven itself to be the place to go if you want to have a mighty fine time. Although each continent has its fair share of luxury casinos, North America hosts the gambling den of Las Vegas, and no other region can boast about it.
Let's go to our final destination, which also puts great emphasis on elegance and high living!
European Casinos
No must-visit casino list could end without a European journey.
The United Kingdom is undoubtedly at the core of high-class gambling, especially with the UK Gambling Commission making sure that nobody or nothing falls out of line. This authority imposed several rules in the past years, all for the safety of British gamblers.
But what about Eastern Europe?
Aspiring economies, like Croatia and the Czech Republic, will give you the gambling journey of a lifetime. Europe is unity in diversity, and the best place to see this paradox is in its luxurious clubhouses.
Stay tuned to find the most opulent names from all four corners of the continent!
83. Lopesan Costa Meloneras Resort, Spa & Casino (Spain)
Where to find it: Calle Mar Mediterraneo 1, 35100 Meloneras, Gran Canaria Spain
Hours: N/A
The resort boasts impressive architecture. Its landscaping is also a sight to behold, with water fountains and over 2000 palm trees adorning the garden.
You will also enjoy the proximity to the exclusive beach, and we assure you, the resort's strengths don't lie solely in its ideal placement. This is a spot for sports enthusiasts first and foremost.
What sports can you play there?
So, so many:
Snorkelling

Windsurfing

Billiards

Tennis

Mini-golf

Hiking

Aerobics

Table tennis

Horseback riding

Boating.
And, to make sure we do not forget anything, we'll also mention the swimming you can do at the pool or by the beach.
84. Hyatt Regency Nice Palais de la Mediterranee (France)
Where to find it: 13 Promenade des Anglais, 06000 Nice France
Hours: N/A
We are staying in Western Europe for the time. France, to be more specific. And really, why wouldn't we? Hyatt Regency is a recreational den.
Best accommodations for children and couples
Due to its child-friendly nature, the Nice Palais is fit for family visits. However, couples that have just gotten married receive just as many accommodations.
The hotel hosts a bridal suite.
Now, for the general benefits: besides beach access, you can relax at the sauna or even in a hammam. The resort also has prepared bikes if you want to unwind with a ride in Nice.
85. Marienlyst Strandhotel (Denmark)
Where to find it: Nordre Strandvej 2, Helsingoer 3000 Denmark
Hours: N/A
Moving north, we enter Denmark. This is one of the merriest countries around, so much that it coined the trendy term hygge. With a resort like Marienlyst Strandhotel, we understand their reasons to be jolly.
Reasons to visit
First of all, you can bring your pet with you – everyone knows that a vacation is better when you have your little furball. You will also get breakfast in the room for maximum comfort.
When you do not swim in the sea or in the pool (where there is a bar, just saying), you can go to the salon for a total makeover. Another activity the customers loved was bicycle rental and riding.
86. Fairmont Monte Carlo (Monaco)
Where to find it: 12 Avenue des Spelugues, Monte-Carlo 98000 Monaco
Hours: N/A
Back to sunnier plains, we reached Monaco
You surely think of it as a gambling den, but its resorts have so much more in store. For instance, Fairmont Monte Carlo is a highly up-to-date resort. It even has stations for charging electric cars!
However, it's the spa services where it truly shines.
What spa services will I find?
We hope not to miss anything: facial treatments, couples massage, neck massage, hand massage, manicure, pedicure, waxing services, solarium, and a beauty salon. In other words, it is the ideal place to get a complete tan and get beach-ready.
87. Casino de Monte Carlo (Monaco)
Where to find it: Place Du Casino, Monte-Carlo 98000 Monaco
Hours: 2 PM – 4 AM
We are looking at a casino with a history. It first opened doors in 1863, making it one of the oldest still-functioning clubhouses. However, it undoubtedly is in with the times. Its numerous ballrooms (salles) offer you gambling, theatre, bars, and restaurants in as posh an environment as they come.
Did you know?
In 1873, somebody discovered a roulette loophole and managed to break the bank. It took several more breaks until the casino changed its technologies.

In 1921, the first Women's Olympiad took place here. In the casino's garden, to be more specific. Casino de Monte Carlo is James Bond's go-to casino; nowadays, a lot of its fame stems from its association with Agent 007.
88. Casino Café de Paris (Monaco)
Where to find it: Place Du Casino, Monte-Carlo 98000, Monaco
Hours: N/A
Called Café Divan initially, the casino is as old as Monte Carlo itself. It was founded in 1868. Its architecture is highly reminiscent of the Belle Epoque style, famous in the 1900s.
However, the revamp is relatively modern, as it took place in 1988.
Have the time of your life as a gambler
Besides the trivia, know that this is one of the most luxurious squares you could visit in the whole world. The gaming space goes up to 13 km², and patrons were also delighted with the café's beverages and fine foods.
89. Hotel Hermitage Monte Carlo (Monaco)
Where to find it: Square Beaumarchais, Monte-Carlo 98000 Monaco
Hours: N/A
The Hermitage is one of the top destinations in Monaco, and that is saying a lot. What makes it so famous?
Family-friendly activities and amenities
Besides its sheer vastness, the elegantly-styles resort offers you complete spa services. What's more, your pet is welcome to join you on the premises, and your child will receive the best accommodations. The hotel ensures babysitting services to those who request it.
On top of that, there is a kids club, where they can mingle and have a good time.
Time for self-care
It's also a place where you can work on yourself. There are training rooms for those who prefer working out on their own and those who wish to take classes. And after so much self-improvement, you can go for a drink at the poolside bar or the rooftop one.
90. Hotel Metropole (Monaco)
Where to find it: 4 Avenue de la Madone Bp 19, Monte-Carlo 98000 Monaco
Hours: N/A
Hotel Metropole comes straight from the Belle Epoque – it was founded in 1886. It also went through renovations under the careful eye of architect Jacques Garcia. The result is a timeless casino resort with lots of other attractions.
What to look for when you visit?
Comfort is the top priority here, and it extends from the indoor pool (heating included) to the extensive spa treatments you may receive. Massages specialized for the necks, hands, or feet are par for the course. If you want to take your special one on a date to remember, you can schedule a couples' massage.
91. Dragonara Casino (Malta)
Where to find it: Dragonara Palace Dragonara Road San Giljan, STJ 3143, Malta
Hours: 24/7
Dragonara Casino started as a palazzo for the Scicluna family. This was a wealthy family, which later rose to nobility. The palace's foundation dates back to 1870, making it the oldest casino on our list yet.
What to do at Dragonara?
This venue comes with a generous array of slots, table games, and poker. You can play in the fun mode for some exercise, and don't forget to bring your lucky charms. Some gamblers believe that wearing red or blowing on dice will ensure a high win. Others refrain from entering the casino using the front door because that means bad luck. How about you?
Scandalous!
Dragonara finds itself amid a controversy. The operators wish to extend the ten-year lease they have on the casino, but their request was overruled. At the moment, Brussels has its eye set on the palazzo, and operators wish to go against the decision, which they deem scandalous.
92. Portomaso Casino (Malta)
Where to find it: Portomaso, St Julian's, Malta
Hours: 24/7
Portomaso is one of the leading casinos in Europe's gambling epicentre. The Malta Poker Festival generally takes place here, and for a good reason, too.
Without a doubt, the world's greatest poker players have graced Portomaso with their presence, so why shouldn't you?
Derive your enjoyment from these activities
Naturally, the casino is rich in poker tables, slots, and games of skill. Each of the game categories provides loyalty deals and occasional tournaments.
Fact
There is even an available leaderboard for Poker, so you can see how you fare compared to other punters.
The tournament structure is available for small groups, too. If you bring your friends, you can create a poker night of your own. You have to schedule it, and the staff will be there with you to guide you through the steps.
Besides, going clubbing is always an option here.
93. Dolmen Hotel (Malta)
Where to find it: Qawra Front, St. Paul's Bay, Island of Malta SPB 2402 Malta
Hours: N/A
It's time to go to the beach!
Fun and games by the beach
Besides the sea, you can swim in one of the four outside pools and take your child to the kids' pool. The hotel is kid and family-friendly, indeed: the kids club is one of its primary selling points.
But friendliness extends to all of its patrons, as those who visit the spa will find out. The masseurs are ready to relax your every nook and cranny.
94. Radisson Blu Resort & Spa (Malta)
Where to find it: St George's Bay St. Julian's, Saint Julian's, Island of Malta STJ 3391 Malta
Hours: N/A
This resort puts the "rad" in Radisson!
This immense resort does its best to accommodate everyone, and with great results, too. We are saying this by taking a look at the customer reviews. Its initiative to include menus for people with special diets is also applaudable.
So many pools to choose from!
We are talking of a pool paradise. There are outside pools with a view, indoor pools, heated pools, and favourite saltwater pools.
95. Villa Mercede (Italy)
Where to find it: Via Tuscolana 20, 00044, Frascati Italy
Hours: N/A
Italy is yet another country with a strong gambling culture. Here, Villa Mercede is an amazing starting point.
Plan your best night out
Its casino focuses primarily on slots, but Blackjack and Roulette fans will also find their place here. Besides, you will find everything you need for a successful night out.
A restaurant? At your service. Lounge? Are we talking about the one in the building or the poolside one?
And to kick back, you may visit the spa and, something that we have rarely seen, a hot tub. And to wrap this up, know that customers appreciated the view it displays.
96. Hotel Il Castelletto (Italy)
Where to find it: Via Dell'Ecologia 7, 20080 Casarile Italy
Hours: N/A
Il Castelletto means "little castle", and the hotel's design is fitting for the name. The experience is just as princely.
How to party in style
The banquet room opens its doors for the events you want to host. It may be your baby's birthday or a coming-of-age party. Il Castelletto ensures the day you turn 18 is one to remember.
Add to this the free breakfast and the acceptance of pets, and The Catseletto is one of the friendliest casinos in the peninsula.
97. Parc Hotel Billia (Italy)
Where to find it: Viale Piemonte 72, 11027 Saint-Vincent Italy
Hours: N/A
If you want to view an impressive landscape, Parc Hotel Billia is the go-to Italian destination. While surrounded by nature, you will also have access to great human-made features.
What you will enjoy here
First, the casino. Know that it abides by a dress code, which you must always respect. The casino's policy requires you to be sharply dressed at all times.
So, take out your cocktail dress or your tuxedo and go for a spin. Bermudas and capris, for instance, are strictly forbidden, and so are short shorts.
A tech-forward resort
The casino has a private room, too. Men are absolutely required to wear long trousers to get in. Of course, you can stay in your hotel room and grab your phone; no dress code is required.
The forward-thinking clubhouse also created an online iteration of the casino for those who want to play even when away from the gaming tables.
98. Sofitel Budapest Chain Bridge (Hungary)
Where to find it: Szechenyi Istvan Ter 2, Budapest 1051 Hungary
Hours: N/A
The Sofitel Budapest has been around for several decades. During this time, it established itself as one of the leading Eastern European grand hotels.
What does it have to offer?
It is an inclusive space, offering two spaces for people with disabilities, which we have not seen at other nominees on our list.
Furthermore, family-friendliness is a staple of the Sofitel – you can request a babysitter for your child, and the kid menus are particularly generous. The kids will also get teddy bears on their beds.
The view is unparalleled
You can see the Danube in its full glory from wherever you reside. It's high time we played Johann Strauss!
99. Grandhotel Pupp (Czech Republic)
Where to find it: Mirove Namesti 2, Karlovy Vary 360 01 Czech Republic
Hours: 07 PM – 04 AM
What started in 1701 as the Saxony Hall (later: Bohemia Hall) became Grandhotel Pupp at the end of the 19th century.
The building boasts neo-baroque architecture, with luxury being displayed front and center. In 2006, the luxurious resort went through a renovation, being more open than ever to the public.
Pets, sports, and everything nice
Its openness is also visible when it comes to families with children and those who want to engage in sports. Family people will be thrilled to know that children get strollers, babysitters, and designated menus.
Your pet may also come!
On the other hand, sportspeople will enjoy horseback riding, hiking, biking, and skiing opportunities. And, to make your situation even more convenient, you do not need to bring your own skis. You can rent them!
100. Carlsbad Plaza (Czech Republic)
Where to find it: Marianskolazenska 223/25, Karlovy Vary 360 01 Czech Republic
Hours: N/A
Carlsbad Plaza shines through several things: it is based in a sumptuous 18th-century building, and it advertises itself primarily as a medical spa. The ailing may come here to get treatment and relaxation at the same time.
Activities for all times
And, even if physiotherapy is not your primary concern, you've got so much to do here. Firstly, we dare you to pick one of the three available restaurants. One of them specializes in healthy meals, while the others recreate grand buffets.
There are also two bars and a café, for those who prefer more intimate environments.
101. Kempinski Grand Hotel des Bains (Switzerland)
Where to find it: Via Mezdi 27, St. Moritz 7500 Switzerland
Hours: N/A
The Kempinski building has been around since 1864 – many European casinos have a lot of history attached to them. Besides, this grand hotel also gives you access to other legendary sights of Switzerland.
Things to do and sights to see
First and foremost, you may visit the world-famous Hohnensee ski run. Moreover, the resort offers ski lessons and allows you to rent equipment.
However, this is a ski den and a place providing numerous spa services, taxis and shuttles for airport transportation, and butler services!
102. Grand Hotel Quellenhof Bad Ragaz (Switzerland)
Where to find it: Bernhard-Simonstrasse, Bad Ragaz 7310 Switzerland
Hours: N/A
When you enter the Grand Hotel Quellenhof Bad Ragaz, you enter a place where the past and future intertwine. Although it is similar in style to a 19th-century palace and it even opened during that period, its policies indicate forward-thinking management.
Its best features
It is an environment-friendly resort, providing bicycle rentals and charging stations for electric cars.
Another attraction lies in its restaurants, which are Michelin-certified. If you are a gourmet, we do not know how many places we could recommend over this one.
103. Esplanade Zagreb (Croatia)
Where to find it: Mihanoviceva 1, Zagreb 10000 Croatia
Hours: N/A
Customers see the Esplanade as Croatia's most lavish hotel. The giant palace, which is nearing its 100th anniversary, is well-known especially for its spacious and lavish rooms. And there are more than 200 rooms where you can spend your vacation in complete comfort. The staff is well-versed in:
English

German

Russia

Croatian
Take your significant other to this place
The pet and family-friendly hotel also has its doors wide open for just-married couples. Take your partner on a honeymoon in Zagreb, and benefit from the bridal suite.
When you leave your room, you can also attend the spa for a couples massage. And that's because dates do not stop after saying your vows!
104. Hotel Algarve Casino (Portugal)
Where to find it: Av. Tomás Cabreira, 8500-802 Portimão, Portugal
Hours: N/A
Our incursion in Central and Eastern Europe will excuse us for a detour. Back to the Iberian Peninsula, it is, especially when Hotel Algarve Casino is so inviting. The casino resort fits various types of travellers, but especially for those who go on corporate vacations.
Why this is the perfect place for corporate meetings
The resort offers numerous conference and meeting spaces. Express check-ins and outs are also available for those who come here on business. However, the resort is perfect for you, even if you only want to unwind.
Take a step into the Turkish hot bath, also known as a hammam, and you will confirm that Algarve is an oasis for patrons of all kinds and origins.
105. Burgas Hotel (Bulgaria)
Where to find it: ul. Aleksandrovska 21, 8000 Burgas Center, Burgas, Bulgaria
Hours: N/A
And back to Eastern Europe we go – more specifically, to the Balkans. This non-smoking hotel aims to accommodate its visitors through numerous means.
How your time here will be
After receiving transportation from the airport to Burgas, a concierge will be there to get you accommodated. And the day after checking in and having a go at the in-built casino, you will wake up to a free breakfast buffet.
In the evenings, you may attend events in the banquet room, or you can meet up with your colleagues in a laxer environment. The meeting and conference rooms allow corporate meet-ups to go off without a hitch.
106. Grosvenor Casino Plymouth (United Kingdom)
Where to find it: 15 Derry's Cross, Plymouth PL1 2SW, United Kingdom
Hours: 24/7
Grosvenor comes from the French Grand Veneur, which literally means "master huntsman." And there are lots of activities to hunt for there.
All the possibilities to unwind
First and foremost, Plymouth's Grosvenor Casino is a clubhouse dedicated to both games of chance and sportsbooks. You have the option to place your bets on live sports, as well as try your hand at slots.
Some slots also connect to a jackpot!
Recommendation
If you prefer poker, you may go to one of the designated rooms and see what hand awaits you.
Besides, you can drink at the lounge and accompany it with the restaurant's delicate dishes. Lastly, partying is more than a possibility – the venue has professional DJs. On top of that, there are live shows from time to time.
107. Hippodrome Casino London (United Kingdom)
Where to find it: Cranbourn St, Leicester Square, West End, London WC2H 7JH, United Kingdom
Hours: 24/7
The Hippodrome is London's most luxurious and prominent gambling house.
And there are good reasons for that.
After a merger, the legendary casino started as a theatre in 1900, only turning into a full-fledged clubhouse in 2009.
What it has to offer in the here and now
Firstly, The Hippodrome puts numerous Novomatic slots and Roulette games at your disposal. You can also try the live deck, courtesy of PokerStars. Its past as a theatre certainly lives on, as you can attend cabaret shows and music halls. Smokers can also shield themselves from the elements, thanks to an inner terrace.
Anyone can enter the casino if they show an ID at the doors
In case you don't comply with this, you may not be able to pass Hippodrome's doors. It's like a minimal KYC to make sure you have the proper age. Online casinos do that too, but there you have to present much more documents to testify you can play in the online environment. The KYC policy is performed at all licensed casinos and ensures the safety of the website and yourself too.
And this is how our European trip comes to an end – not with a whimper, but a decidedly British bang!
To sum up
We searched the world far and wide for the top 107 casino resorts to visit in your lifetime. So make sure to fill up your bucket list with some names and have the time of your life!
References