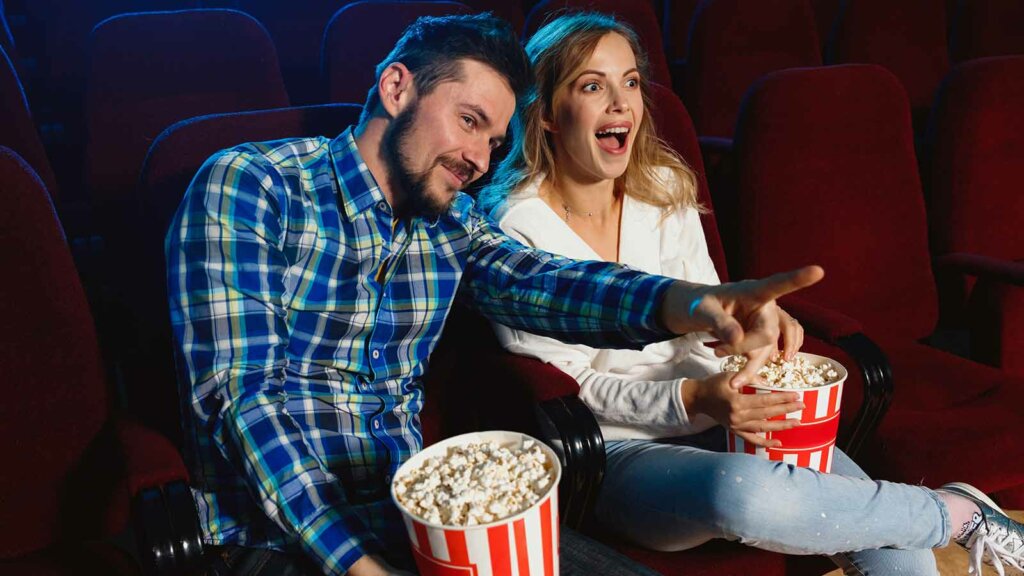 Best Casino Movies to Watch | List of 10 Jaw-Dropping Movies
Our team of gambling experts made the best gambling movies list. To recommend our best picks and shed some light on the fine line between fact and fiction.
One thing to keep in mind is that movies, in general, do not depict reality truthfully. So please be advised that some of the scenes cannot be replicated with the same outcome. Always be responsible when gambling and remember that thoughtful action is much more efficient than impulsive behaviour.
Molly's Game

Overview
Molly's Game Trailer
Movie cast
Jessica Chastain as Molly Bloom

Idris Elba as Charlie Jaffey

Kevin Costner as Larry Bloom

Michael Cera as Player X
What's Mollie's Game about
Mollie left her former Olympic aspirations behind and started running underground poker games where famous and wealthy individuals gather to play. Eventually, she leaves and starts her own underground gambling business. This film has many ins and outs that are undoubtedly the most interesting compared to other casino movies out there.
Is Mollie's Game a true story
Yes, the main character's name is the person's actual name who lived this whole story. Molly Bloom almost became an Olympic skier but suffered an injury during the qualification try-outs. This led her on the path depicted in the film. The whole narrative is based on her memoir that has the same name.
No fiction here
We cannot say if the movie is plausible or not since it happened. However, it must be mentioned that the games are depicted as they should, and the organised underground casino setting looks authentic. She takes a percentage of every large pot during the movie, which is a standard procedure done in poker games.
This mechanism is present in online poker games since it covers the costs of operating the software and servers.
You need to watch it
This deserves to be part of the best gambling movies for showing how the legal system works in grey cases. The narrative is fascinating and deserves a watch. Molly Bloom's life story stands as an example of the good things that come from bad situations.
The Gambler

Summary
The Gambler Trailer
Stars
Mark Wahlberg as Jim Bennett

John Goodman as Frank

Brie Larson as Amy Phillips

Jessica Lange as Roberta
Things must get worse before they get better
The protagonist Mark Wahlberg brings an excellent performance in one of the most thrilling casino movies out there. He starts with a lot of gambling debt to the wrong people, and throughout the movie, he manages to acquire more. In this film, you will see some risky and lethal gambling decisions that can quickly bring any person lower than rock bottom. There is only one question left does Mark Wahlberg die in the gambler?
Some parts are more accurate than others
The film manages to portrait a realistic casino setting, and this applies to the games as well.
However, if the setting is depicted accurately, the story is out of touch with reality. Not going into too many details as not to give a spoiler; few things need to be said. Loan sharks are not that trustworthy in real life as much as they are in this film. From a responsible gambling perspective, the plot is a nightmare. If this happened, there would be few to no possibilities of any happy end.
Each gambler has their own journey and some of the viewers will be able to relate to the struggles of the characters. As professionals, we know that losses are hard to handle, however there's a solution. Modern-day casino sites allow you to recuperate parts of your losses through cashback bonuses, so you can budget better than in the movie's plot.
Why it's a good watch
Although the story is just fiction, it's without a doubt entertaining. What makes this film join the best gambling movies is the sheer absurdity of it all. The whole plot is a roller-coaster that's funny at times and very suspenseful in other scenes. However, a darker side here reveals the reality of dealing with the mob and the life-threatening situations irresponsible gambling can create.
Wild Card

Synopsis
Wild Card Trailer
Staring
Jason Statham as Nick Wild

Michael Angarano as Cyrus Kinnick

Dominik Garcia as Holly

Milo Ventimiglia as Danny DeMarco
Wild is an accurate description
This is the most action-packed film out of all the casino movies. Wild Card with Jason Statham has gambling, action, and reckless behaviour. The main character is hooked on gambling that works as a bodyguard to sustain his addiction. After deciding to help a friend, he gets in trouble with the mafia.
What wild card means
The wild one is a card that can represent any other card. Usually, it's the joker, but depending on the game, it can be other cards. This is in card games, but a wild card has a meaning in sports as well. A team that qualifies for a tournament for any other reason than the normal way. Usually, it fails to qualify, but the team or sportsman manages to get in using different rules, thus becoming a wild card.
How real can an action-packed movie be
The mob ordeal is farfetched since one person cannot fight the entire mafia from a city. But we are gambling specialists, not mafia experts, so who knows, it may be possible. In contrast, the whole casino experience and gambling games are depicted perfectly.
A lesson to be learned
There is one scene that shows the hardships of irresponsible gambling. After generating a lot of value, Statham wants to cash out. But, before doing so, he gets cold feet and decides to continue playing and eventually loses everything. This shows the dangers of reckless conduct and how it can cast a shadow on any triumphant moment.
Gambling and Jason Statham complement each other
If you like action films, this one will never disappoint. On top of that, it has many interesting casino scenes that make it part of our best gambling movies list. It's entertaining and has some exciting parts that can even be funny at times.
The House

Outline
Trailer
Cast
Will Ferrell as Scott Johansen

Amy Poehler as Kate Johansen

Jason Mantzoukas as Frank

Ryan Simpkins as Ales Johansen
Parents love their kids
This comedy starring Will Ferrell and Amy Poehler has many funny moments that make it deserve a spot at the best gambling movies table. The film is about a parent's love for their child and how far he is willing to go for their kids' aspirations. For the heroes, it means starting an illegal casino operation. The stakes are significant, but the risk is even higher considering the law against illegal gambling.
Illegal gambling
In the UK market, any type of gambling activity that is not registered and regulated by formal institutions is considered illegal. The punishment for such activities is usually a fine alongside a prison sentence that can go up to around one year.
The danger of participating in this kind of activity is that nobody can protect and guarantee that your funds will be safe.
More fiction but funny fiction
The only aspect that's done correctly is how the games are played, which is depicted accurately. On the other side, the whole improvised casino idea is creative and interesting. Still, it's nearly impossible to pull it off and maintain this kind of illegal business.
The reality is that the authorities would have been all over the place in less than a month. It's essential to be a good parent, but reckless activities like this will not get you anywhere good.
It's not that easy to run a casino
The makeshift casino looks pleasant and surprisingly appealing. The film implies it looks like Vegas if Vegas was just one house. However, putting the illegal part aside, it's not that easy to manage a casino. You need people who know how everything works from an administrative perspective and from a security standpoint. So, any problem that may appear can be dealt with appropriately.
An enjoyable movie
From all the casino movies, this is the only one that improvises one. Only a comedy movie could ever pull it off such an outlandish idea. Still, the illegal part is not feasible. Still, it depicts the American dream nicely. It shows that anything is achievable if you are determined and work hard.
Croupier

Movie Synopsis
Trailer Croupier
Featuring
Clive Owen as Jack Manfred

Nick Reding as Giles Cremorne

Alexander Morton as David Reynolds

Gina McKee as Marion Nell
The plots get deeper
The leading actor perfectly embodies the cold-hearted and sometimes unsettling croupier. An aspiring writer takes a job at a casino to find inspiration for his book. However, he starts to dabble in different activities that go against the casino code of conduct for employees and even more.
What does croupier mean?
The person who conducts the game deals with the cards and distributes the pay-outs. Croupiers are also known as a dealer. Initially, the word meant the individual who stood behind the player with some extra reserves of cash. The person that conducts the games in live dealer casinos from the UK market is also a croupier.
In-depth casino presentation
This movie joins the best gambling movies just for the casino depiction alone. It shows all the intricacies of managing a casino, from surveillance to employees' rules. The games are depicted accurately. It truly shows how Hollywood influenced the gambling industry.
The only inconsistencies are regarding the plot. A casino usually has strict surveillance over their employees, so funny business like the protagonist pulls off rarely passes unnoticed. We completely agree with the movie that the daily life of a dealer or croupier can make an exciting book or movie.
A deep movie worth a watch
The plot is interesting and, without a doubt, is one of the best casino movies out there. The protagonist is a complex character who finds a fascination with the gambling world. He becomes somewhat of a gambler considering the limits he constantly pushes throughout the movie.
7 Days to Vegas

Movie Overview
Trailer
Featured actors
Vincent Van Patten as Duke

Ross McCall as Sebastian

Paul Walter Hauser as Puppet Hank

Eileen Davidson as KC
Celebrities that will bet on just about anything
The central character runs poker games in Los Angeles, and a big shot Hollywood director join. Eventually, they start betting on just about anything since gambling and imagination go hand in hand. However, the movie's plot starts when the main character accepts a million-dollar bet to walk from LA to Las Vegas. Disregarding whether he makes it, the whole idea deserves to sit at the best casino movies table.
Is seven days to Vegas a true story?
Apparently, yes, the leading actor Vincent Van Patten says he did it. Since it's not impossible to pull it off, it checks out. Another part that inspired the movie is the habit of Hollywood big shots to bet on anything.
Although the movie amusingly presents reckless gambling, in real life, it's not like that. We encourage any individual to play responsibly and do any betting in certified establishments.
Plausible story
There are no real casinos depicted in the movie; that's why our grade is low. Apart from that, the games are presented accurately, and the story can happen. Who would not take an almost 300-mile walk to Las Vegas for a million dollars? It's good for your health, and the money seems reasonable.
A funny idea and a funny movie
The movie is very entertaining, and it does not take itself seriously, which makes it even funnier. Although there is a lot of irresponsible gambling that's not addressed correctly, it's entertaining. This creative idea joins, without a doubt best gambling movies list.
The Cooler

Movie Outline
Trailer
Actors
William Macy as Bernie Lootz

Maria Bello as Natalie Belisario

Alec Baldwin as Shelly Kaplow

Shawn Hatosy as Mikey
The cool loser
The cooler William Macy brings bad luck to any table, and that's his job. Alec Baldwin, who played the casino owner, used the cooler to ensure no one left with a sum that could be the casino's profits. However, the professional bringer of misfortune starts losing his power when he meets someone. A film about a gambling myth surely deserves to be called one of the best casino movies.
What's a cooler?
A cooler is the person employed by casinos specifically to bring bad luck to clients with earning streaks. When a "table is hot", meaning that an individual or group of people start gaining profits, a cooler is sent to change the fortunes.
This staff member does not have to do much, stand close, watch, or play a few hands. Before you know it, the magic of bad luck comes to the whole table.
Do coolers exist?
They are a myth since there are no full-time employees at casinos just for bringing bad luck. But like any famous tale, it has a little bit of truth in it. Casinos usually use different tactics to "cool down" a table, like changing the dealer or doing an announced chip count.
It has its genuine parts
From the casino and games perspective, everything is thought out perfectly. As casino experts, we appreciate that they brought the cooler myth to life from a fiction standpoint. However, it's just a story, and we cannot consider that brick and mortar casinos employ people for this specific job a reality.
Chill out with the cooler
The movie is at its foundation a love story, and the casino elements bring the spice of originality. For this reason, it joins our best gambling movies list. It's entertaining, and sooner or later, everyone will find themselves hoping that the bringer of misfortune gets the happy end.
Mississippi Grind

Summary
Trailer
Played by
Ben Mendelsohn as Gerry

Ryan Reynolds as Curtis

Yvonne Landry as Louise

Anthony Howard as Larry
The grind is real
Two gamblers befriend each other and decide to go on a road trip. They hope to make enough money to pay a debt and have some to bring back home. This is one of the best gambling movies since it shows most casino games and the dangers of reckless playing. Accurate casino but not so accurate outcome
Is reality captured with accuracy
The casino setting is depicted in detail and accurately. What stands out here compared to other casino movies is the different number of games present. From slots, poker to roulette and some casual sports betting. Additionally, the casino music played was highly immersive.
For us, as gambling authors, we know that slot gameplay accuracy is important. For example, a scene with a close up of a slot session needs to capture the special features, like free spins since their popularity stands high in online and land-based cases.
However, this action is entertaining but not realistic since reckless gambling in different casinos will never raise the changes. In some cases, it makes irresponsible behaviour seem worthwhile, which is not the case in real life.
An interesting journey
It's an interesting movie, humorous at times. It even brings forth some issues that can appear if playing foolishly for too long. Apart from this, the relationship between the two characters is fascinating. Since one is a newcomer and the other an old fox that's doing this for far too long.
It shows how the wise man can change his fate with something fresh.
Vegas Vacation

Movie info
Trailer
Interpreted by
Chevy Chase as Clark Griswold

Beverly D'Angelo as Ellen Griswold

Randy Quaid as Cousin Eddie

Ethan Embry as Rusty Griswold
Nobody catches a break on this vacation
Vegas Vacation with Chevy Chase is a comedy classic that deserves the spot at the best casino movies table, inspiring viewers through numerous memorable gambling quotes. After receiving a bonus from his job, the main protagonist decides to renew his wedding vows in Las Vegas with his family. Many things go wrong, and some go right, making the Vegas Vacation National Lampoon another perfect instalment in the series.
How accurate can a comedy in Vegas be
Well, the games are depicted correctly, and the casino setting portrays the Las Vegas feel. However, the casino staff, specifically the guy at the blackjack table, is very unprofessional. Still, we will let it slide, considering this is a comedy.
The story is outlandish, and in its quest for funny scenes, it creates some unprobeable situations. Still, an important thing presented that makes this film one of the best gambling movies is how the protagonist commits the Monte Carlo fallacy.
The Monte Carlo fallacy
It's the belief that after a series of losing bets that occur more frequently than average, it will be less likely to occur after. Thus, the player continues to place bets and lose, considering that the odds of success will eventually be in his favour. It's more widely known as the gambler's fallacy.
The protagonist makes this misplaced belief in all the Vegas Vacation blackjack scenes, where he places bets and constantly loses. Still, he thinks that because of this, eventually, he will succeed.
Take a trip with the Griswold family
This is a good comedy about hopes, dreams and most importantly, the power of family unity. Throughout the film, the protagonist loses sight of his family in favour of Las Vegas glamour. But eventually, he realises that family is the best bonus.
Honeymoon in Vegas

Some facts
Trailer
Brought to life by
Sarah Jessica Parker as Betsy

Nicolas Cage as Jack Singer

James Caan as Tommy Korman

Pat Morita as Mahi Mahi
Is a honeymoon in Vegas a good idea
The character played by Nicolas Cage believes so, and his soon to be wife, Sarah Jessica Parker, thinks the same. However, a wealthy man tricks them into having a weekend with his soon to be wife all to himself. Our main character goes through a lot of hops to find his girlfriend and the businessman. Will he succeed in getting her back? Watch and find out. This comedy about love and what can happen in Las Vegas deserves a spot alongside the best casino movies.
Can you lose your girlfriend on a bet
It's a bizarre idea, but the film makes the whole thing plausible. However, how the story unfolds is not as believable as the plot that defines its narrative. Still, how everything fits together makes the whole thing entertaining.
The casino scenes portray Vegas well and, without a doubt, shows o some of its perils since not all people there have good intentions. The games are depicted accurately as well, although at least one is rigged.
Why it's worth your time
Even if it's close to reality or not, it can be entertaining. The plot is set in motion by gambling, and from there, it becomes a roller-coaster of events. It shows some hilarious parts. Everything goes together nicely since it has two famous actors, but it also stars James Caan.
How we did the rating
Our gambling specialists wanted to bring their input and expertise to this list. For making sure the movies we recommend are up to standards like our review. We created a system for grading our best casino movies appropriately.
The rating system is between 1 to 10. The points allocation was as follows:
Everyone gets 1 point

Maximum 3 points for accurate casino description

Maximum 3 points for accurate game description

Maximum 3 points for a plausible story
Using this approach, we managed to bring forth the best gambling movies to our UK players.
References