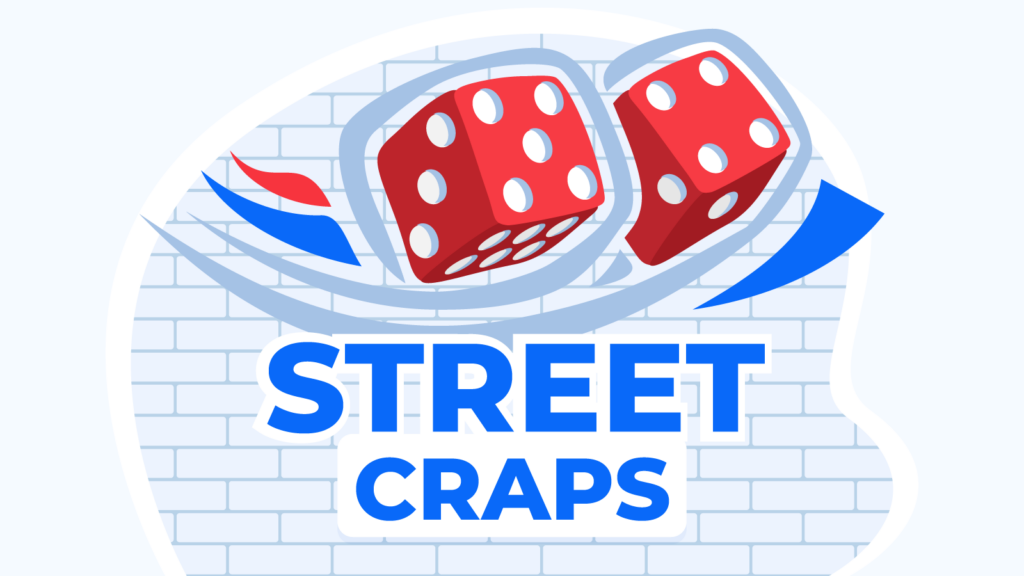 How To Play Street Craps | Full Guide & Rules
Shooting dice may seem like a dazzlingly simple game, but when you begin to discover the numerous bets and commands in craps, you see it's not that plain. Let's decode street craps' intricacies and unravel the right way to play dice!
Disclaimer
Casino Alpha does not endorse any form of participation in illegal gambling operations, to say nothing of playing dice on dubious roadsides. On the contrary, our guide is written for players who want to emulate a much simpler, faster, and quite ancient form of gambling at home without breaking any laws.
What is Street Craps?
Street craps is a faster-paced, simplified version of the regular game in which players are up against each other. However, if you know how to play Craps, you'll figure out the rules of Street Craps in a jiffy.
It may be played on remote alleys, with a look-out for suspecting passersby and sniffing cops. Undoubtedly, a lot of its speed comes from it being technically illegal in some circumstances and areas. Street gambling is a punishable offence in the UK when the game operator takes any rake for the game.
Why play legal craps?
People gathering to play dice by the roadside is hardly a common occurrence today due to the legal implications. Nobody wants to risk being snatched up by a police patrol or questioned by one of the Commission's agents.
Did you know that
There's a single original craps table left in the entire United Kingdom? Nostalgic land-based casino goers may find it at the Hippodrome.
It's better to visit reputable land-based casinos and stick with best online casinos for a legal round of craps. At least when you play at licensed online casinos, you have a guarantee that craps rules will be fair, and the house edge displayed.
Important
Knowing the house edge for craps bets is crucial if you're up to play the game correctly. Illegal craps organizers and scam casinos may want to hide that information from you, so you pick the worst odds.
Risks of street play
On the other hand, when you're going at it by street rules, the sneaky odd maker might rake out as much as they want and manipulate you into playing and losing repeatedly. There's a genuine risk when partaking in illegal craps because it can involve:
Playing a game facilitated by an unlicensed operator

The latter cheating and scamming players with modified street craps rules
Be aware
These points can translate into fines of up to £5000, several weeks imprisonment, or even two years. Of course, these are the prospects one to organize an illegal street craps game would face, but not necessarily a risk faced by an unknowing and unprofiting players.
Frequently Heard Craps Commands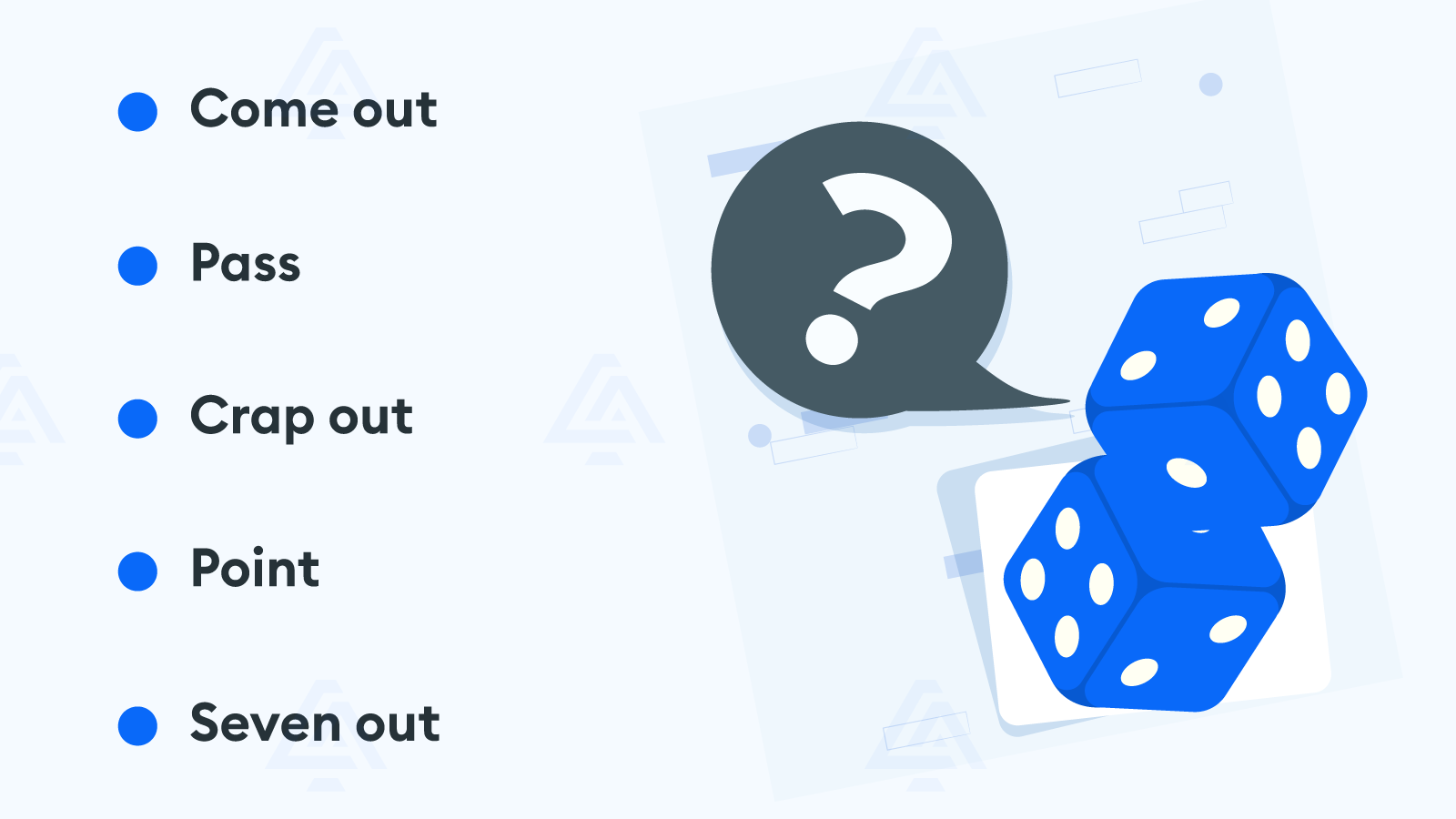 We've compiled a list of the most frequently heard craps commands. It will come in handy if you're engaging in a game of dice with your friends.
But it will also be helpful if you want to take your practice up to a real casino. When you know your street craps rules and vocabulary, you'll seem like you've been doing it for years.
Come out: the initial roll of the dice

Pass: the shooter to land a 7 or 11 on the come out

Crap out: the shooter rolling 2,3 or 12

Point: any result between 4-10

Seven out: a roll of 7 before the point
Basic Rules of Street Craps vs Casino Craps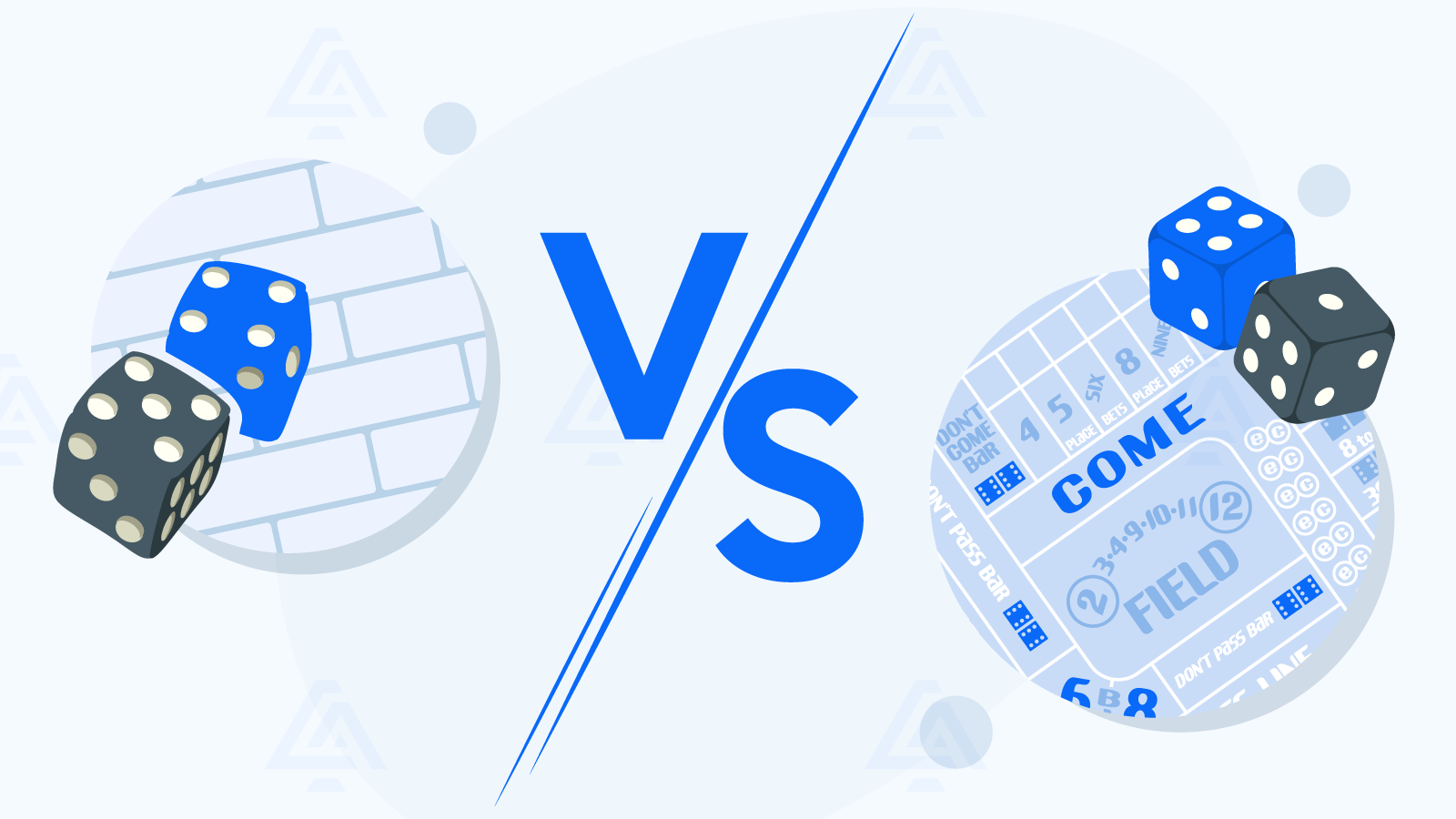 The rules of craps are glaringly simple, primarily because you don't have the various side bets present on the casino table when playing for fun. You can handle your introduction to the game using only the pass line wager and unveil the other strangely sounding craps commands as you go.
Dice rules in online casinos
While street craps rules' simplicity makes it attractive for many, there may come a time when you want to level up. UK craps casinos give you a chance to show off your skills in live dealer craps games and play the complete range of bets:
Pass Line / Don't Pass

Come / Don't Come

Place Win

Place Lose

Buy

Lay

Big 6 and Big 8

Field

Proposition Bets

Odds
Tips
A specifically designed online craps bonuses may be hard to come by, so you can instead choose a slots no deposit bonus. It may allow you to wager your slots' winnings in any other game, craps variants included. Read the Bonus Terms for details!
The bounce
Street craps rules revolve around a few essential points. First of all, there should be a 'bounce', a barrier or wall of some kind that will have the dice bounce back when shot.
Dice shooting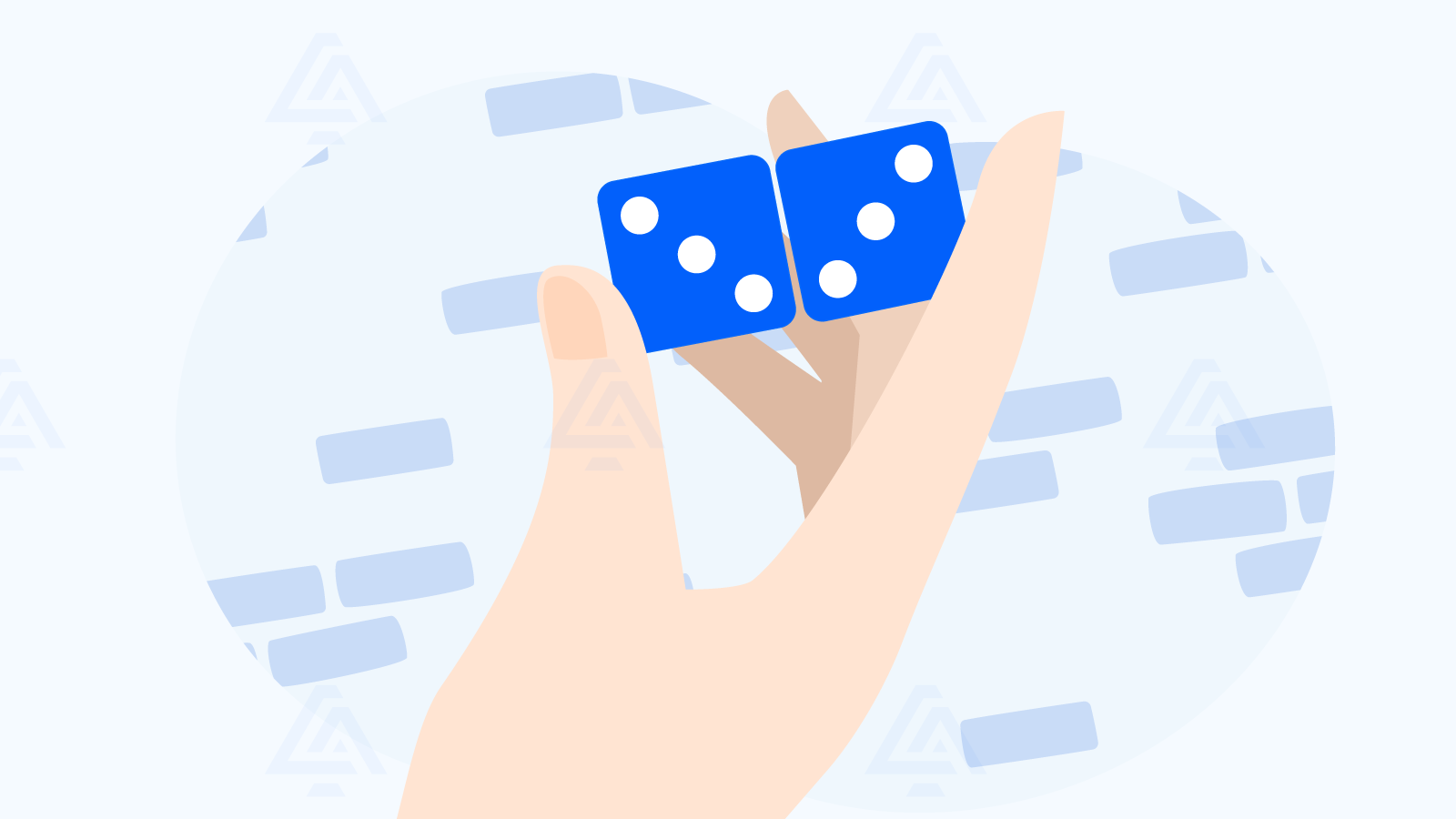 The game round is virtually identical to its casino counterpart, except it lacks a labelled and scored gaming table. Casinos also employ a banker, dealer and/or stickman and offer a variety of propositions and other side bets.
You could say that both games are, in essence, reduced to shooting dice. Still, street gameplay is completely stripped to the essentials. It sometimes plays with only 'pass line' and 'don't pass' bets.
A dice shooting tradition
Although not officially included among the rules of craps, the shooter usually starts with both dice showing 3 on top, in the shape of a V. If you're going up against connoisseurs, keep this unwritten rule in mind.
The rules of craps, when played for fun, can be as simple as the participants may desire. But any craps rule set will include a person – the shooter – who casts a pair of dice while the other players wager on the potential outcomes.
Expert advice
Commonly, bettors fall into two categories: those who back the shooter and those who wager counter. Don't show off when you win a lay bet, as that may be frowned upon.
Settling bets by street craps rules
Three are the main categories of craps bets that will resolve after the dice have been cast: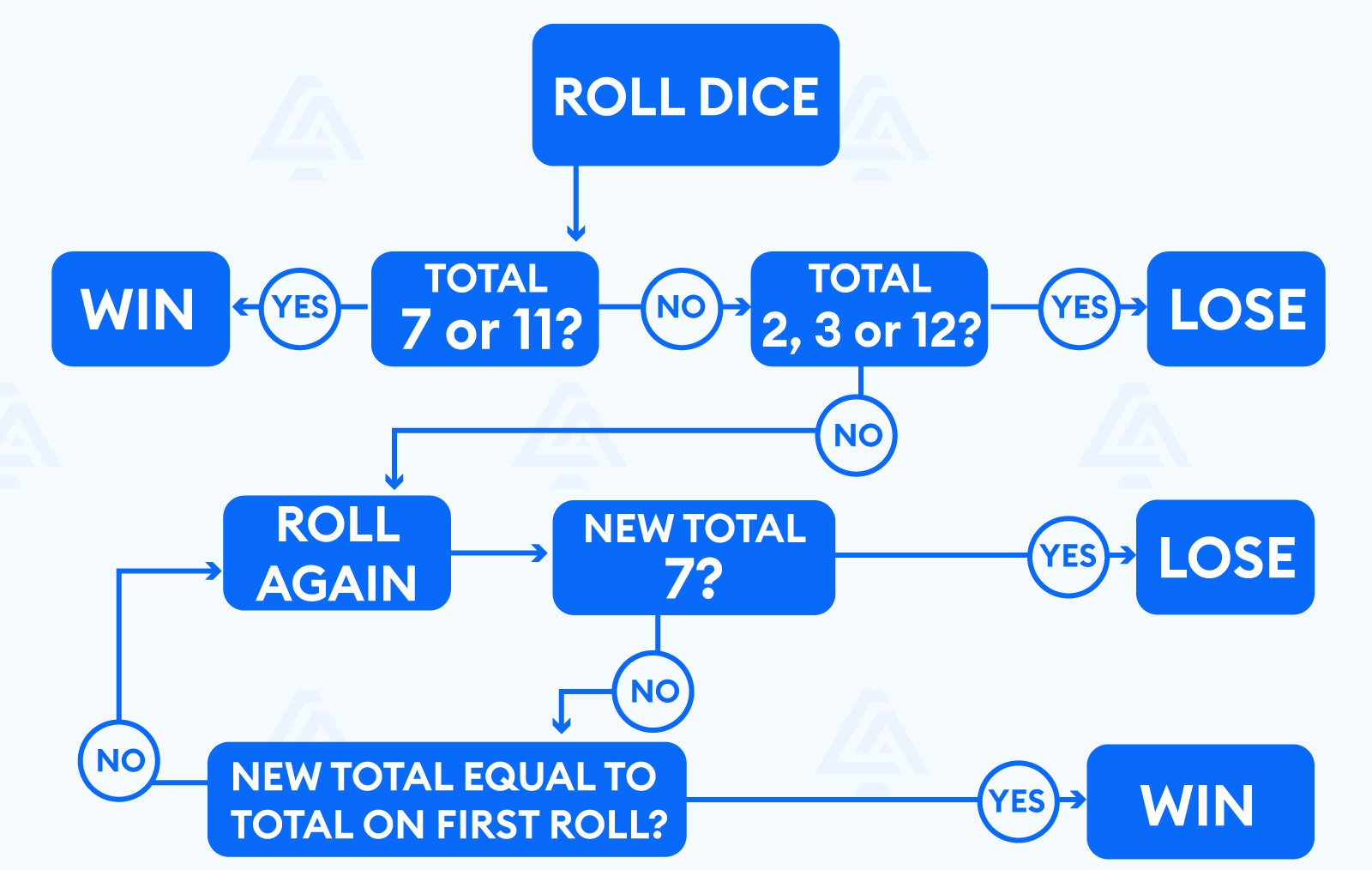 The classic betting option. Gamblers who wager on the pass line bet on the shooter rolling a 7 or 11. Conversely, a player shouting 'don't pass' wagers on 2 or 3.
In the case of a dice outcome of 4-10, that value becomes 'the point'. A pass bettor wins provided the shooter rolls the point once more before they roll a 7, while the 'don't pass' wagers win if the shooter sevens out before they shoot the point again.
| Wager | Payout Odds | House Edge |
| --- | --- | --- |
| Pass | 1:1 | 1.36% |
| Don't Pass | 1:1 | 1.36% |
An alternative to the pass line, the 'come' and 'don't come' bets are very similar, except they are placed at any roll other than they come out. They are likewise played in two rounds. The anomaly is when 7 or 11 are rolled when the wager loses.
Tips
An initial roll of 7 is the most likely in a craps game. There are 6 possible ways to hit a 7, making for a 17% likelihood. The odds for rolling a 6 or 8 closely follow, at 14% each.
'Don't come' closely mirrors the bet described above as 'don't pass', with the sole exception that it's made at any time but for the come out. You win if the result is 2,3, or 12.
When a number between 4 and 10 establishes the second point, you need the same point rolled at the next throw, just like in a pass line wager. The house edge is similar, too.
| Wager | Payout Odds | House Edge |
| --- | --- | --- |
| Come | 1:1 | 1.36% |
| Don't Come | 1:1 | 1.36% |
'Odds' are zero-house edge bets. They are placed after the initial pass/don't pass or come/don't come bets to complement your first stake if a point has been established. The payout depends on the point you're betting to come or not at the next roll.
Know your craps vocabulary
With pass/come bets, you're said to be taking the odds, while you're said to be laying the odds with the don't pass/don't come.
| Point | Payout Odds | House Edge |
| --- | --- | --- |
| 4 or 10 | 2:1 | 0% |
| 5 or 9 | 3:2 | 0% |
| 6 or 8 | 6:5 | 0% |
Hacking street craps rules
Combine your 'don't come' bets with laying the odds to dramatically decrease the house edge from 1.4% to 0.83%.
In craps, a hardway bet is wagering on an exact pair forming the dice outcome. Consequently, there are 4 hardways with varying house edges.
| Hardway Bet | Payout Odds | House Edge |
| --- | --- | --- |
| 6 (double 3) or 8 (double 4) | 9:1 | 9.09% |
| 4 (double 2) or 10 (double 5) | 7:1 | 11.10% |
Expert advice
Maybe an occasional Hardway bet is all right, but make sure you don't insist on it too much as the odds are not in your favour, and you may lose your bankroll fast.
Best Craps Betting Strategy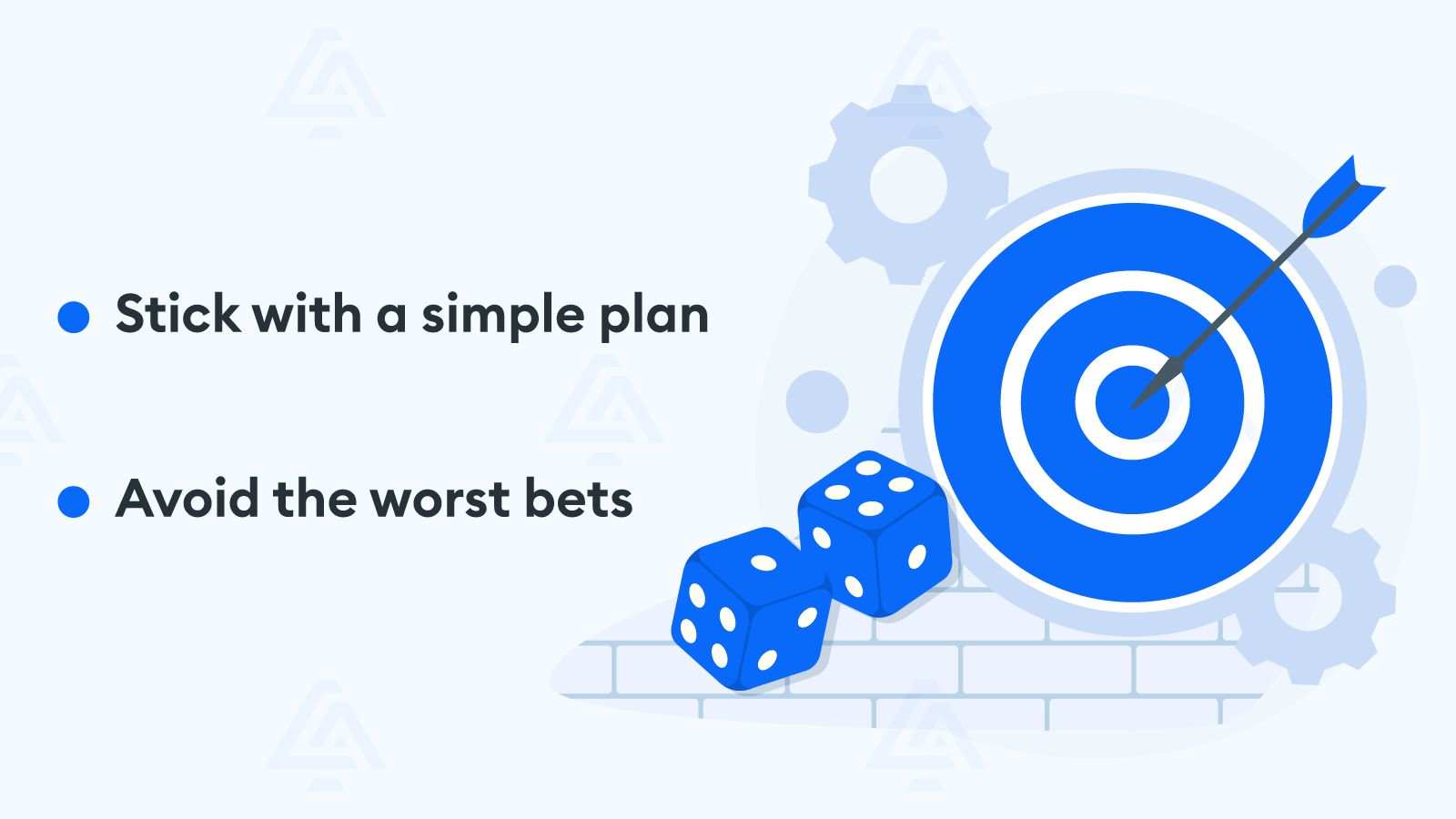 Your best bet if you want to beat craps rules strategically is choosing the lowest house-edge bet propositions. Depending on the players involved and their level, a wider variety of wagers may be accepted.
However, dice shooting masters will tell you that if you want to stay in the game for as long as possible, you need to keep your bets the simplest and highest returning. Fancy long-shots have just the opposite effect.
Stick with a simple plan
| Best bet | Payout Odds | Probability |
| --- | --- | --- |
| Pass line | 1:1 | 17% |
| 6 or 8 | 6:5 | 14% |
| 5 or 9 | 3:2 | 8.8% |
Don't mind the lower payouts and play the most likely bets to at least prolong your craps session.
Always cash out when you're ahead
No matter if you play a penny game with your buddies or engage in an elaborate craps round at a real casino, remember to cash out when you're ahead. That's what sets a casino alpha from a rookie.
When you seem to have the Midas touch at online craps, make sure you play at a PayPal casinos, like Wild West Wins, to have a quick e-wallet option at hand and receive your funds as quickly as possible.
Avoid the worst bets
| Worst wager | True Odds | House Edge |
| --- | --- | --- |
| Big red | 5:1 | 16.7% |
| 2 | 35:1 | 13.9% |
| 12 | 35:1 | 13.9% |
| Hop (Different numbers) | 35:1 | 13.9% |
| Hop (Doubles) | 17:1 | 13.3% |
How to Play Street Craps: Step-by-Step Recap
Although not technically part of our player guides section, this article has taught you the main elements of street craps. We ought to remind UK players to put our strategies into practice only at licensed game operators.
But if you want to play a low-stakes game by street craps rules at home, here is a step-by-step rundown of a round's unfolding:
Anyone can be the initial dice shooter, but usually, the first to arrive is the first to go.

Afterwards, players may take turns or designate one among them as the shooter.

The one who goes first bets the ante and casts the dice.

Surrounding players make their wagers, either backing or laying the shooter.

Onlookers must bet an amount equal to or greater than the shooter.

All betting stops when the dice have been cast.

Winners are paid according to the dice outcome.

If the shooter does not roll a 7 or 11 at the come out, that result then becomes the point.

Pass wagers become bets on the point being rolled again before the 7, while don't pass become bets that the shooter will seven out.
Was your street craps strategy based on betting on the long odds for higher payouts?
Now you know that, statistically, it's not the best plan. Still, tell us in the comment section below if you had any success with it!