How To Bet on Black Splits In Roulette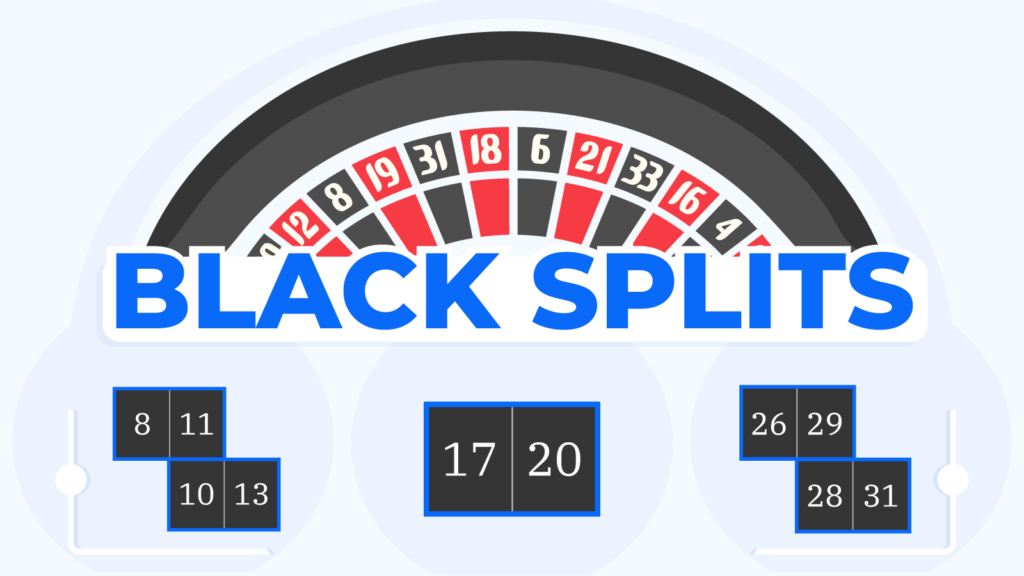 What is and how does a black split bet work on Roulette? Here are some tips on red and black splits, payout and other strategies.
The roulette split bet explained
It is one of the more common wagers made in a roulette game, especially at the best online Roulette casinos. This is considered one of the game's inside wagers, which means it focuses on the numbers rather than specific groups of numbers or patterns.
Tips
Inside wagers come with a higher risk, but that means that the payout is better than with the outside betting options.
About the game
There are different variations – and all sorts of different wager types depending on what kind of game you are playing. Suppose you are new to roulette and planning on making a variety of other games, such as the Black Splits betting, instead of just sticking with outside or straight-up wagers. In that case, you should understand what they are and how they work before you start paying down your money.
Recommendation
You can also find many types of Roulette games at live casinos. But, first, you have to make sure you choose a UKGC-licensed casino.
The roulette split bet strategy
The split bet roulette involves putting your money on two different numbers on the table, which are next to one either horizontally or vertically.
How to apply this strategy
Whether you choose a standard, the black or red split wager will allow you to double the odds of getting good results for every chip you place on the table. Although you have twice as many chances of getting a win than a straight-up wager, you can still enjoy decent returns.
Choose your preferred roulette casino and game;
Select your amount;
Decide what type of split betting you want to make;
Place your chip(s) on the line between your two chosen numbers that lay adjacent on the table.
Roulette split bet variants
The roulette split bet strategy has lots of variants; the main ones are as follows:
Roulette black splits
It isn't a straight outside stake on black splits. Instead, it includes a selection of seven different betting options as follows: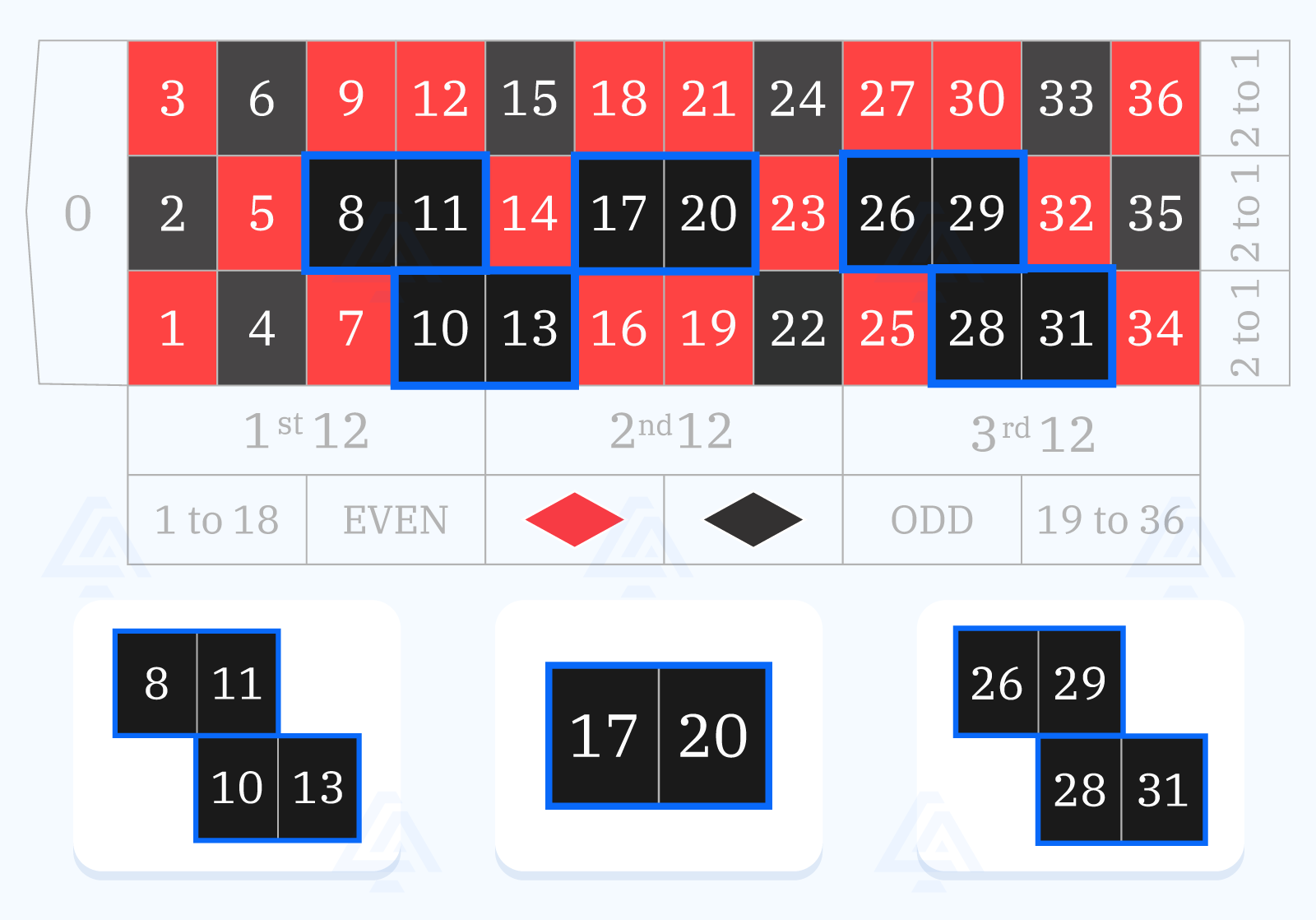 8 &11;
10 &11;
10 &13;
17 & 20;
26 & 29;
28 & 29;
28 & 31.
Roulette Red Splits
The red split is very much the same as the black split but betting on the red numbers instead of black. It means choosing between the following selections: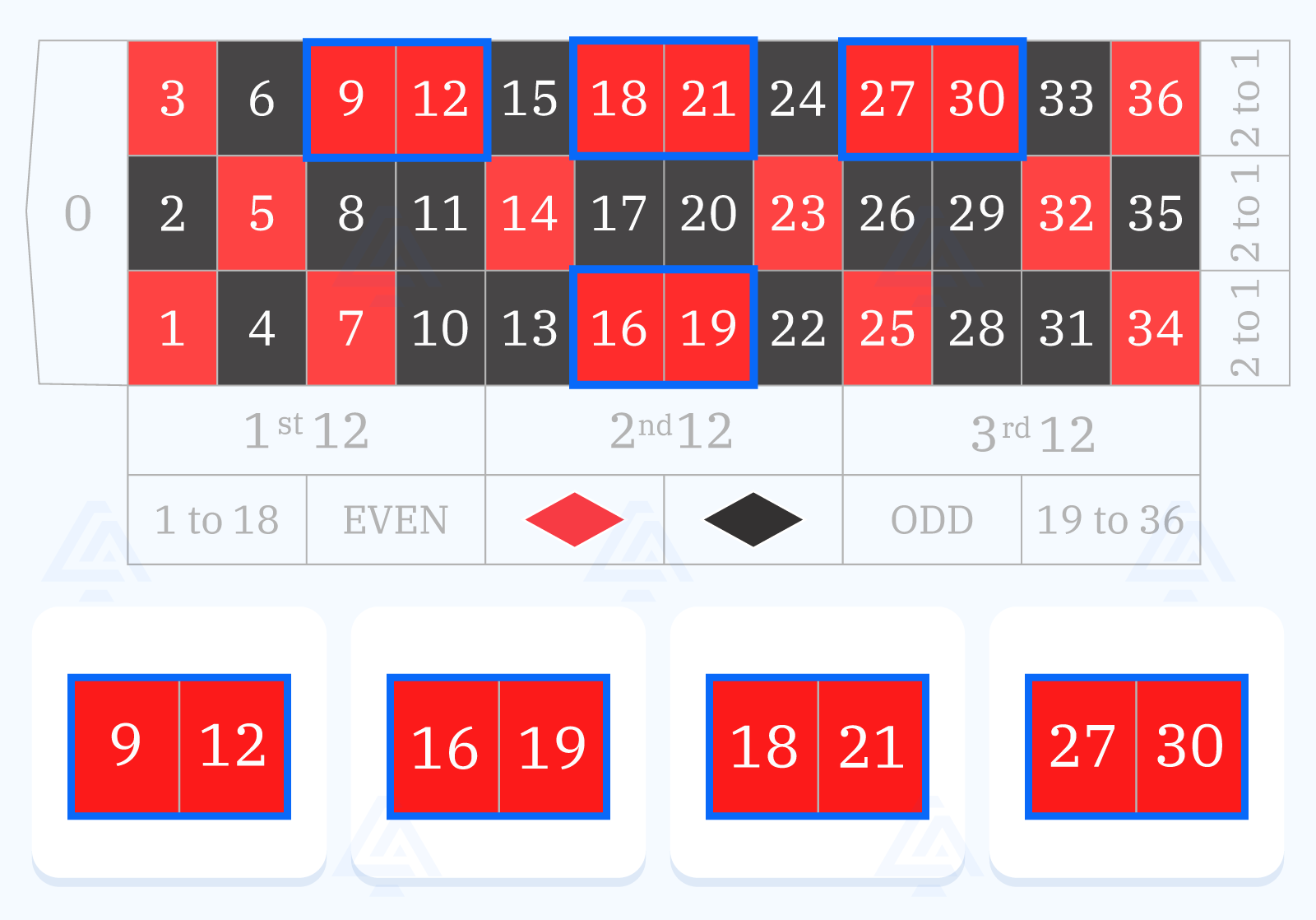 9 &12;
16 &19;
18 & 21;
27 & 30;
27 & 30.
Split and Croupier
It is a strategy that is applicable in land-based casinos. You may notice that the croupier sometimes draws the same or similar numbers at close intervals.
Recommendation
With this method, you would need to follow these repetitions and place your wager on the neighbours' splits or these numbers regularly generated.
Should you bet on black splits?
It depends on what player category you are in, and also if the gambling platform offers Roulette bonuses. The strategy does work for some, but many UK players advise against it when playing online Roulette for real money. It has a house edge of either 5.26% or 5.41%, depending on what type of roulette game you play – European or American Blackjack.
Be aware
The chance of you winning this type of wager is pretty low, and there are different types of wagers.
Roulette split bet payout
A standard split bet roulette on two numbers next to each other pays off at 17/1. So, if one of your chips is worth $10 and one of your wagers on black split comes in, you will be paid out at 17 x $10 = $170 plus your original $10 chip. However, it may be that you placed another $60 worth of chips down as well, so this would then be deducted from your win, meaning your total win would be $110.
Split bet in roulette odds
This type of wager means putting your money on two numbers adjacent to each other. The standard roulette playing table includes certain squares whose colours follow each other on the number of columns. Your chip covers two outcomes instead of one. A standard split bet roulette means you would be paid out at odds of 17/1 if you are successful.
Important
Remember that your Blackjack odds of winning would be 37/2, which is 18.5/1. The 1.5 difference in your payout is the house edge.
Odds for the black splits
The black splits betting method requires you to gamble on the black double squares adjacent to each other on the table. Using five or your chips, you would cover 10 of the 37 numbers, which would give you a 27.02% chance of a win.
Bet on black splits versus other strategies
| Strategies | Odds | Best Quality |
| --- | --- | --- |
| Black splits | 27.02% | Potential High Rewards |
| Martingale | 1:1 | Maximise your winnings |
| Reverse Martingale (Paroli) | 1:1 | Lower Risk |
| Labouchere | 1:1 | If you win just as much as you lose, you will be in profit |
| Fibonacci strategy | 1:1 | One of the safest strategies |
| Romanosky strategy | 86% | High win probability |
| Roulette red black strategy | 1:1 | Good for beginners |
| d'Alembert | 1:1 | Easy to learn |
F.A.Q
Why should you always bet on black?
If you look at the game's odds, you have an 18/37 chance of winning if you choose to bet on Black - which equates to around a 48.65% chance of winning - and this is the same for the reds. So, despite what Wesley Snipes might have said, there is no reason to believe you should always put your money on Black!
How much do you earn if you bet on black in Roulette?
If you do an outside wager on red or black, you will get paid out at odds of 1:1 if the ball lands on your specific colour. However, a black split is different. If one of your chips comes in, you will be paid out at 17:1.
What is a split bet in roulette?
It is an inside wager where you gamble one chip on two numbers and pays out at 17/1. The real odds of winning in European Roulette are 18 ½ / 1 or 19/1 in American Roulette. You start by placing your game chip on the line in between two numbers that need to be adjacent.
What is a Black Split?
A black split is where you place your chips on the lines between two black numbers. There are seven different ways that you can do this: 8/11, 10,/11, 10/13, 17/20, 26/29, 28/29, and 28/31.
Can you split red and black on roulette?
You can split your wager on any number adjacent to another - so your split bet roulette could be black/black, red/red, and even red/black.
How do you play Split Bets?
What you have to do is place your chip on the line between two numbers adjacent to each other on the roulette table vertically or horizontally. You wager on both numbers within the same spin.