How Do Hollywood Gambling Movies Influence Your Play?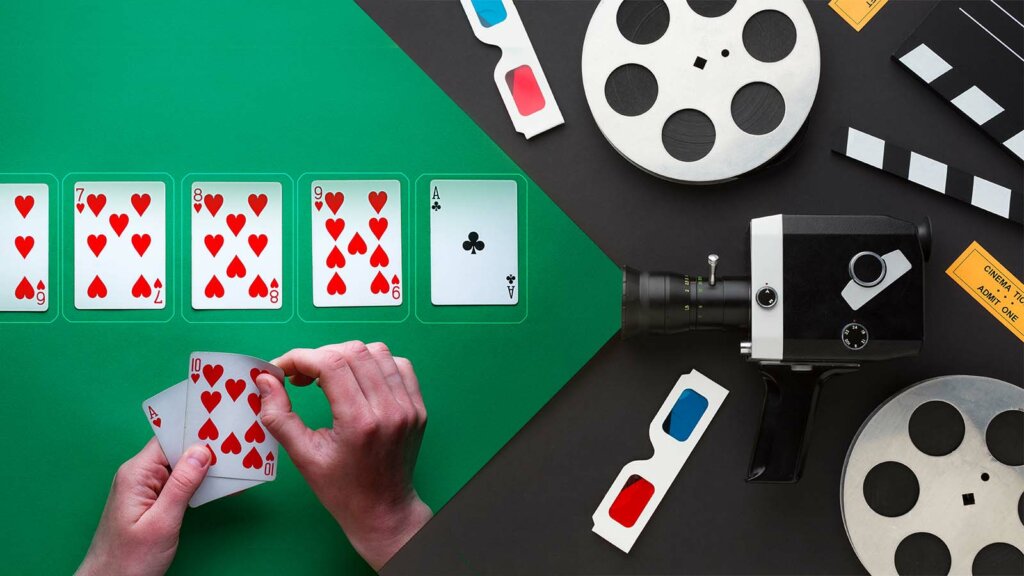 The razzle-dazzle, glamour, and glitz characteristics of Hollywood have rubbed off on gambling ever since 'The Cincinnati Kid' broke the box office in 1965.
In today's article, we will take a look at how Hollywood movies can affect the gambling industry and contribute to gambling behaviour and addiction.
How Does Hollywood Influence Gambling?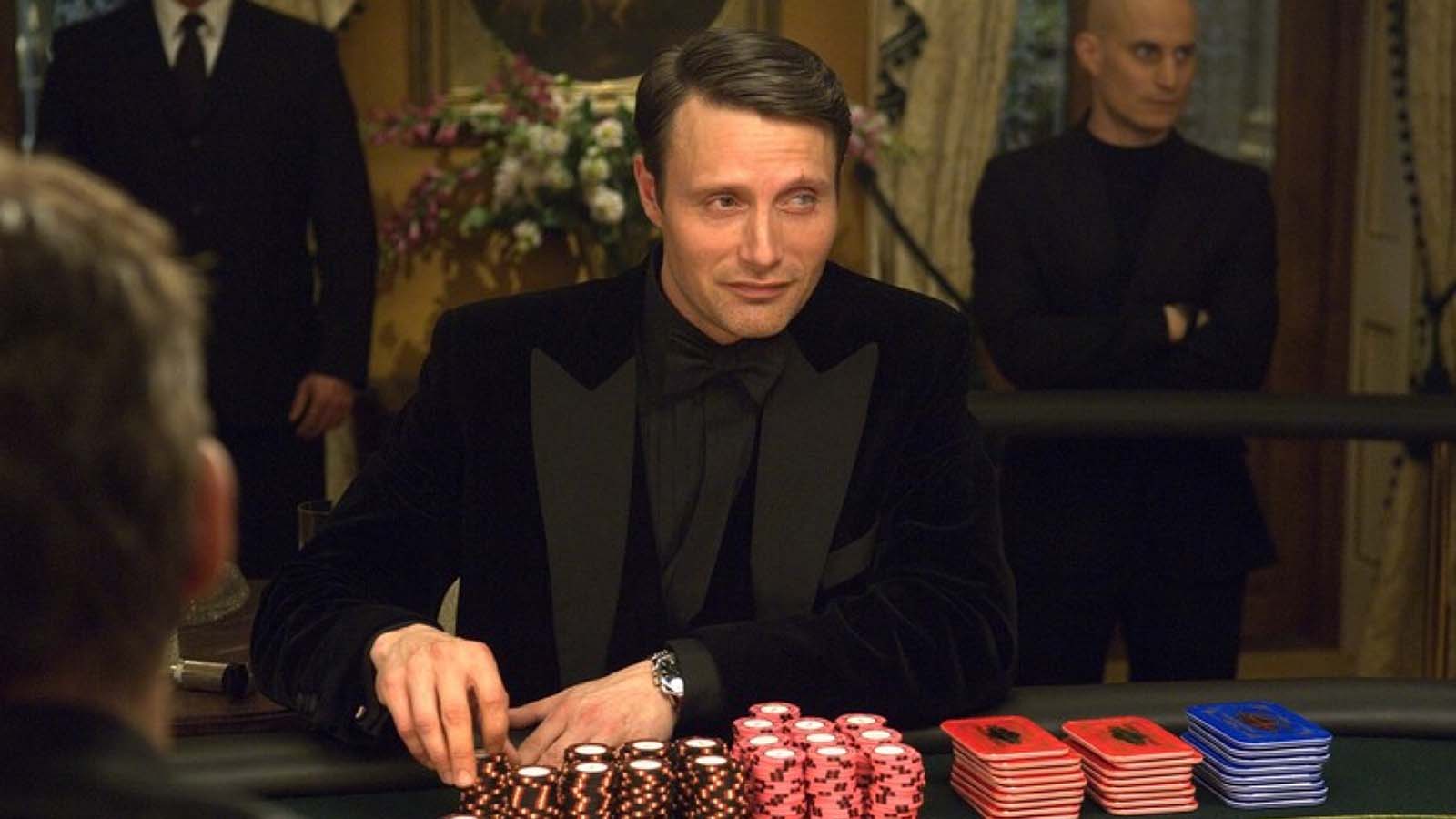 Seeing your favourite actor perform heroically and assume a sense of importance makes you want to do it too.
Hollywood influences gambling behaviour
Charismatic characters boost gambling popularity
Gamblers in the movies usually win, at least toward the end of the film
The lead characters make you want to learn their impressive skills
Gambling stories can be linked with crime for sensationalism
Hollywood might create unrealistic expectations
How Do Movies Influence Gambling Culture?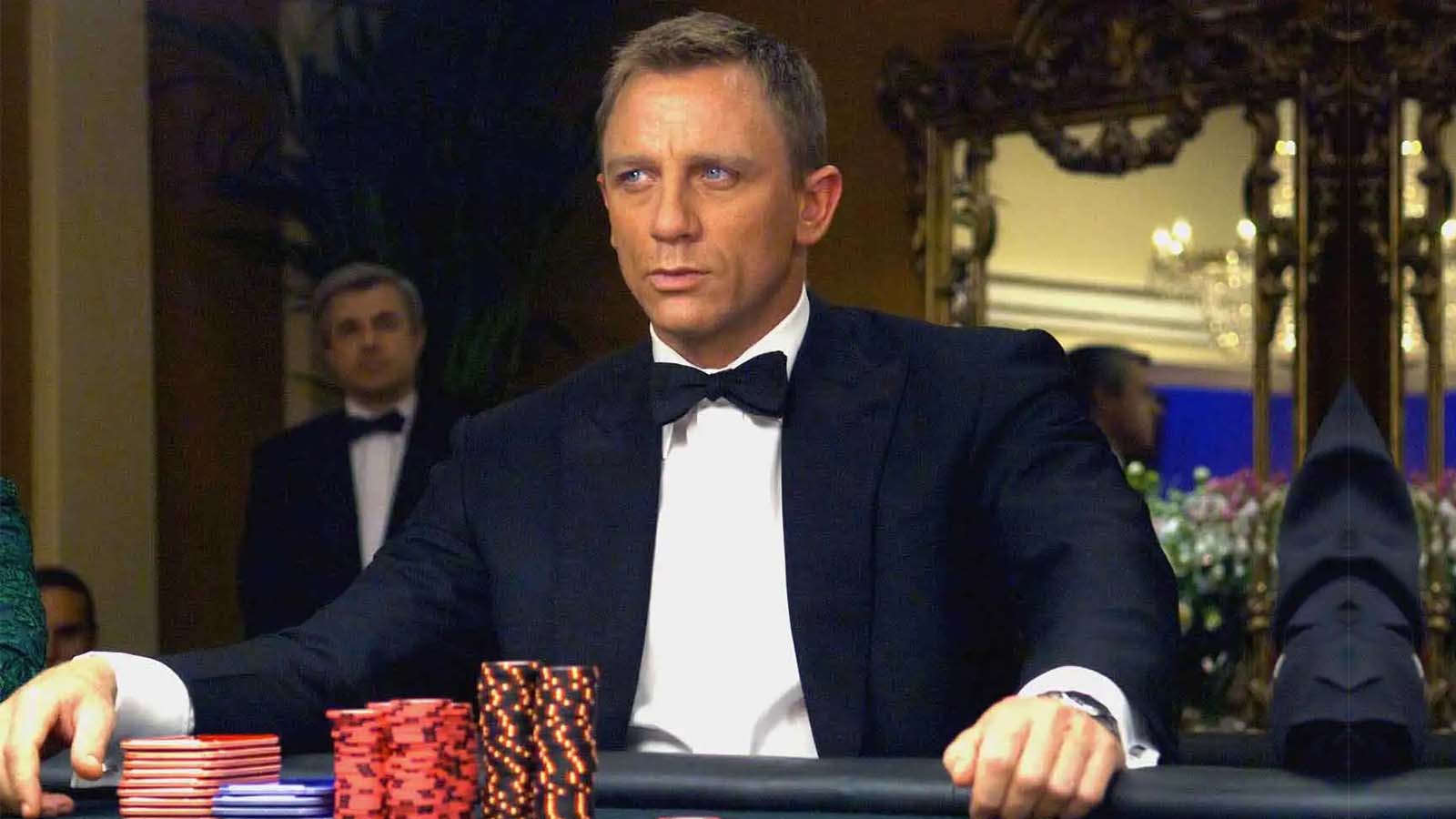 Boosting gambling popularity with charismatic characters
Most Hollywood gambling movies portray protagonists as individuals with highly charismatic personality traits – likeable characters, who are confident in their gambling prowess.
The lead is projected as a rich and influential individual
He isn't afraid to play high stakes. You can't miss him wearing a fitted expensive suit and donning simple yet pricey clothing accessories that draws envy from the other players at the table and a knockout with the ladies.
Directors focus on such traits to make them more relatable to the audience. Viewers may aspire to such a lifestyle or dream of paying their debts or increasing their capital through a lucky casino win.
After all, if a gambler hero can do it, why couldn't you?
This train of thought is common to many UK players, which is why we believe that Hollywood influences gambling immensely.
Gambling movies with charismatic characters
Casino Royale
21
Let It Ride
Ocean's Eleven
Molly's Game
Bugsy
The Colour of Money
The Cincinnati Kid
The Gambler
The Cooler
Gamblers in the movies usually win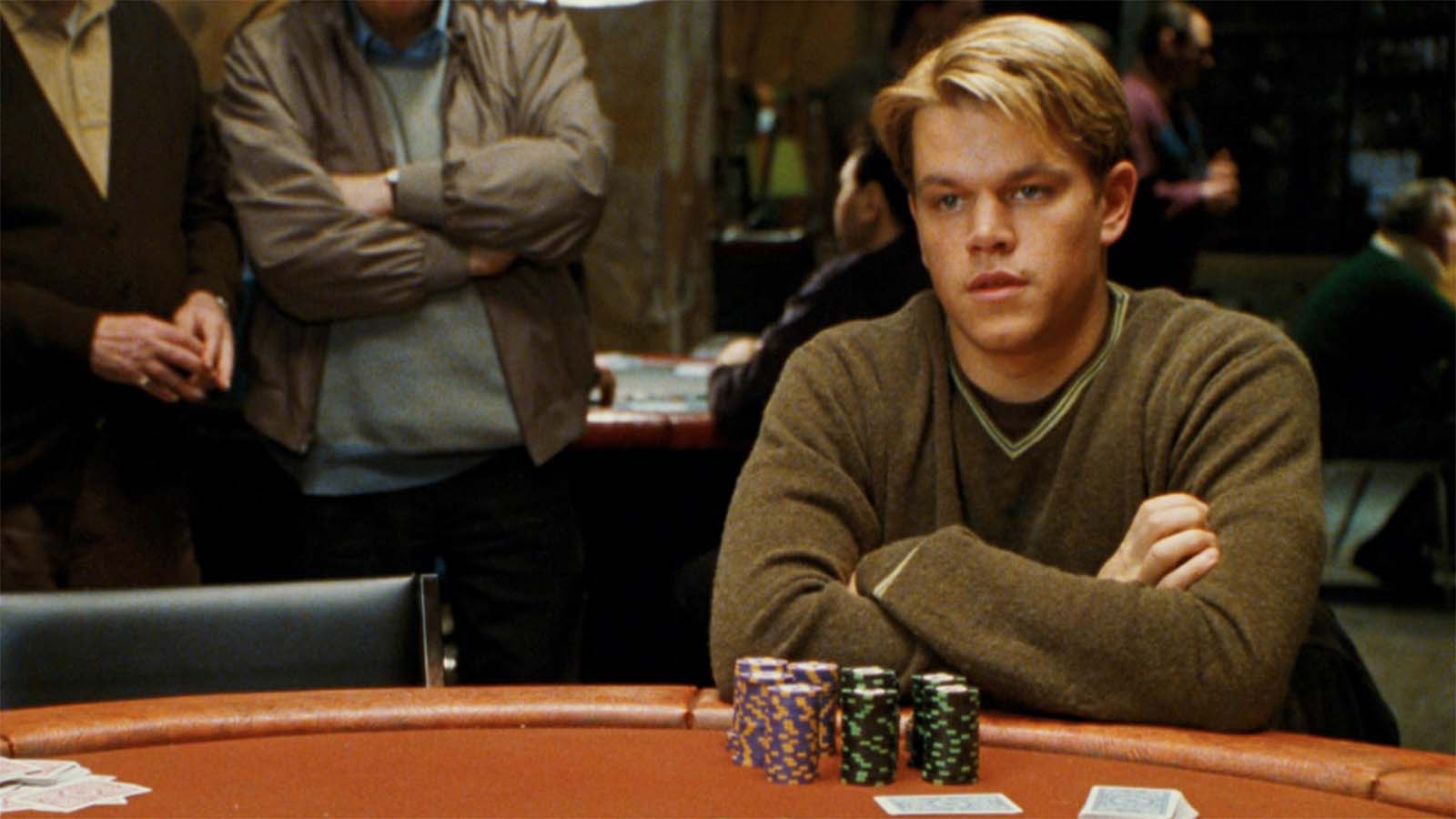 Another aspect of glamour in Hollywood gambling movies is that the characters usually win.
Even if the lead character is projected as a loser at the beginning of the film, in the end, they're rewarded with big wins. A wide range of gambling films feature this thread.
In reality, most casino games depend on luck, especially slots. But the luck factor is undeniable even in skill-based games like blackjack or poker.
Be aware
Casino movies tend to focus more on skill rather than luck. While a gambling film might show otherwise, losing your last three bets does not mean your next wager will be a winner.
Furthermore, these characters wager significant amounts on unrealistic or sucker bets that would have seemed impossible to win in real life. In the movies, such bets prove the most rewarding.
Hollywood gambling movies where the lead character wins big
Uncut Gems
Win it All
Rounders
21
The Hustler
Casino Royale
The Sting
The Cincinnati Kid
The Cooler
The Gambler.
Players can be inspired to learn new skills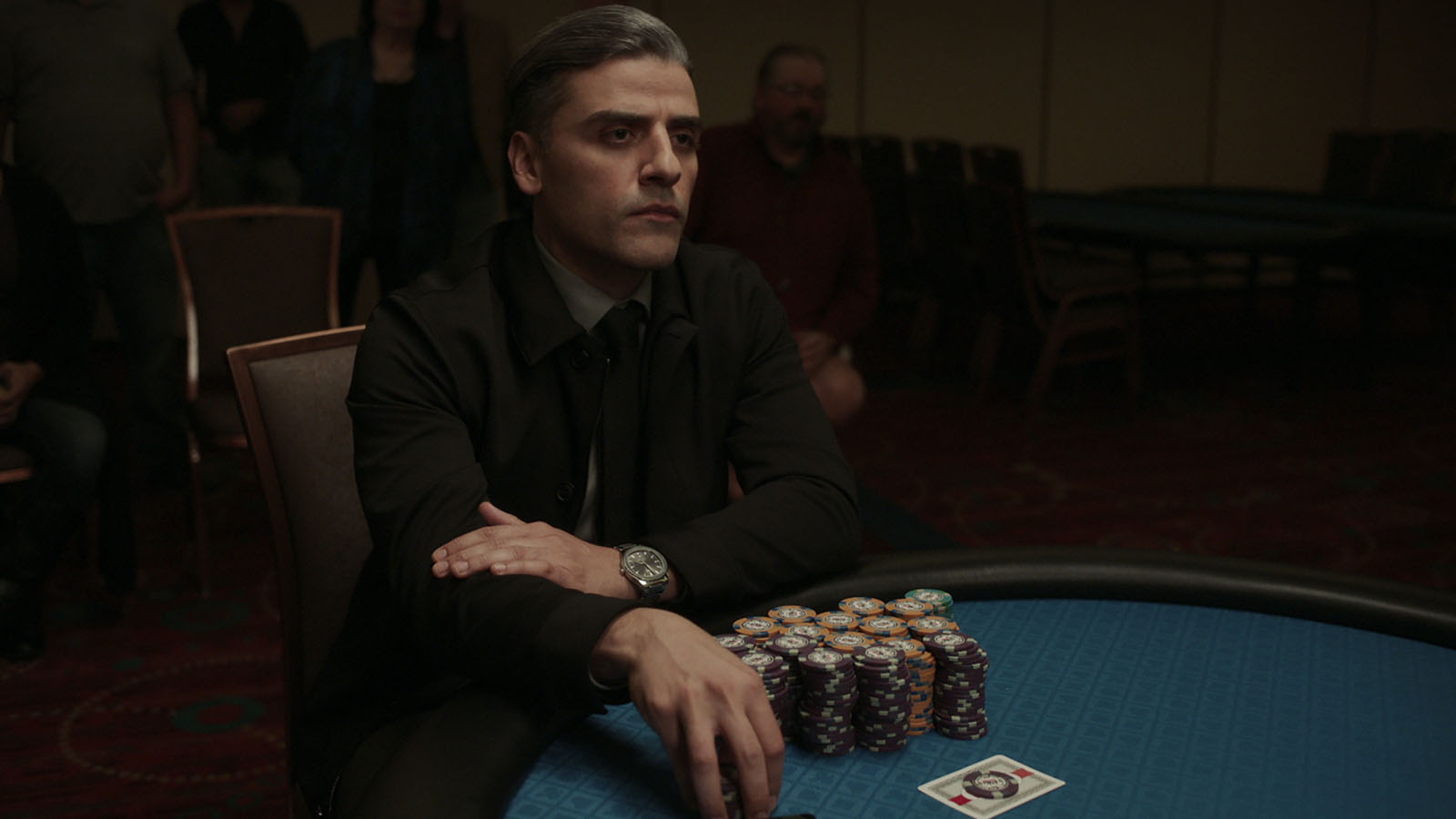 Select movies about gambling imply that skill is all you need to win consistently.
The leading characters seem to possess otherworldly gambling skills, and plots frequently carry them towards the elusive big win.
Casino strategies
Indeed, you need skill and an optimal strategy to win at casino games like blackjack and poker.
However, in real life, you can not win every time, no matter how skilled or versed in casino strategies you might be.
Rather than playing impulsively, movies might inspire you to learn more and improve your gameplay, but you have to keep realistic about your odds.
Casino movies that encourage you to improve your gambling skills
21
Ocean's Eleven
The Cooler
Molly's Game
Win It All
Casino
The Card Counter
Casino Royale
The Hustler
Rounders.
Gambling stories linked with crime have a special appeal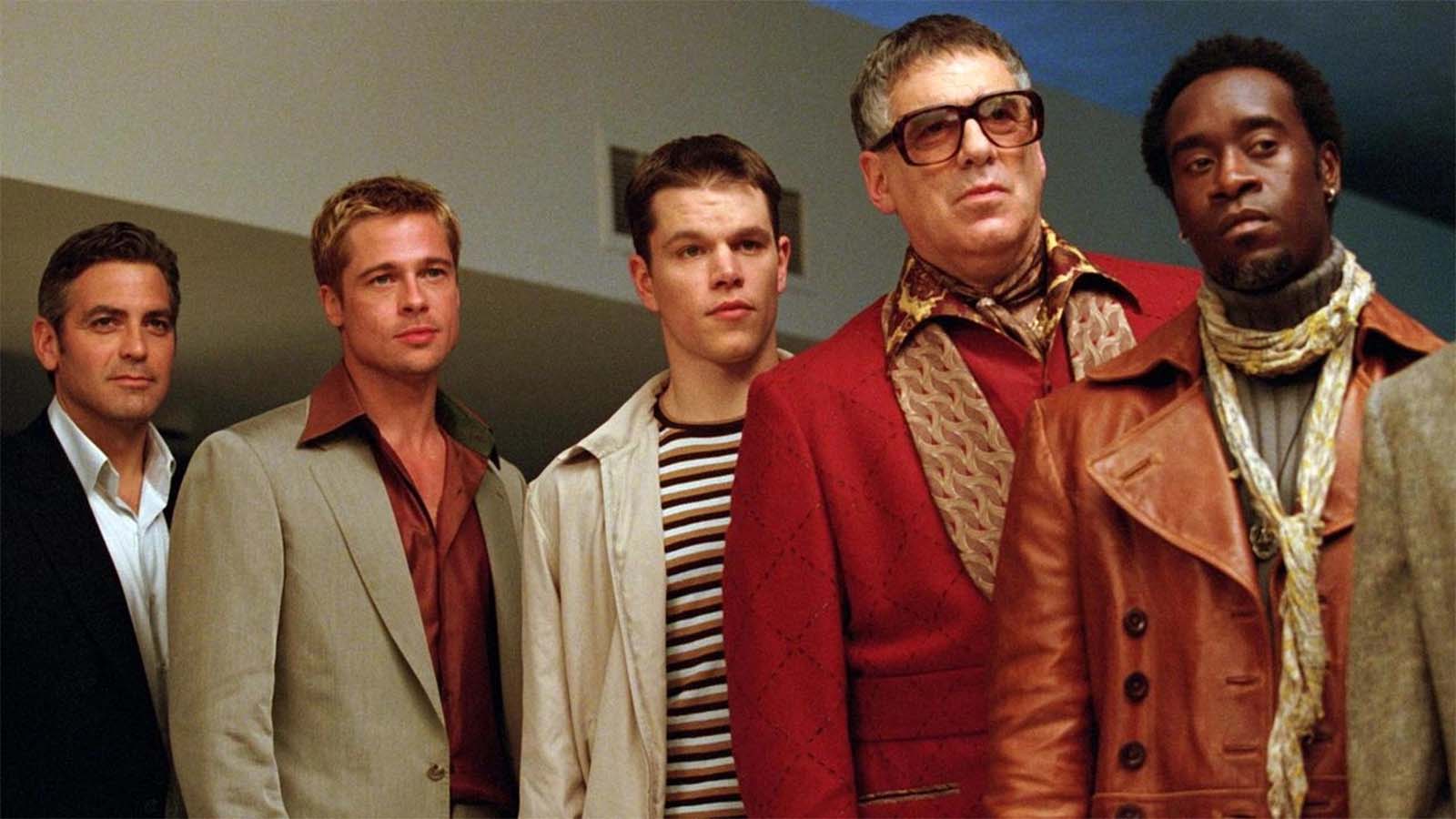 Most gambling movies come attached with crime plots, a deliberate act of several directors and scriptwriters.
A high acceptance of crime dramas might explain that.
People have a dark knack for watching crime films
When you spice a gambling story with suspense and thrill, it naturally becomes more appealing to the audience.
It's no wonder that huge box office gambling movie hits feature crime in one form or another.
Hollywood gambling movies with crime genre
Casino Royale
Casino
Uncut Gems
Croupier
Ocean's Eleven
21
The Gambler
Owning Mahoney
Bugsy
House of Games.
Betting movies may create unrealistic expectations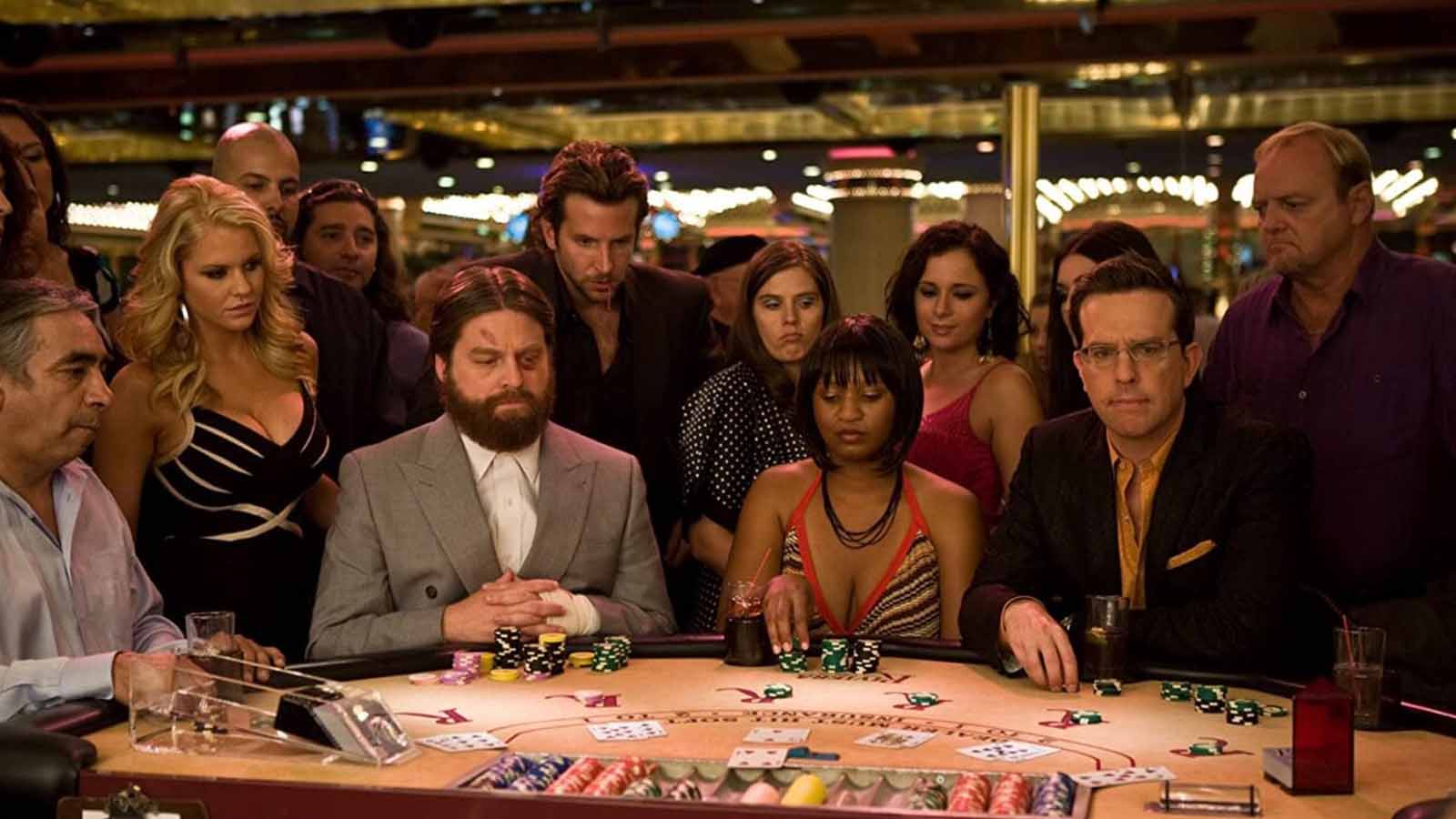 All leads to one conclusion.
Hollywood movies, while entertaining, tend to be unrealistic. They focus on the positive side of gambling while downplaying the more unpleasant aspects.
Hollywood casinos are happy places, replete with people laughing, smiling and winning.
While you may stumble upon such situations in real life, they don't speak of the full reality of gambling.
Important
Every game at the casino can yield two outcomes: you either win or lose. Keeping the casino's house edge in mind, losing is an inevitable result.
Gambling films with unrealistic moments
Casino Royale
Rounders
The Hangover
21
The Gambler
The Color of Money.
Hollywood Gambling Movies Ranked
| Rank | Movie | Box Office | IMDB rating |
| --- | --- | --- | --- |
| 1 | Casino (1995) | $116.1 million | 8.2 |
| 2 | Casino Royale (2006) | $616.5 million | 8.0 |
| 3 | The Hustler (1961) | $7.6 million | 8 |
| 4 | Ocean's Eleven (2001) | $450.7 million | 7.7 |
| 5 | Uncut Gems (2019) | $50 million | 7.4 |
| 6 | Molly's Game (2017) | $59.3 million | 7.4 |
| 7 | Croupier (1998) | $7 million | 7 |
| 8 | The Cincinnati Kid (1965) | $7 million | 7.2 |
| 9 | The Color of Money (1974) | $52.3 million | 7 |
| 10 | Hard Eight | $222,529 | 7.2 |
| 11 | Fear and Loathing in Las Vegas (1998) | $13.7 million | 7.5 |
| 12 | Owning Mahowny (2003) | $1 million | 7 |
| 13 | Bugsy (1991) | $49.1 million | 6.8 |
| 14 | California Split (1974) | $5 million | 7.2 |
| 15 | Bob le Flambeur (1956) | $15,586 | 7.6 |
How we select these movies
Our experts take into consideration several features before adding to the list of the best gambling movies. They include:
IMDB rating
Clear gambling theme
Central conflict
Interesting characters
Box office figures
Impressive graphics
Realistic setting
Tips
We believe an excellent casino movie should have top reviews across rating boards like Rotten Tomatoes and Metacritic.
Viewer-submitted reviews can be valuable, too!
Most Realistic Hollywood Movies About Gambling Addiction
Uncut Gems (2019)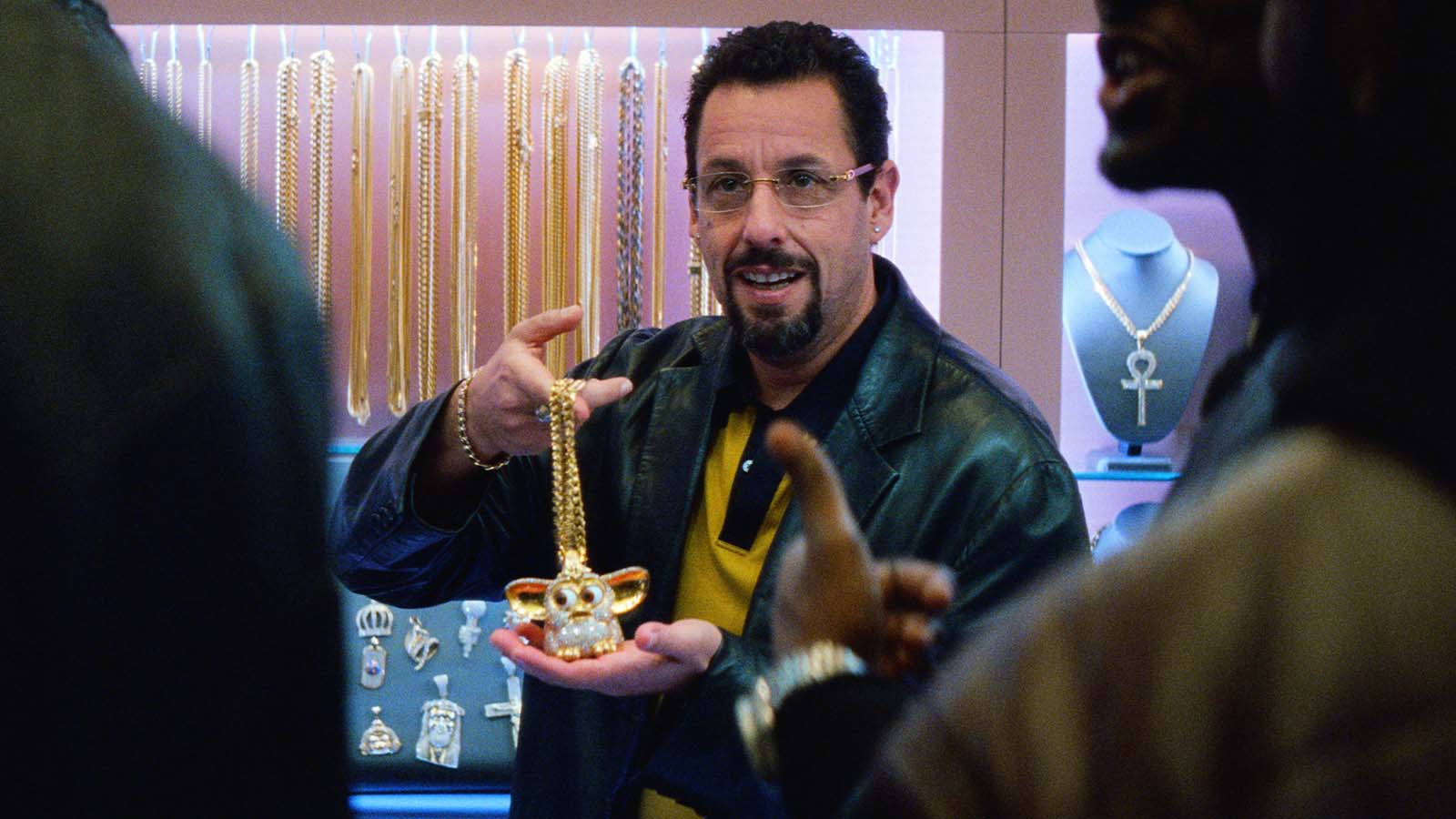 | Movie data | Specifics |
| --- | --- |
| Launch date | December 13 2019 |
| Box office | $50 million |
| Written by | The Sadfie brothers, Ronald Bronstein |
| Directed by | Josh and Benny Safdie |
| Starring | Adam Sandler, Julia Fox, LaKeith Stanfield |
Plot summary
Uncut Gems follows the story of a Jewish-American jeweller whose gambling addiction has put his family, career and finance in shambles.
Howard places high-stake bets to pay his debt, but ends up in more debt.
When Howard comes across a rare uncut Opal from Ethiopia with a very keen buyer, he thinks his financial problems are finally over.
But his gambling addiction will take over, and, in the end, he is forced to pay for his deeds with his life.
Mississippi Grind (2015)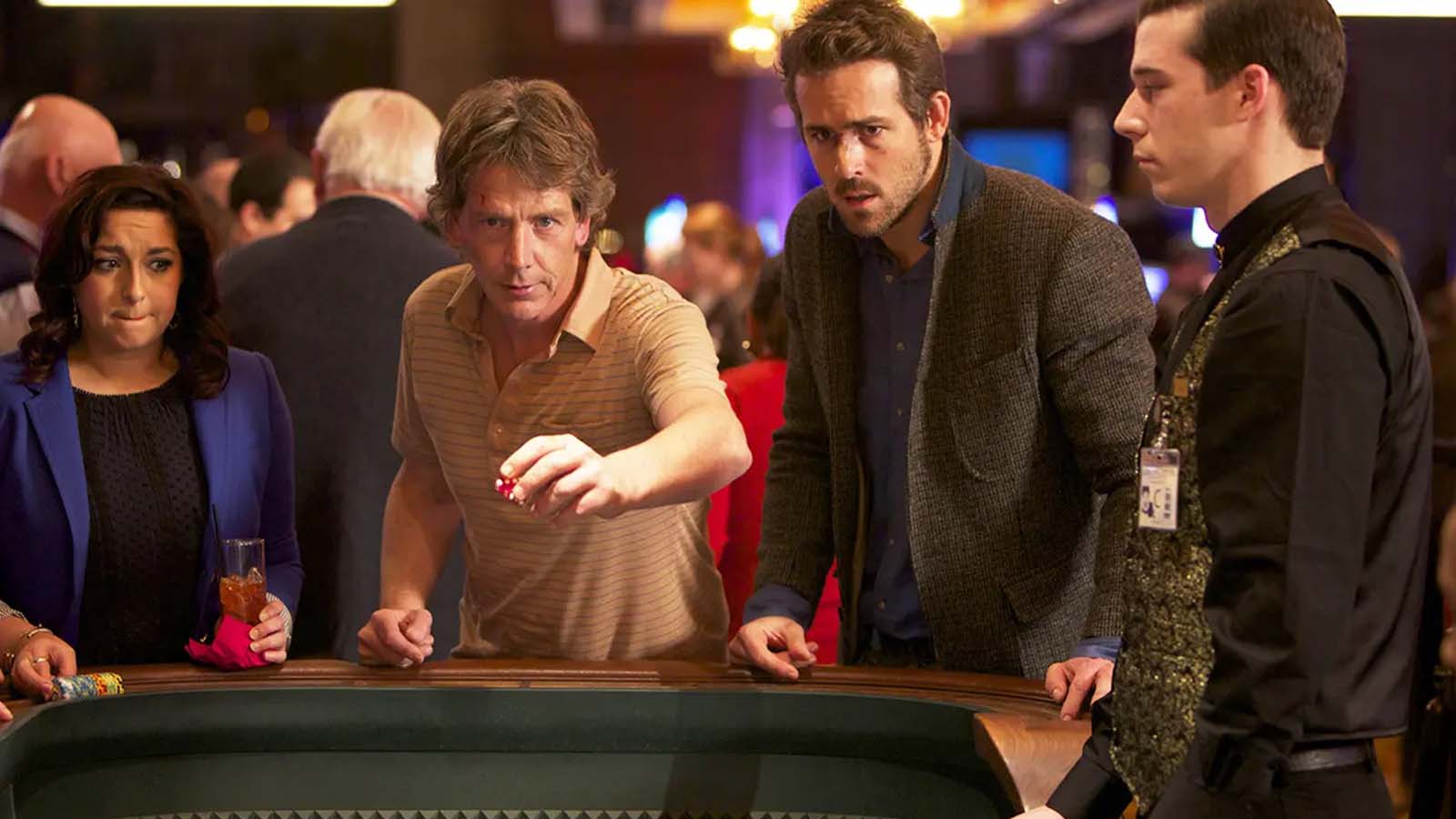 | Movie data | Specifics |
| --- | --- |
| Launch date | September 25 2015 |
| Box office | $422,746 |
| Written by | Ryan Fleck, Anna Boden |
| Directed by | Ryan Fleck, Anna Boden |
| Starring | Ryan Reynolds, Ben Mendelssohn, Sienna Miller |
Plot Summary
Mississippi Grand is one of the most realistic films highlighting the adverse effects of gambling addiction.
The main focus is Gerry, a real estate agent by day and unlucky gambler by night. One day he meets Curtis in a casino and after a winning streak he believes him to be his good luck charm.
The two go on a gambling spree, hoping to catch the big jackpot.
However, things go south as Gerry starts losing money at an alarming rate, and later sells his car to clear his debts.
Responsible gambling tips
Don't be like Gerry! Play at the best UK online casinos, all equipped with advanced responsible gambling tools that will make it easier for you to respect your budget and avoid debt.
The Gambler (2014)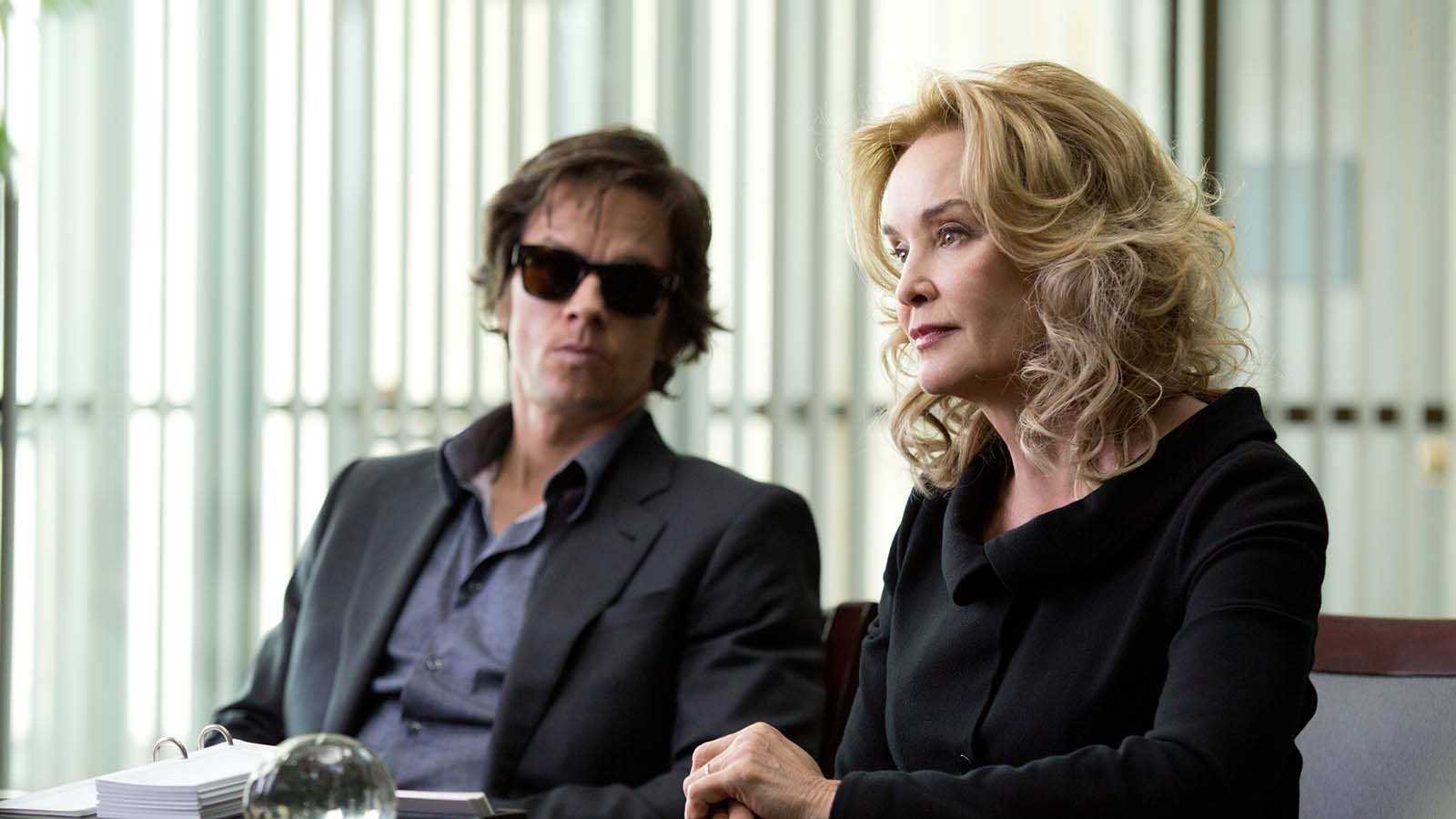 | Movie data | Specifics |
| --- | --- |
| Launch date | April 28 2015 |
| Box office | $39.3 million |
| Written by | William Monahan |
| Directed by | Rupert Wyatt |
| Starring | Mark Wahlberg, John Goodman, Brie Larson |
Plot summary
Jim Bennett is a literature professor but his compulsive gambling gets him into serious trouble.
In reality, he can't even be properly called a gambler, because a gambler, no matter how compulsive, unskilled or unlucky, intends to win. Mark Wahlberg's character is set to lose everything.
His losses in an underground betting ring leave him prey to dangerous loan sharks, and as the movie progresses, the self-destructiveness reaches tragic proportions.
Let's Recap Hollywood's Impact on the Gambling Industry
Over the years, Hollywood movies have had a significant impact on gambling culture.
While that gave a positive boost to the global gaming industry, it has also been deceiving to unsuspecting gamblers.
Insofar as a film centres on the glamour, entertainment and winning potential of gambling, it can be deceiving.
However, watch these movies as a case study!
Try to detach yourself from the characters' glamour and go deeper into their psychology as you focus on themes like gambling addiction and the consequences of one's actions.
Have you seen any of these movies?
If you've seen any of these movies, leave your impression in the comment section below.
F.A.Q
How can you learn about gambling from movies?
Casino movies can give you the basics of how a casino works. They can also teach you gaming tips and real-life lessons. 
However, you shouldn't entirely depend on a Hollywood casino film for knowledge about gambling. Most of them are pure entertainment and do not depict gambling realistically. 
Why does the movie Casino have such high ratings?
Casino is considered by many to be perhaps the best gambling movie ever created. In our view, the movie's positive reception is due to its unique theme, impressive cinematography, dynamic characters and excellent directing skills. 
Is The Gambler movie based on real-life experiences?
The Gambler 2014, directed by Rupert Wyatt, is a remake of a 1974 film. According to James Toback, the writer of the first movie, the screenplay is 'blatantly autobiographical' and based on his actual life experiences.
How many Casino Royale movies are there?
There have been three adaptations of Casino Royale; the 1954 version, 1967 and 2006. 
How do Hollywood movies depict the gambling industry?
Hollywood movies attach an aura of glamour to gambling more often than not. However, we've highlighted movies showing the gambling industry as it is, with all its benefits and ill effects.