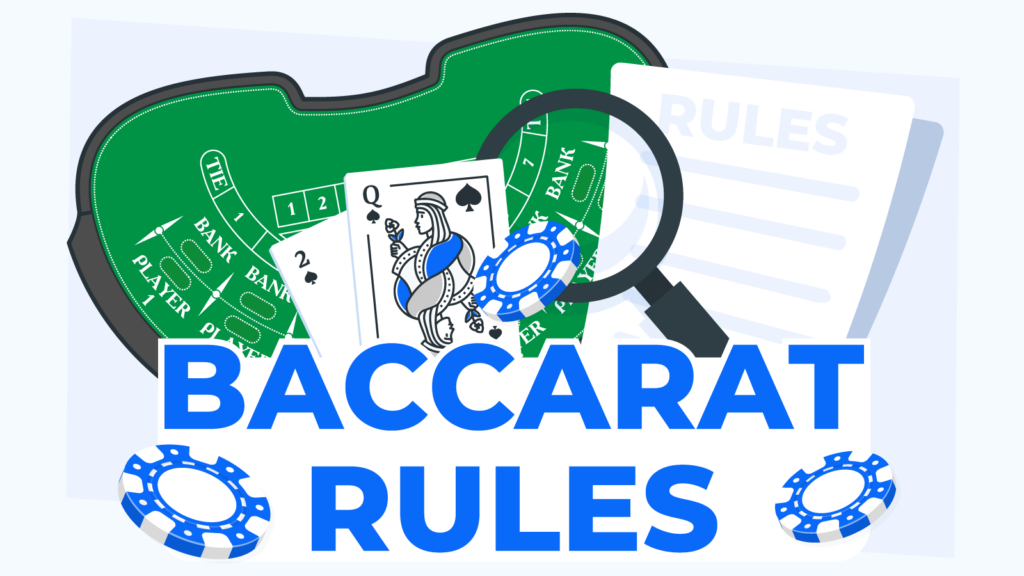 How To Play Baccarat: Learn The Rules First!
We give you simple explanations on the basic complex Baccarat rules so that once you're done reading, you'll know exactly how to play Baccarat!
Baccarat unraveled: demystifying the card game of champions
Baccarat is a unique casino card game because it requires no special abilities. In essence, it is a pure game of chance in which players win if they make a correct guess.
It's an accessible casino game, and it can be played by anyone, no matter how new to the gambling world.
How to play Baccarat, video tutorial
Inside the game: exploring the core elements of Baccarat
Play table

Betting areas

Dealer(s)

Croupier

Commission Box
Players are seated at the specially designed Baccarat table around the dealer. Each player has a designated betting area, divided into 3 smaller zones for each bet: Player, Banker, and Tie. A commission box is there as well as winning Banker bets are charged a 5% fee.
The croupier supervises the table and directs the course of the play. At the same time, the dealers are responsible with well, dealing the cards, calculating commission, taking bets and paying them out.
Why the commission on Banker bets?
Casinos charge a 5% commission on winning Banker bets. That's because, statistically, these bets win more often than Player bets in a game with 8 decks.
If the casino hadn't charged the 5% commission on Banker bets, they would not earn anything from your wagers. You would benefit from a 1.24% edge over the casino. Hypothetically, with a large enough number of bets, you'd eventually have it go bankrupt.
Tips
If you want to evade the 5% commission, new online casinos have a game called No Commission Baccarat in their catalogues. Read the rules before playing, as they differ in other respects other than the Banker tax.
Mastering Baccarat: your complete guide to the rules
We'll get you prepared for your first round if you want to know how to play Baccarat.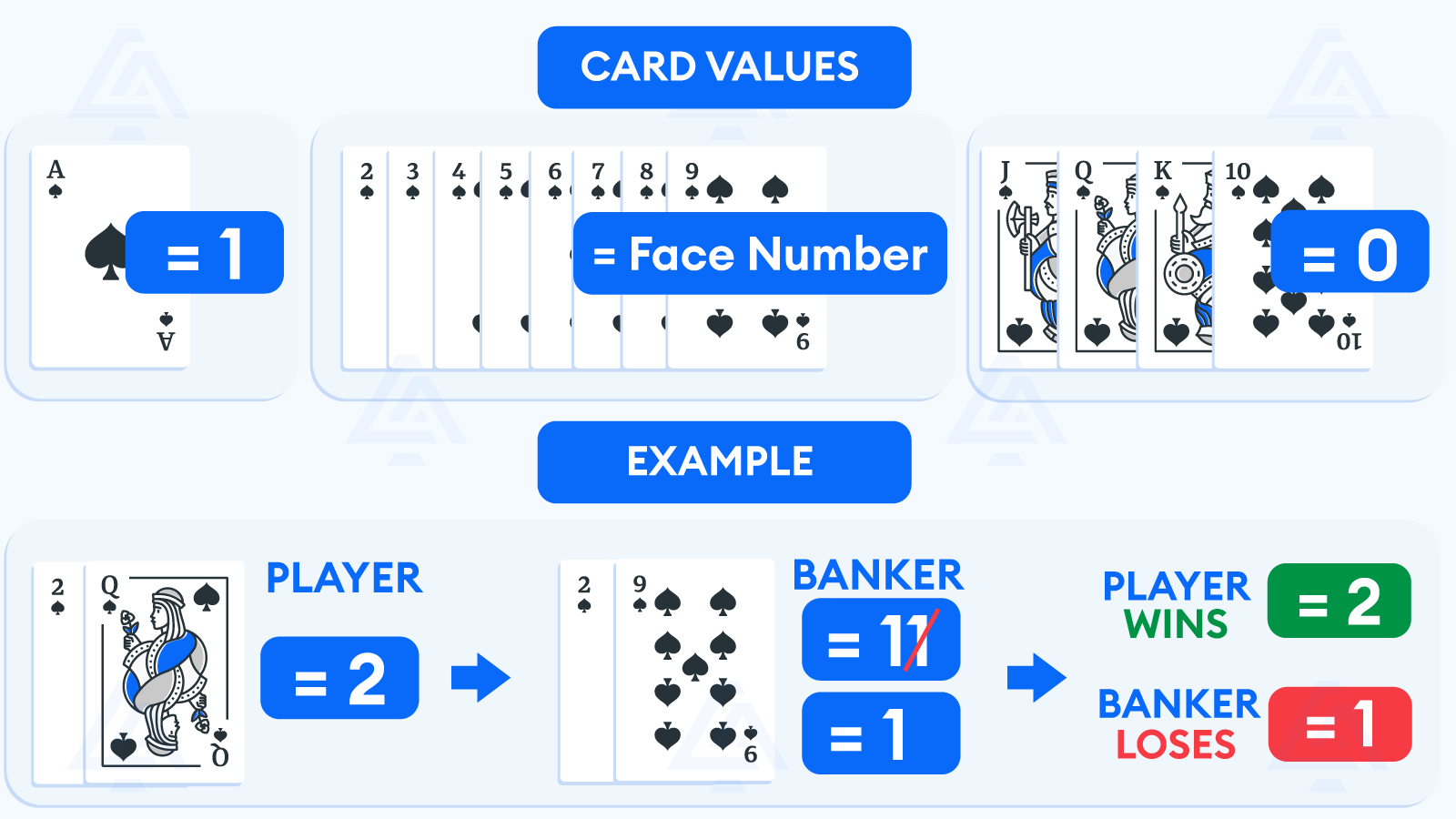 Card values
Any card from 2-9 is worth its face number. The Ace is 1, and all other cards, the 10 and the picture cards, are valued at 0.
The total points of a pair are calculated by adding up the numbers on the cards.

Suppose the value of a pair is greater than 9. In that case, only the units digit counts.
Card value examples
The player's hand contains a 2 and a Queen. Therefore, their total points are 2+0=2.
The Banker has a 9 and a 2. In that case, their cards are valued at 9+2=11. We have a double-digit number, so we remove the first one. So, the Banker's cards are worth 1.
In this example, the player wins, even though the Banker's total is higher at first glance.
Third card rules
A third card rule applies in certain situations. Understanding this most complex of Baccarat rules is the only hassle new players may face.
Still, it's vital if you want to know how Baccarat is played. We will make everything more transparent in a moment.
The player's third card
| Initial cards' value | Action |
| --- | --- |
| 0, 1, 2, 3, 4, 5 | Draws a card |
| 6, 7 | Stands |
| 8, 9 | Natural |
For the player, the situation is straightforward.
When the player's points are precisely 8 or 9, they must stand. This hand is called a natural, and there will be no further draw. But if their cards are valued at 5 or less, they receive an extra card, and, with it, points shift.
Third card rules for the Banker
Things get a bit more tangled with the Banker's third card rules. Let us explain how it goes.
Important
Suppose the player did not receive a third card (his hand was valued at more than 5). Then, the third card rule for the Banker is the same as for the player. They draw one more card if their cards are worth between 0-5.
The complicated part
Baccarat rules are easy to grasp until you get to this situation. When the player needs the third card, the Banker's actions will be influenced by that card.
Let's say the Banker has a 4-valued initial deal, and the player has 3 points. Neither has a total of 8 or 9, so the player is dealt a third card first. Say the player gets a 4, and now they have 7 points.
According to the table below, the Banker gets another card if the player's third is a 4, 5, 6 or 7.
Let's say they draw a 2, now making their total points 6. In this situation, the player wins.
| Value of initial draw | Draws if player's third card is | It stands when the player has |
| --- | --- | --- |
| 0, 1, 2 | Always draws | Always draws |
| 3 | 0, 1, 2, 3, 4, 5, 6, 7, 9 | 8 |
| 4 | 2, 3, 4, 5, 6, 7 | 0, 1, 8, 9 |
| 5 | 4, 5, 6, 7 | 0, 1, 2, 3, 8, 9 |
| 6 | 6, 7 | 0, 1, 2, 3, 4, 5, 8, 9 |
| 7 | Always stands | Always stands |
| 8, 9 | Natural | Natural |
There's no way around this table. You need to know this information to really become familiar with how is Baccarat played. Still, you don't have to know it by heart. Land-based casinos always have leaflets with these rules at their Baccarat tables.
Bet like a pro: decoding Baccarat's wagering options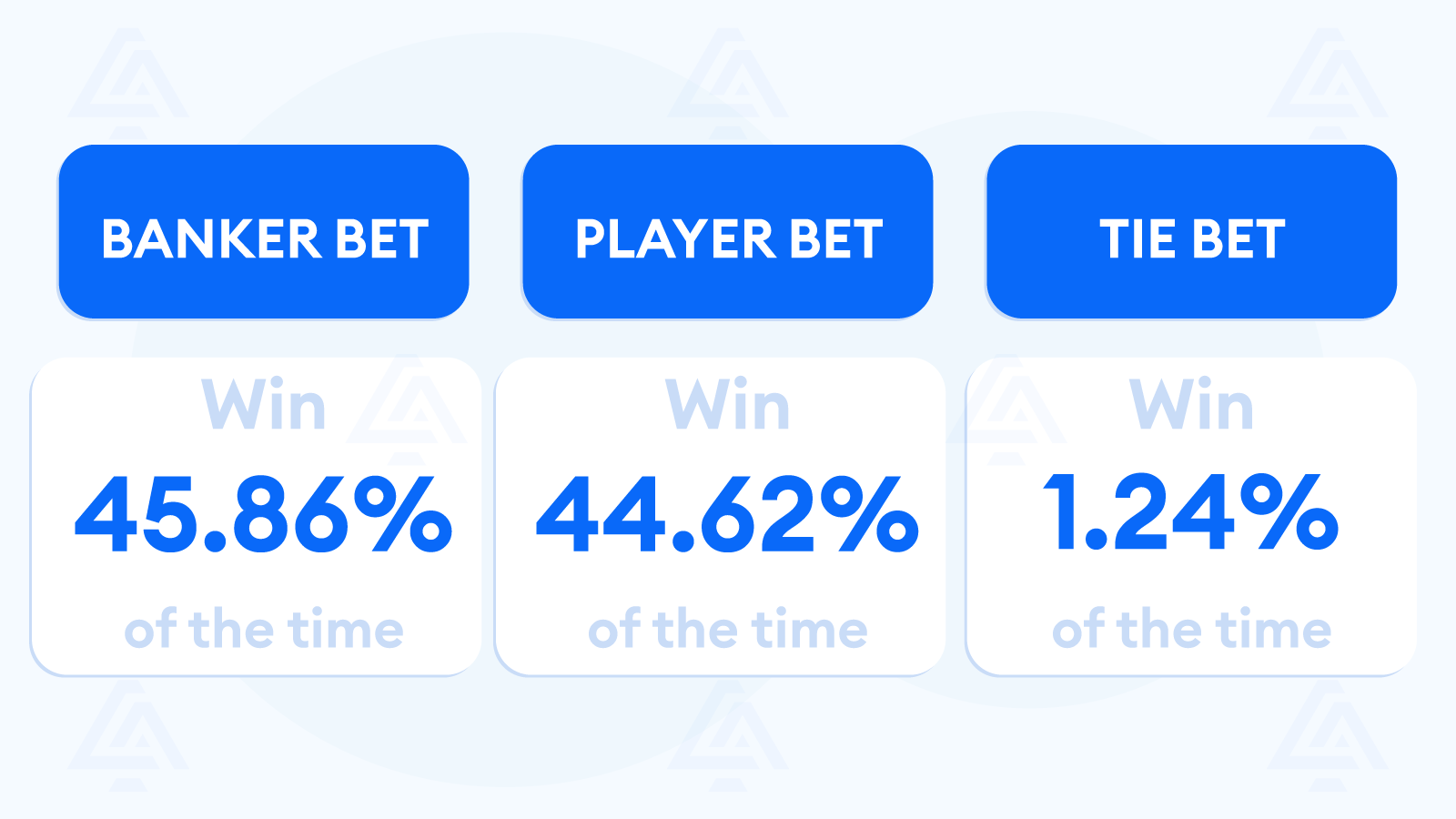 Before knowing anything about how to play Baccarat, many players believe it's similar to Blackjack because it's based on assigning cards with points values.
However, unlike Blackjack, players don't have many decisions to make outside their bets. The dealer takes care of it all while you ponder your next move.
You can place your chips on Player, Banker and Tie. Some variations of Baccarat rules allow betting on multiple options at once, while others will only let you choose one.
Side bets available
Depending on the version you play, you may also have side bets available.
Some examples include:
All Red or All Black – the cards in the Player's hand to be of the same colour

Bellagio Match – the Player or Banker to have three cards of the same kind, like 3 Aces

Double 8 – both Player and Banker to have 8-valued hands
Be aware
Baccarat side bets come with high odds, but the house edge is just as high. It's best not to throw a lot of your budget on them since the chances to succeed are thin. First, get a grasp of the basics of how to play Baccarat, then jump on to more advanced side bets.
Why the Banker is the best bet?
Banker bets win 45.86% of the time, while Player bets win 44.62% of the time. Therefore, you can see that the Banker is 1.24% more likely to succeed.
Important
Winning a Banker bet is more probable. It is not a huge difference, but it brings value in the long run. Remember, that's why casinos charge a 5% commission.
As for the other situations, only 9.52% of the Baccarat game rounds end in a Tie. That's why getting a Tie bet right is particularly difficult.
Tie bets comes with a whopping 14% house edge, which is why you should avoid it as much as possible.
Recommendation
Tie bets have a poor chance to return you anything substantial in the long run. Still, suppose you want to experience all the features of the Baccarat game. Then, you would be better off claiming a welcome bonus from a trustworthy online gambling site. Thus, you'll double your bankroll and have some room for manoeuvre.
Card counting or the Martingale strategy?
You may apply a card counting strategy and gain a minor edge. As the cards are dealt in a round, they are removed from the shoe for a while. Card counting is based on your attention and math skills. It helps you estimate how many cards of a specific rank are still in the shoe and capitalize on this little detail.
The Martingale Baccarat strategy has to do with your stakes.
How is Baccarat played with Martingale, you ask?
When using the Martingale Baccarat strategy, you double your stake the next round for each losing bet. If the next bit is a winner, you recoup a betting unit and potentially go back on an ascending trend with your bankroll.
Still, be careful with this system, as it can lead to a potential wipeout of your bankroll. It's more suited to aggressive players.
Ready to play? A quick recap on how to nail Baccarat rounds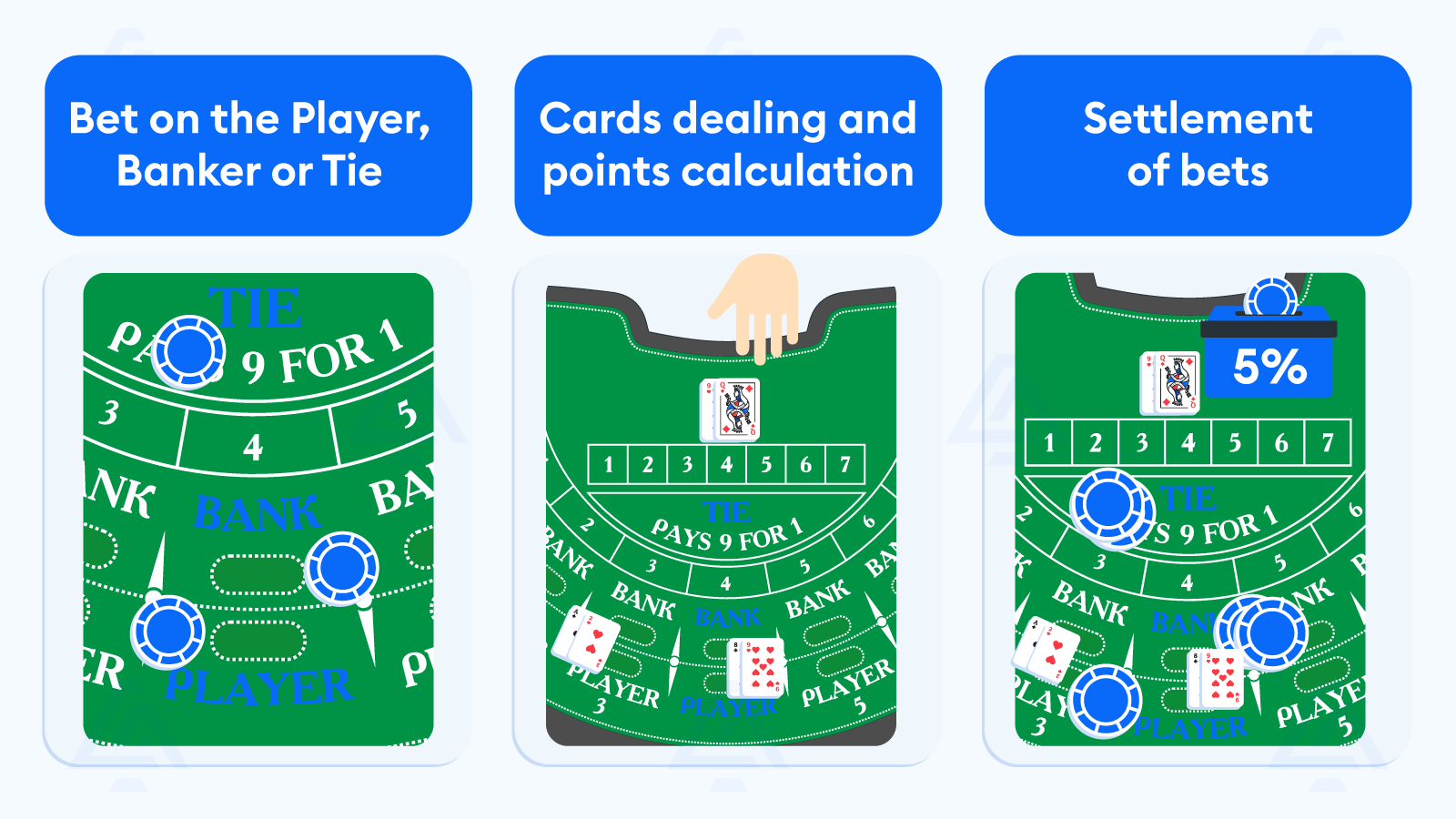 1. Bet on the Player, Banker or Tie
First, you place your bet on either of the three options.
Odds for the Player bet are 1:1, which means a winning wager will double your stake. The Banker bet has the same odds, minus the commission. The highest odds are reserved for the Tie bet, at 7:1 or 8:1.
A dealer will collect the bets and then proceed to the dealing.
2. Cards dealing and points calculation
The dealer will then deal the Banker and Player two cards each. The Player position gets the first card, then the Banker, then the Player again and so on.
Afterwards, the dealer calculates the points for each hand and compares the results. When a hand is valued at less than 5, both Player and Dealer may be dealt a third card.
You already know how Baccarat points are calculated, so there's no point in repeating that.
3. Settlement of bets
Bets are settled on the spot, with the highest valued pair winning the round. The dealer will pay out winning wagers and calculate the 5% commission on winning Banker bets.
A new round will follow shortly after that, following the same stages.
Online Baccarat adventures: diving into different game variants
The most significant advantage of online Baccarat is that you get to play any version you wish. Mini-Baccarat, Punto Banco, Chemin de Fer or Baccpo are all on the same webpage.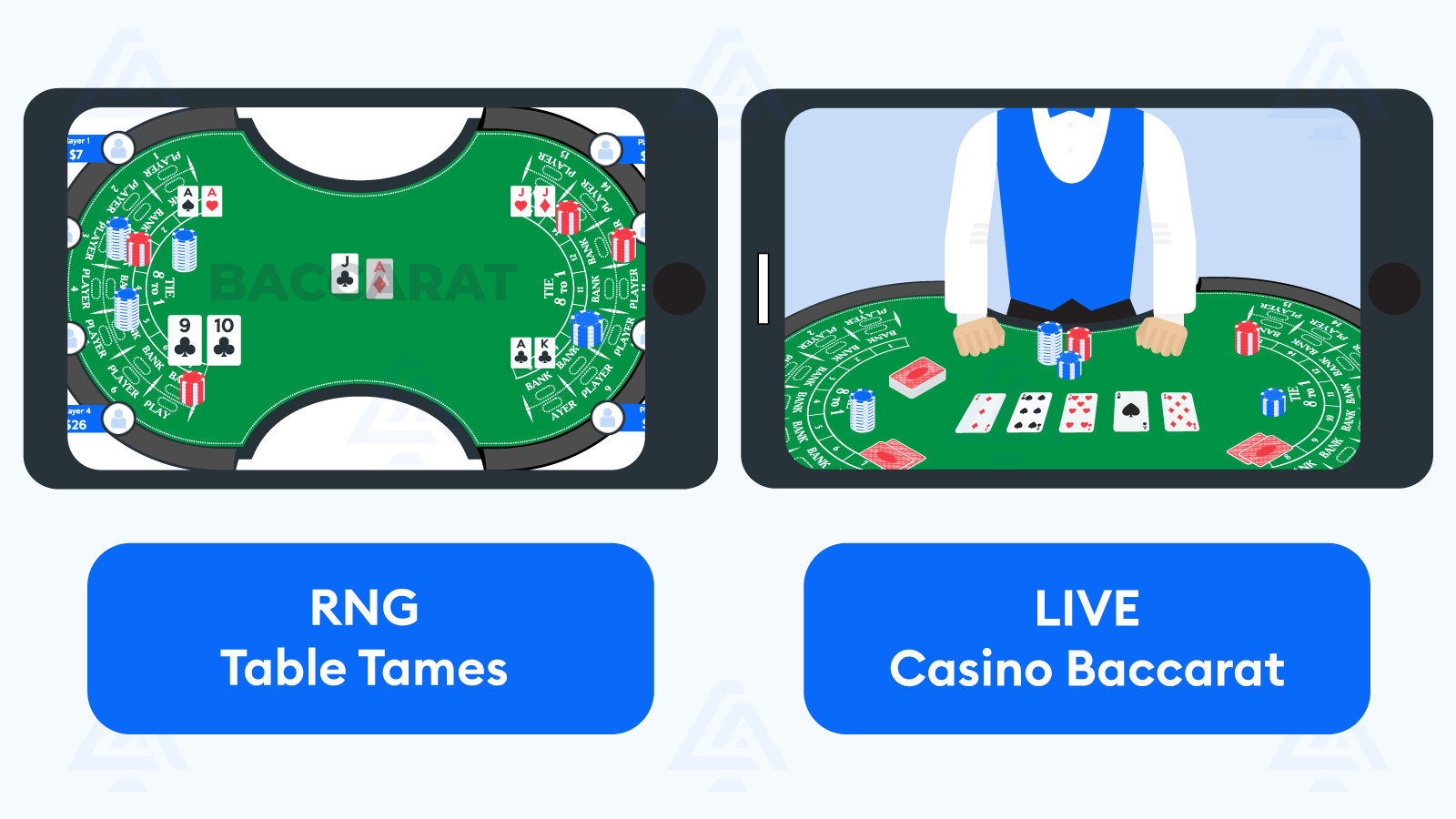 RNG table games
RNG is short for Random Number Generator. This software generates a sequence of numbers on which the card dealing and all other game actions are based upon.
At licensed casino sites, the RNG of a game is verified continually by independent agencies to ensure it is genuinely random. As such, you shouldn't fear that the virtual dealer in RNG Baccarat somehow favours the casino.
Several Baccarat versions fill the Table Games section of an online casino. Thus, you can explore Mini-Baccarat and other alternative rules as you please.
Live Casino Baccarat
Playing Baccarat on live casino sites mixes the convenience of an online game and the authentic feel of a real casino.
Reputable online casinos have numerous active tables at once, sometimes tens.
The virtual Baccarat rush: Why online games are the way to go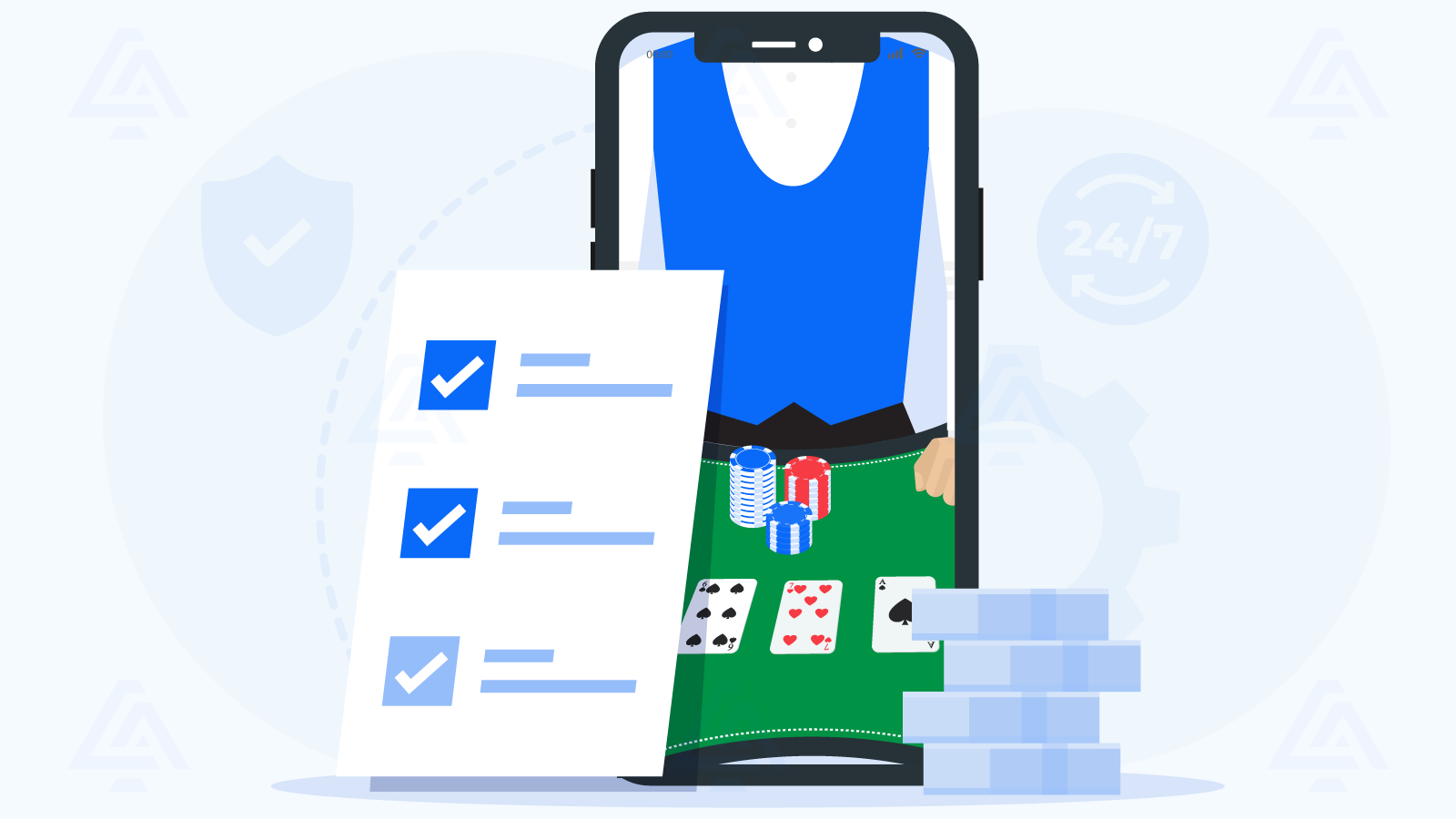 Online play is recommended, as you get a few extra benefits compared to land-based casinos:
More flexible betting limits, with lower table minimum bets

Greater variety of games

Convenience

24/7 availability

Enhanced player protection

Responsible gaming tools

And the list goes on
How can we be of assistance?
Our guide has provided the required know-how to master Baccarat rules, and you're most likely leaning towards online play for its numerous advantages.
Recommendation
Our last piece of advice is to kickstart your Baccarat journey with a no deposit bonus from your preferred casino. Due to the slight house edge, Baccarat will likely contribute less than slot machines for the wagering requirements of some registration bonuses.